Head of Rhodes Trust backs rights of Rhodes Must Fall in Oxford movement
Students have been fiercely campaigning to remove a 'racist' statue of the 19th century colonialist
Jacob Furedi
Thursday 02 June 2016 17:05 Comments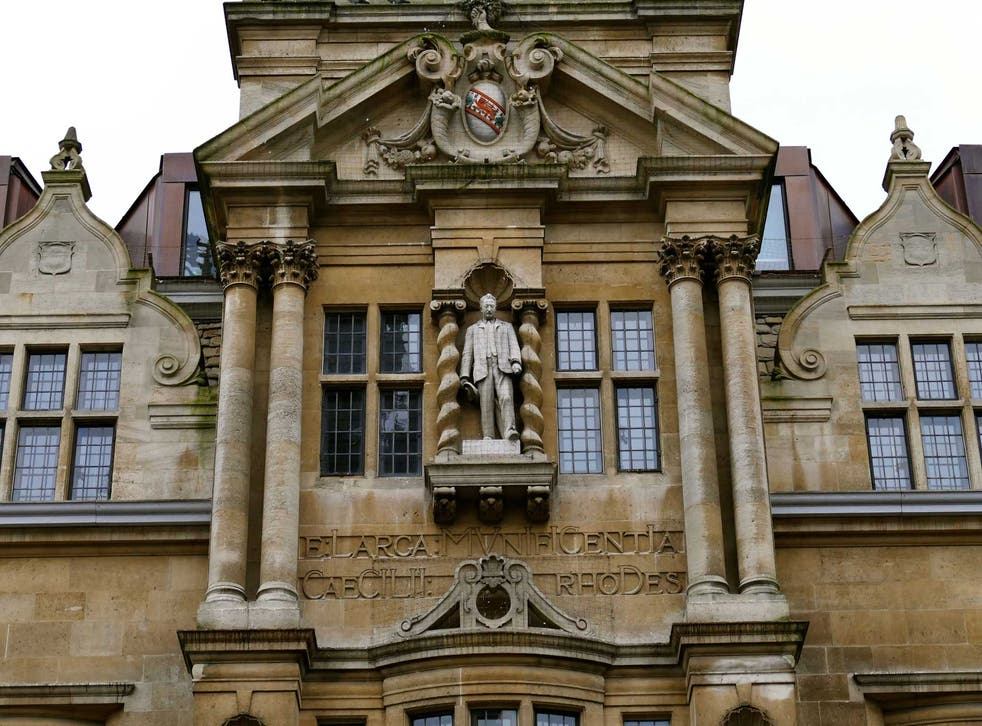 The head of the Rhodes Trust, which awards students with scholarships attributed to Cecil Rhodes, has expressed support for students campaigning for the removal of a controversial statue of the 19th century colonialist at Oxford University.
Defending the Rhodes Must Fall campaign, Charles Conn stated it raised an "important intellectual question," reports The Times.
Despite Rhodes' patronage,though, "the trust isn't in the business of being a defender of Rhodes or a defender of statues." Rather, Mr Conn maintained the Rhodes Trust is "for social change."
Rhodes, a British mining tycoon who operated in South Africa, is said to have been responsible for the country's policies of racial segregation which eventually consumed the nation.
Students involved in the Rhodes Must Fall in Oxford movement believe the continued presence of the Oriel alumni's colonial past hinders any attempt to "decolonise" campus life.
The Rhodes Trust, which resulted from Cecil Rhodes' will, provides international scholarships to Oxford University for "talented young people with the potential and ambition to lead transformational change."
Mr Conn made his remarks during a talk in which he revealed a new partnership with The Atlantic Philanthropies worth £75 million, a donation that will be used to set up a new Atlantic Institute at Rhodes House.
The campaign at Oxford took its lead from students at the University of Cape Town who succeeded in removing another statue of Rhodes just over a year ago.
Mr Conn's comments follow a string of controversial statements made by the Rhodes Must Fall campaign in recent months.
Ntokozo Qwabe, who co-founded the movement, sparked controversy with a Facebook post that boasted how he made a white waitress in South Africa cry by claiming he would only tip "when you return the land" to black people.
Controversial Rhodes statue boarded up in Cape Town
A petition calling for Oxford University to take disciplinary action against Qwabe attracted over 47,000 signatures, but was rejected.
And, last November after the Paris terror attacks, Qwabe made headlines by calling for universities to ban the French flag. He asserted that it represented a country that "continues to terrorise… innocent lives in the name of imperialism, colonialism, and other violet barbarities."
He later compared the existence of the French flag to "the presence of a Nazi flag."
In light of Mr Conn's support for the rights of the students to campaign, the Rhodes Trust has said it "doesn't prescribe any views that Rhodes Scholars should or shouldn't hold, and that is reflected in the diversity of views of our Scholars."
Register for free to continue reading
Registration is a free and easy way to support our truly independent journalism
By registering, you will also enjoy limited access to Premium articles, exclusive newsletters, commenting, and virtual events with our leading journalists
Already have an account? sign in
Join our new commenting forum
Join thought-provoking conversations, follow other Independent readers and see their replies