The Independent's journalism is supported by our readers. When you purchase through links on our site, we may earn commission.
Indiana school teacher tells students 'tests do not define you' in inspiring letter
Pupil's mum says: 'We need, not just more teachers like her, but also more people like her in this world'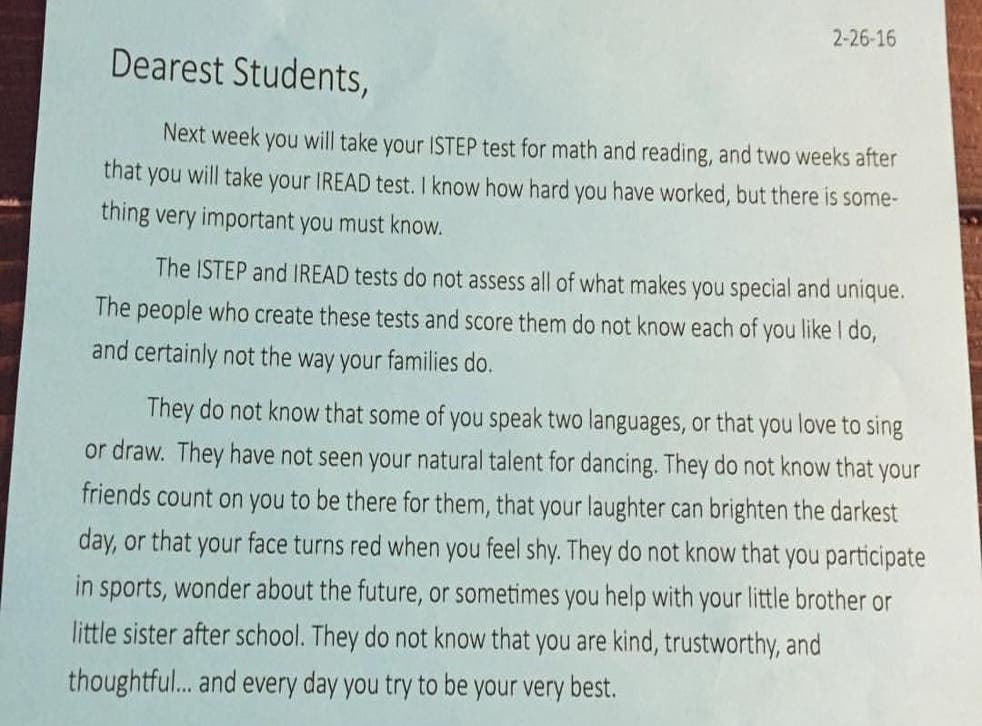 An inspiring note has been gathering attention online after a school teacher wrote to tell her students tests will not define who they become and that they are already "smart and enough."
The letter surfaced on Instagram and Facebook after US mum Abby Martin said her nine-year-old son, Rylan, brought the letter home from Pleasant Crossing Elementary School in the town of Whiteland, Indiana.
The young students at the school have been gearing up for tests known as the ISTEP and IREAD. Designed by the Indiana Department of Education, the Indiana Statewide Testing for Educational Progress-Plus (ISTEP) is taken by pupils from grades three through to eight and is designed to assess students' basic reading, writing, and maths skills.
Although the assessment may not seem hugely important to many - as with most - it would no doubt have been playing on the students' minds, hence why their teacher was moved to write the touching letter.
The note begins: "I know how hard you have worked, but there is something very important you must know.
"The...tests do not assess all of what makes you special and unique. The people who create these tests and score them do not know each of you like I do, and certainly not the way your families do."
It continues: "The scores you will get from these tests will tell you something, but they will not tell you everything. These tests do not define you. There are many ways of being smart. You are smart!"
The letter concludes: "These tests do not define you. There are many ways of being smart. YOU are smart! YOU are enough! You are the light that brightens my day and the reason I am happy to come to work each day. So, in the midst of all these tests, remember that there is no way to 'test' all of the amazing and awesome things that make you, YOU."
Writing about her son's reaction online, Martin said: "Rylan got in the car today and told me he was embarrassed because he cried at school. I asked him what upset him, and he told me he cried because he was happy about a letter his teacher gave his class before they take ISTEP.
"Needless to say, when I read it, I cried too. We need, not just more teachers like her, but also more people like her in this world."
Speaking with local newspaper, the Indystar, Martin said the letter echoed only what she had already been trying to tell her son. She added: "What she was able to articulate was exactly what I had been trying to say to him; 'You're special, and you're so much more than a bunch of bubbles on a piece of paper'."
We couldn't have said it better ourselves.
The teacher at the school asked local media to conceal her identity as "she alone wasn't responsible for it," reports the Indystar.
As it turns out, there was another similar letter issued to three schools across the state, too, in the run up to the ISTEP.
That one told pupils: "We want you to know how wonderful you are! So, take a deep breath and keep working to do your personal best each and every day! You are amazing!"
Join our new commenting forum
Join thought-provoking conversations, follow other Independent readers and see their replies