King's College London concludes students 'disrupted right to exercise freedom of speech' after pro-Israel event 'attacked by pro-Palestine group'
University says principal has extended an invitation to Ami Ayalon to return to KCL again, which he has accepted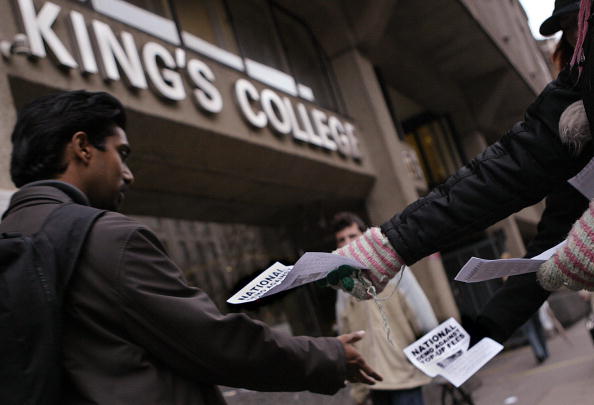 King's College London (KCL) has concluded a number of individuals "intentionally disrupted the rights of others to exercise freedom of speech within the law" after the building had to be evacuated when a pro-Israel talk turned violent, reportedly at the hands of a pro-Palestinian group.
Having announced how it would be launching an "urgent investigation" after the incident in the Norfolk Building on 19 January, KCL has now released a report which says those who "chose to behave inappropriately crossed a line and should be held accountable for doing so."
The university has also added that, as the majority of the students involved were not KCL's, it will be assisting other London institutions in any way it can to "take action under their disciplinary procedures."
The report says: "CCTV images of individuals and the evidence collected as part of this investigation have been made available to SOAS and LSE so they can consider whether to take any action under their institutional regulations, policies and procedures relating to student conduct."
Esther Enfield, of the KCL Israel Society, had originally organised the event which played host to Ami Ayalon, former head of the Israeli secret service Shin Bet and commander-in-chief of the navy.
Read the full KCL report and recommendations:
She released a statement shortly after describing how she had been assaulted when demonstrators from the KCL Action Palestine (KCLAP) group allegedly stormed the event - attended by more than 200 people - and began throwing chairs, smashing windows, and setting off the fire alarm more than 15 times.
Accepting all the findings and recommendations of the report, Professor Ed Byrne - president and principal of KCL - described how the university has a duty to uphold freedom of speech within the law, and will "fight against intolerance wherever it is found."
He said: "Intimidating behaviour is completely unacceptable and goes against everything that we stand for at King's. We do not, and will not, condone the use of any form of violent protest."
Before the conclusions of the investigation were released on Friday, KCL said the principal extended an invitation to Ami Ayalon to return to King's which he has accepted.
King's College London Action Palestine (KCLAP) - which Enfield has said was involved in the disruption - initially released a statement after the event, saying KCLAP wanted to "categorically condemn any aggression that took place" on the night.
The group said KCLAP had planned to challenge Ami Ayalon and inform the audience "of his complicity in the torture of Palestinians as former head of the Shin Bet and the problems surrounding his current views."
It concluded: "That the event escalated into a disruption was beyond our control and not incited by any member of our committee. KCLAP is not connected and does not control the actions of external attendees."
Join our commenting forum
Join thought-provoking conversations, follow other Independent readers and see their replies