The Independent's journalism is supported by our readers. When you purchase through links on our site, we may earn commission.
London Metropolitan University students occupy Cass art building to protest its sale which would result in 'course and job cuts'
'There is not nearly enough room to house all the courses taught here,' say the occupiers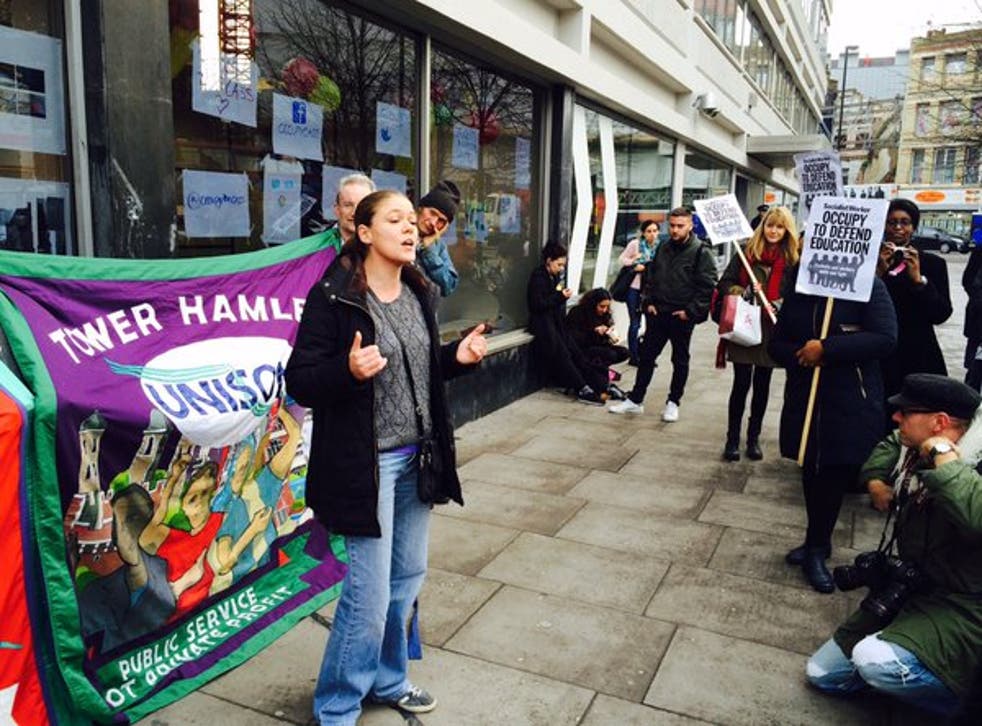 Students at London Metropolitan University (London Met) have now been occupying a campus building for some 24 hours in protest of its proposed sale which they say will also result in course and job cuts.
The group Occupy The Cass took over the Bank Gallery at Central House - also known as The Cass - on Wednesday night to exercise their "rights to freedom of assembly and peaceful protest."
In October, the university's vice-chancellor, John Raftery, launched the 'One Campus, One Community project' and said the university would be investing £125 million to create a new, single campus in north London, therefore, bringing all of the Met's faculties together on one site for the first time in the institution's 170-year history.
The key driver for the decision was student feedback, and the university said a recent survey with the students' union found 65 per cent of students - interviewed across all three campuses - said they'd prefer to study on one campus.
Mr Raftery said in October: "We believe this will benefit our students who will enjoy an enhanced student experience - and our staff - who will have more opportunities to collaborate."
However, Occupy The Cass accused the university of trying to "silence the voice of students," and described their cause as being "a credible opportunity" for the university to engage with students over their futures and the future of London Met too.
The group said: "We stand together to oppose the cuts to courses, staff jobs, and student places across the university. This is fundamentally an attack on education. We are taking this direct action to stop the proposed sale of Central House, which currently houses the Cass Faculty of Art, Architecture, and Design.
"The vice-chancellor has deceptively stated 'the key driver for the move is student feedback'. This claim is the disingenuous appropriation of the student voice. At no point has there been genuine or credible engagement with students or staff from the university's management."
Urging university management to "abandon these disastrous plans," the students have highlighted six key demands in order to bring their occupation to an end, and said:
Our campuses are not for sale - take Central House off the market now: Our fantastic Central House building, which has only recently been refurbished, is a brilliant learning environment and the perfect place for students of The Cass to study art, architecture, and music. Selling off Central House to luxury property developers or the banking industry would be a disgrace. There is not nearly enough room to house all the courses taught here at Holloway Road. Shrinking London Met to one campus will mean course cuts, job losses, and a cut to student places. 
No cuts to student places: By pursuing these cuts, the university management is cutting student places from 12,000 to 10,000. We consider this an attack on access to education for poor and marginalised groups in society. London Met University is an incredibly diverse institution that has provided opportunities to many people who would otherwise be excluded from education. There are more black students at London Met than the entire top 20 universities combined and this university currently supports the largest number of women returning to education in the country. The university has to do more in involving the students' union and students in its recruitment process.
No course cuts: We are alarmed the university has put application for certain courses in 'hold' - we say no.
No staff cuts: We call on the university to extend the consultation process from the minimum 30 days.  Hundreds of staff have lost their jobs over the past few years at London Met University. Losing more staff is just going to continue the spiral of decline our university is experiencing. Lift the suspension of Robert Mull, dean of the faculty of art, architecture, and design. We stand in solidarity with our staff.
No disciplinary action to be taken by the university against staff and students involved in this peaceful protest. 
Free access IN and OUT of the occupation.
According to BBC News, in a statement, the university invited students to work with management to come to a resolution and insisted the move simply means it would be in one location as opposed to being split between two separate sites.
The statement added: "We'd like to reassure [the occupiers] The Cass is not closing, nor will its making ethos or successful studio model of teaching be lost."
Join our new commenting forum
Join thought-provoking conversations, follow other Independent readers and see their replies