The Independent's journalism is supported by our readers. When you purchase through links on our site, we may earn commission.
London students join cleaners in protests over 'unfair' working conditions for migrants
'All we are asking for is equality,' says staff member at LSE for 16 years, 'we are not the dirt we clean'
Katie Garrett
Monday 06 February 2017 18:49 Comments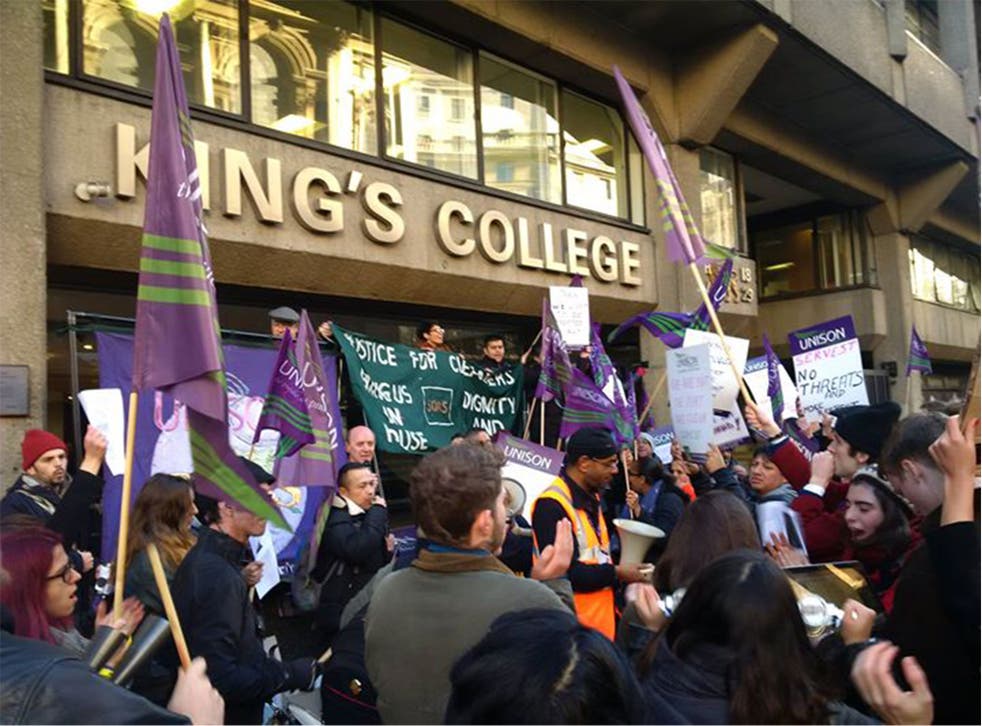 Students in London are joining university cleaners in solidarity over calls for better support and fairer working conditions for migrant workers on campus.
Cleaning staff from King's College London (KCL) have taken strike action this term in protest over "poor working conditions".
Cleaning services at the university are outsourced to Servest, a company which unions argue does not have insurance to cover accidents in the workplace, and do not pay cleaners extra if they have to take on additional work as a result of colleague sickness.
Staff members are asking for an immediate increase in staffing hours to reflect the amount of work needed to clean the university, and for the introduction of a cover staff policy to ensure absences are appropriately covered.
According to the KCL branch of Unison, 98 per cent of balloted members agreed to go on strike at the university. They were not paid on the strike days, however students set up a gofundme campaign to help compensate for lost earnings.
Campaign leaders said the situation had reached "breaking point".
In a statement they said: "How can we explain that in a university that is ranked consistently in the top twenty in the world for Medicine, we are endorsing working conditions that cause long-term health issues for the people who work tirelessly to provide us with the appropriate conditions to study?"
Students and staff from the university joined the protests, and last week set up a petition calling for a reassessment from the university.
UK news in pictures

Show all 50
One member, who referred to themselves as Giada A, wrote on the KCL petition: "At King's College London, we're talking about issues like (in)justice, (in)equality and human rights all the time. Absurdly, we're reproducing these problems in the walls of this prestigious university. That is unacceptable"
Róisín Moreau, a student at KCL, told The Independent: "One of the aspects that frustrates me the most is that King's has one of the top 20 medical schools in the UK, yet they are allowed to let their staff work in such poor working conditions with such limited working tools, to the extent that many of our cleaners are having work related accidents, and not receiving any compensation."
She added: "It saddens me greatly to learn that the majority of King's cleaning staff are immigrant workers from Latin America, who have come over to London with the hope of a better future for their families, but instead, they are being subjected to utter inequality and unfairness."
Holly Henry, another KCL student, said: "I am disappointed with King's. The conditions of these workers are shocking; I can't believe that basic human rights are being ignored, and that workers and students are forced to protest as a result of this.
"I am studying Spanish and Latin American studies at a university where many of the cleaning staff are native speaking from Spain or Latin America, and I feel disappointed that whilst King's invests money into the study of these cultures, they cannot pay the basic living wage to the people of these countries."
Students protest at university over Breitbart lecture
Students at the London School of Economics (LSE) - where cleaning services are outsourced to the Noonan Group - have also shown solidarity with cleaners at their institution, and scholars at SOAS have launched a similar campaign.
According to the United Voices of the World (UVW) union, cleaners at LSE are all migrants of black or ethnic minorities, and reportedly receive lower pay, lower pensions, and less annual leave than in-house staff.
The group has called for a review of staff workloads and the current disciplinary processes.
Mildred Simpson is the longest serving cleaner at LSE, with sixteen years of service behind her Speaking to UVW she expressed fears she was being "victimised" for being considered the "ring leader" of the strike.
She said: "All we are asking for is equality. We are not the dirt we clean. We don't get any sick pay, we don't get any maternity pay, we don't get any pension pay – and all of that is included in the package that LSE are getting. Why are we any different from them?"
An open letter has been written to the university director concerning these points. It has been signed by LSE staff, students, and alumni, in support for the Justice for LSE Cleaners Campaign.
One individual wrote in the open letter: "The cleaners are my colleagues, I work alongside them every day, and I know them better than most of my academic colleagues. They deserve the respect afforded to others that work at the LSE."
In 2013, outsourced cleaning staff at University College London won a deal for increased pay and improved working conditions including pension plans, holiday pay and sick leave, after staging a 48-hour walk-out at the university.
Cleaners at LSE are currently being balloted for strike action. If the strike goes ahead, it will be the first strike by contracted staff in the 126 year history of the university.
A King's College London spokesperson said: "Staff from King's College London's cleaning contractor Servest took strike action on Thursday 26 January and Friday 27 January 2017 due to an ongoing dispute with their employer over staffing levels and a planned restructure.
"Our cleaners play a critical role in the operation of the university and we value their service. This was recognised in the employment terms, which King's ensured Servest included in its employees' contracts at the start of our working relationship.
"These included paying the London Living Wage, full-time hours for the majority of staff and employing people who live locally. Estates & Facilities managers at King's are working with Servest to offer advice and support to help reach resolution."
"Staff employed by Noonan, the cleaning contractor at LSE, are paid at least the London Living Wage. This is the same hourly rate of pay as equivalent staff employed by LSE.
An LSE spokesperson said: "LSE, Noonan and Unison recently signed a formal partnership to discuss and resolve matters raised by cleaning staff.
"This agreement provides cleaning staff with a forum, and with recognised trade union representation, where they can directly raise concerns and requests with their employer (Noonan).
"LSE will continue to look closely at any concerns raised about the conditions for cleaners on campus, which is directly within the School's control."
Register for free to continue reading
Registration is a free and easy way to support our truly independent journalism
By registering, you will also enjoy limited access to Premium articles, exclusive newsletters, commenting, and virtual events with our leading journalists
Already have an account? sign in
Join our new commenting forum
Join thought-provoking conversations, follow other Independent readers and see their replies