More than 7,000 medical students pledge support for junior doctors ahead of beginning of industrial action in England
99.4% of junior doctors have voted to begin 3 proposed days of action, starting this week, over 'threatened imposition' of new contracts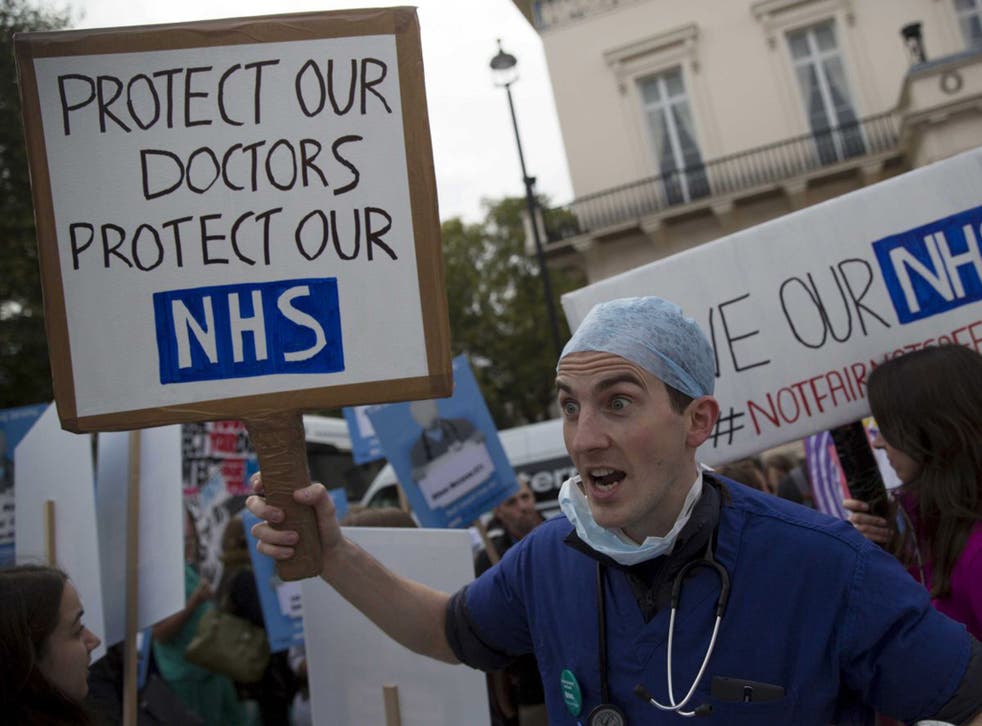 Thousands of medical students are continuing to lend their support to junior doctors ahead of the first round of industrial action set to take place across England on Tuesday, according to the British Medical Association (BMA).
More than 7,000 have, so far, signed a pledge on the BMA site which is gathering support for a junior doctors' contract that has "quality, safety, and fairness at its heart" after they voted overwhelmingly in favour of taking industrial action - including a full walk-out - following a November 2015 ballot.
BMA medical students committee co-chair Charlie Bell - who is also in his fifth-year of medical school - described how the high number of students who have signed the pledge shows "the level of solidarity" future doctors feel with current junior doctors who are fighting for a safe and fair contract.
Dr Bell added: "It's time the employers started to listen to the profession of the future. Our message is clear: we fully support our junior doctor colleagues and want to serve our future patients safely."
His comments have come after the Independent recently reported how more than a third of students surveyed by The Student Room said they no longer wished to student medicine any more as a result of the junior doctors' row.
What the proposed contract changes mean for medical students:
Referring to the findings as "a worrying trend" which should serve as "a serious wake-up call to Government," BMA junior doctors committee joint deputy chair Aaron Borbora said the vital contribution junior doctors make must be reflected through "a fair and safe contract."
Dr Borbora also described medicine as being "a difficult, but also incredibly rewarding, career," and said: "It would be a disaster for the NHS if the next generation of doctors, having seen how junior doctors are being treated, are deterred from entering the profession."
Although the BMA is planning to picket the major hospitals in England, medical students are being advised to not join or form any part of an official picket line. The guidelines for students highlights how they can visit picket lines and, other commitments allowing, can speak to those picketing and can also provide logistical support to the picket i.e. bringing food, drink, and supplies.
On the whole, medical students are being urged to be careful not to encourage workers to not work, and should also not cause an obstruction.
On the eve of the industrial action, a spokesperson with the BMA insisted how no doctor takes industrial action lightly, adding how the organisation regrets the disruption it will cause.
The spokesperson added: "Junior doctors now feel that they have no option. The biggest threat to patient care is the Government's insistence on removing safeguards which prevent junior doctors from being forced to work dangerously long hours without breaks, with patients facing the prospect of being treated by exhausted doctors."
From the 37,000 junior doctors who took part in last year's ballot, 99.4 per cent voted 'yes' to the question: 'Are you prepared to take industrial action short of a strike?'
UK: Thousands of junior doctors decry new 'unsafe & unfair' contracts
The ballot was called after junior doctors' leaders objected to the prospect of a new contract in which health secretary Jeremy Hunt attempted to redefine what constituted anti-social hours for doctors.
Prior to the results of the ballot being announced, the BMA said it was taking the "extraordinary step" of announcing the proposed dates, times, and type of action in order to "minimise the impact on patients and fellow doctors, and allow employers time to prepare."
Following Tuesday's action, two more dates have been proposed; 26 January and 10 February.
Register for free to continue reading
Registration is a free and easy way to support our truly independent journalism
By registering, you will also enjoy limited access to Premium articles, exclusive newsletters, commenting, and virtual events with our leading journalists
Already have an account? sign in
Join our new commenting forum
Join thought-provoking conversations, follow other Independent readers and see their replies