The Independent's journalism is supported by our readers. When you purchase through links on our site, we may earn commission.
National Campaign Against Fees and Cuts student protest gathers pace in Central London
Jeremy Corbyn provides demonstrators with a statement of support, urging them to 'keep protesting, keep campaigning for justice'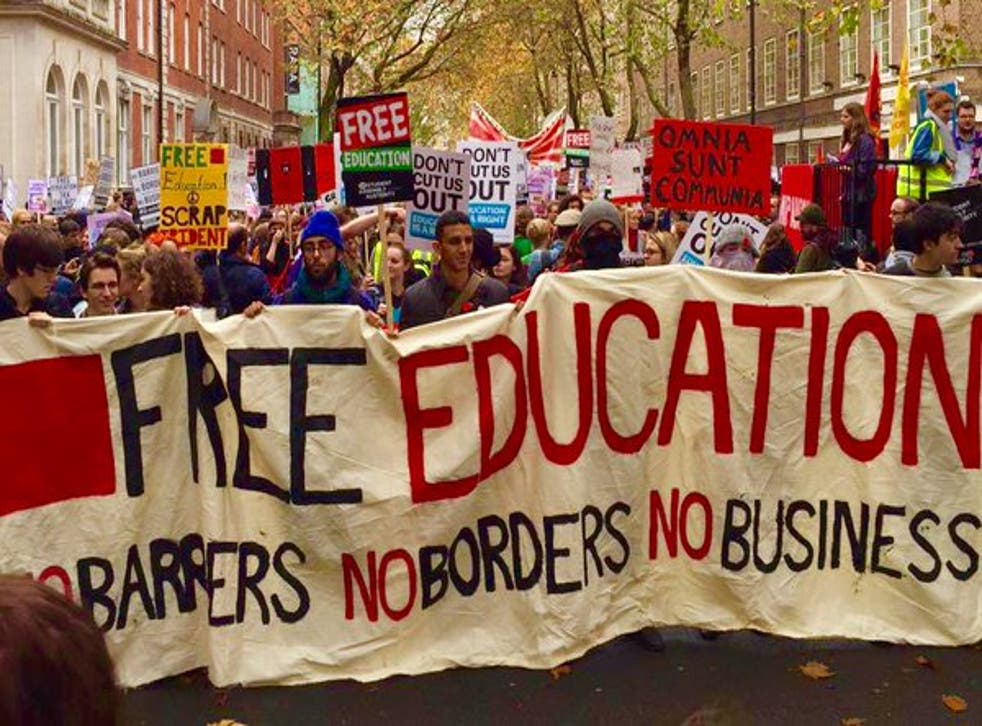 Thousands of students have began taking to the streets of London today in protest against the Government's plans to axe maintenance grants from next year amid rising tuition fees across England and Wales.
Trending on Twitter - under the hashtag #GrantsNotDebt - the protest has been organised by the National Campaign Against Fees and Cuts (NCAFC) and has set off from Malet Street, the former University of London Union.
Demonstrators will pass by key points across the capital including Parliament Square, the Home Office, and the Department for Business, Innovation and Skills.
Marching under the banner 'FREE EDUCATION - NO BARRIERS, NO BORDERS, NO BUSINESS', the NCAFC said the Government's plans will leave the poorest students in 'more and more debt' after years of fee increases, calling the Conservatives' move a 'concerted attempt to turn higher education into a market system, run like a business, with more and more provision privatised and outsourced'.
According to Which, a typical student on a three-year course outside of London could graduate with a total debt amount of around £35,000-£40,000 in student loans as a result of government cuts.
Labour leader Jeremy Corbyn has offered his support to the cause and, in a statement, urged people to 'keep campaigning for justice'.
Full statement to the NCAFC from Jeremy Corbyn:
Congratulations on your demonstration today.
I opposed the imposition of fees, and each increase, and I opposed the removal of maintenance grants – as did many others – and now we have an opportunity to change course, and to change Labour into a force that represents students' desire for free and accessible education.
Switching back to a loan in place of a maintenance grant will push the poorest students into higher levels of debt.
We must also look again at restoring EMA and increasing college places, so all young people have the opportunity to go to further education and, if they wish, on to higher education too.
There are no student fees in Scotland, Germany and twelve other European countries, I want to bring all UK students into line with that sensible approach.
We all benefit from education, collectively as a society, not just as individuals.
Keep protesting, keep campaigning for justice. Education is a right, not a privilege.
Labour MP John McDonnell diectly addressed the crowd before demonstrators set off, telling them 'education is a gift from one generation to another, not a commodity to be bought'.
John McDonnell's full speech to the crowd:
Education is a gift from one generation to another, not a commodity to be bought and sold.
For generations now one generation has handed the baton onto the next, and it's our job to ensure that the next generation has a better quality of life than the last.
This government is betraying you and future generations and I'm here in solidarity for education. Let me say this: your voice needs to be heard.
This will be a peaceful demonstration, and safe, but make sure the tories know that we are not going to stand for this any more.
Education is a basic human right not something to be bought and sold.
This generation will teach the tories that we will not stand by and let them destroy our futures. Solidarity, solidarity.
After today's march, the NCAFC is urging all supporters to join the national day of action on 17 November where the group says it will be occupying, demonstrating and blockading for the rights of international students and migrants.
The group added it is also looking to call a national ballot for strike action through the National Union of Students (NUS) with a 'massive' national student strike occurring in early February.
The NCAFC added: "This will be one of the biggest things the British student movement will ever have pulled off."
Register for free to continue reading
Registration is a free and easy way to support our truly independent journalism
By registering, you will also enjoy limited access to Premium articles, exclusive newsletters, commenting, and virtual events with our leading journalists
Already have an account? sign in
Join our new commenting forum
Join thought-provoking conversations, follow other Independent readers and see their replies