National outcry as Sussex indefinitely suspends five students for peaceful protest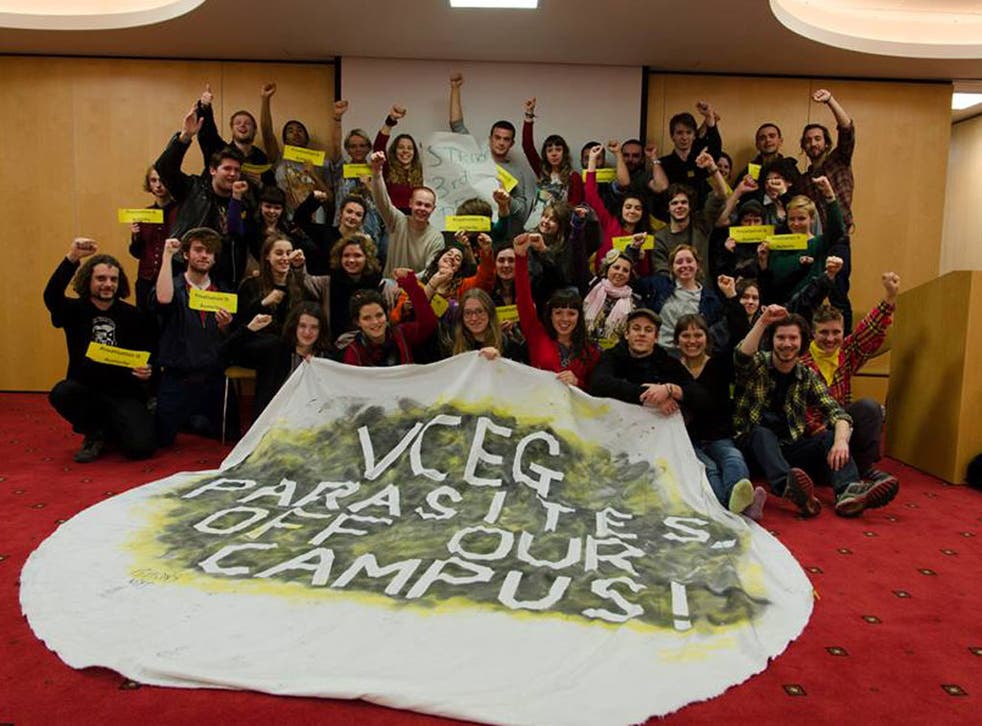 Activists across the country have reacted with horror after five student protesters were indefinitely banned from completing their studies, for their involvement in a demonstration at Sussex University.
The five were suspended on the grounds that they had breached the university's health and safety policy, in a move labelled by one of them as "an attack on the right to protest and freedom of speech".
Support is growing; last night, John McDonnell, the Labour MP for Hayes and Harlington, promised to table an Early Day Motion in Parliament, while a petition demanding the suspension be retracted had attracted 4,291 signatures in under 24 hours.
The five students had all taken part in an occupation at Sussex, which began last week, in protest at what they described as "the marketisation of higher education", and the university's plans to outsource vital campus services. All occupiers voluntarily left the occupied buildings on Tuesday after the university sought an injunction against them, but learned of their suspensions in a letter from Sussex vice-chancellor Michael Farthing which they received yesterday.
The letter said they had represented "a threat to the safety or well being of students, staff or visitors", and "a potential hazard to sustaining the university's policies on health and safety".
The five students, a mixture of undergraduates and postgraduates, have now been suspended from participating in academic activities at Sussex, and excluded from the university's campus with immediate effect. The duration of their suspension is unknown, and is related to internal disciplinary processes. They have the right to appeal.
"It's outrageous that students exercising their traditional democratic right to protest have been persecuted in this way," said John McDonnell MP, this morning.
Speaking on Facebook, the activist and Independent columnist Owen Jones described this as "an attempt not just to intimidate those students, but peaceful protesters generally".
In a statement, Michael Segalov, one of the suspended students said: "this is an attack on the right to protest and freedom of speech. As a student at the University of Sussex, I am engaged in my studies and part of the campus community, as are the four other students who have been suspended. As it stands I have been suspended and excluded from campus.  There has been no disciplinary hearing and no disclosure of any evidence of wrongdoing. Management at the university have continually exclaimed their support for protest on campus, but now their true agenda is showing."
John Duffy, the registrar at Sussex, said: "We fully support students' rights to protest lawfully. 
"But in the circumstances of this persistent disruption, we feel we need to go further to ensure there is no repeat of the appalling behaviour that has characterised these events.
"We have excluded these students to protect the interests of all of the students, staff and visitors who are entitled to use the campus without fear of intimidation and serious disruption.
"[The suspended students] will have their opportunity to defend their actions in due course.  We believe we had no other choice but to act to make it clear that activities that seriously disrupt our campus community will carry consequences."
Register for free to continue reading
Registration is a free and easy way to support our truly independent journalism
By registering, you will also enjoy limited access to Premium articles, exclusive newsletters, commenting, and virtual events with our leading journalists
Already have an account? sign in
Register for free to continue reading
Registration is a free and easy way to support our truly independent journalism
By registering, you will also enjoy limited access to Premium articles, exclusive newsletters, commenting, and virtual events with our leading journalists
Already have an account? sign in
Join our new commenting forum
Join thought-provoking conversations, follow other Independent readers and see their replies