Out of 91 UK universities, Durham students have the best quality of life
Survey reveals they have not only one of best social lives but also one of best employment hopes
Rose Troup Buchanan
Saturday 28 September 2013 00:27 Comments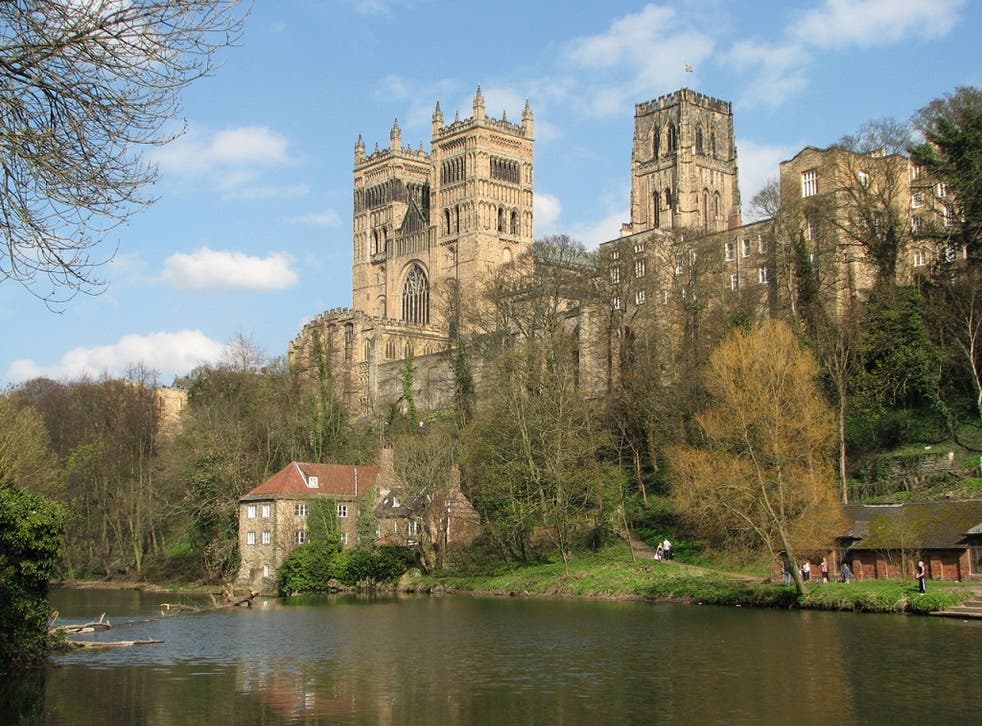 Students at Durham have the best quality of life, after the university came out on top in a survey of 91 UK universities, according to a report published today.
Students at the Russell Group university, ranked 5th in the Complete University Guide this year, not only count their social lives as among the best in Britain, but boast a figure of 92 per cent graduate employment, results from Lloyds Bank's university quality of life survey show.
In addition to their thriving social scene, Durham students are the safest in the country with only 0.88 incidents reported per 1,000 residents.
However, student accommodation in the historic town is among the most expensive in the country, excluding London, with students paying on average £3,730 for a 52-week private let.
Loughborough, Cambridge, Newcastle and Oxford also scored highly in the survey, which considered crime rates, social life, sports facilities and employment potential in 91 of the UK's universities.
A mixture of older institutions such as Cambridge and Oxford, alongside younger universities in larger cities, such as Newcastle and Sheffield, made the top ten.
Nitesh Patel, an economist at Lloyds, said: "They all score well on course satisfaction, good employment prospects and high salaries. Many of they are also rated highly for a good social life, particularly in the provincial cities in the north."
University of Bath students rated their degree satisfaction highest, with 96 per cent stating their satisfaction with the quality of their course, nearly ten per cent above the national average of 85 per cent.
Students in Newcastle and Sheffield reported the highest satisfaction with their social lives, despite students in Manchester having perhaps the greatest choice of drinking establishments: with nearly 250 different pubs to sample, Manchester leads the way above any of the other provincial university towns or cities.
Important factors measuring student quality of life in the survey were employability and potential future earnings.
Despite neither making the top 30, Glasgow Caledonian University could boast that 96 per cent of its 2010/11 graduates were either working or in further education, while the median salary for graduates from the London School of Economics was measured at £27,388, making its graduates the best earners.
Loughborough, Durham, Bath and Birmingham were all ranked highly for their sporting prowess, measured by the British Universities and Colleges Sports (BUCS) overall championship, which was taken to be indicative of their sports facilities.
This year's BUCS league places Loughborough in first position with Durham and Birmingham close behind.
Bank University Quality of Life Rankings - the top 30 Universities 2013
University, Town/City, Ranking 2013
University of Durham, Durham, 1
Loughborough University, Loughborough, 2
University of Cambridge, Cambridge, 3
University of Newcastle upon Tyne, Newcastle, 4
University of Oxford, Oxford, 5
University of Bath, Bath, 6
University of Nottingham, Nottingham, 7
University of Manchester, Manchester, 8
University of Sheffield, Sheffield, 9
Swansea University, Swansea, 10
University of Northumbria, Newcastle, 11
University of Leeds, Leeds, 12
University of Birmingham, Birmingham, 13
University of Exeter, Exeter, 14
University of Warwick, Coventry, 15
University of Bristol, Bristol, 16
Keele University, Keele, 17
University of East Anglia, Norwich, 18
Lancaster University, Lancaster, 19
University of Southampton, Southampton, 20
Cardiff Metropolitan University, Cardiff, 21
University of Reading, Reading, 22
University of Liverpool, Liverpool, 23
Sheffield Hallam University, Sheffield, 24
University of York, York, 25
University of Chester, Chester, 26
Leeds Metropolitan University, Leeds, 27
University of Kent, Canterbury, 28
York St John University, York, 29
University of Edinburgh, Edinburgh, 30
Register for free to continue reading
Registration is a free and easy way to support our truly independent journalism
By registering, you will also enjoy limited access to Premium articles, exclusive newsletters, commenting, and virtual events with our leading journalists
Already have an account? sign in
Join our new commenting forum
Join thought-provoking conversations, follow other Independent readers and see their replies