The Independent's journalism is supported by our readers. When you purchase through links on our site, we may earn commission.
Outcry at 'gender apartheid' in new guidance for UK universities
Protesters concerned that Universities UK condones separation by gender at certain religious events
Ashley Kirk
Wednesday 11 December 2013 17:06 Comments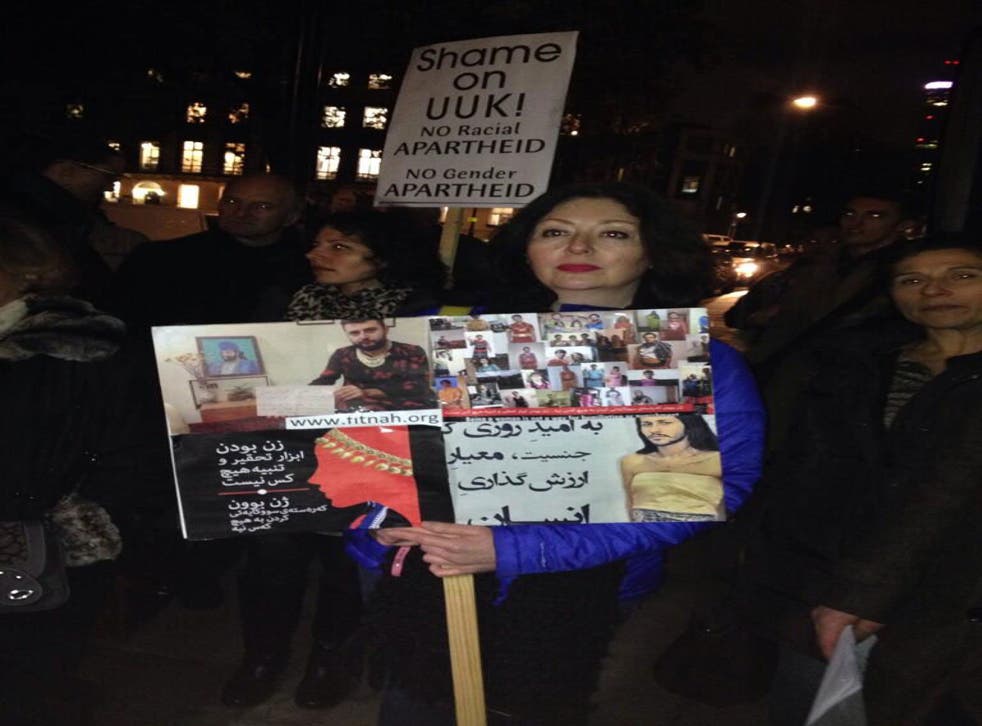 Over 100 demonstrators attended a rally last night in protest against "legimitisation of sex apartheid" by Universities UK (UUK).
Protesters are up in arms over controversial new guidelines from the body on the laws affecting external speaker events. They claim that the new guidance will allow "ultra-orthodox religious groups" to separate men from women at events.
Demonstrators in Tavistock Square in central London carried banners with slogans such as "separate is never equal" and "no gender apartheid". Several speakers addressed the crowd, condemning UUK's actions, including Pragna Patel of Southall Black Sisters and Yasmin Alibhai-Brown, the Independent journalist.
UUK's guidelines state that gender segregation might not necessarily discriminatory as long as "both men and women are being treated equally, as they are both being segregated in the same way".
It continues: "Concerns to accommodate the wishes or beliefs of those opposed to segregation should not result in a religious group being prevented from having a debate in accordance with its belief system."
On Facebook, organisers said they "oppose the legitimisation of forced gender segregation by Universities UK, the body representing the leadership of UK universities".
UUK insists that "assuming the side-by-side segregated seating arrangement is adopted, there does not appear to be any discrimination on gender grounds merely by imposing segregated seating".
Maryam Namazie, an organiser of the rally and spokesperson for Fitnah, which champions women's liberation in Islam, told the Independent: "it's fitting that this rally is on International Human Rights Day, as well as the day of Mandela's Memorial Service, as it goes to show that the fight against all forms of apartheid is not over."
She added: "Any form of separation can never be equal as segregation is a restriction of equality and freedom. Women must not be separated. People have a right to religious beliefs, but this is about equality and universities should protect that equality."
In a statement, Universities UK insisted that the guidance did "not promote gender segregation", and that it reflected a "hypothetical case study involving an external speaker talking about his orthodox religious faith who had requested segregated seating areas for men and women".
"The case study considered the facts, the relevant law and the questions that the university should ask, and concluded that if neither women nor men were disadvantaged and a non-segregated seating area also provided, a university could decide it is appropriate to agree to the request.
"It is very hard to see any university agreeing to a request for segregation that was not voluntary and did not have the broad support of those attending. As the guidance explains, there may be many other reasons why a university might refuse a request for segregation."
Meanwhile, In response to claims that the NUS supports the guidelines, a spokesperson said that the "NUS supports the rights of groups to self-organise how they wish but would be concerned about enforced segregation and certainly does not endorse it.
"We believe the Universities UK guidance is saying that the university needs to take law into account when making decisions about what can and can't happen on a campus.
"A university has a legal duty to protect freedom of speech, but also whilst protecting student safety and balancing a competing range of conflicting duties, such as equality, or the right to protest."
Further action was decided upon at the rally, including a mass rally on 8 March 2014, as well as the initiation of "sex apartheid busters" and legal measures against the guidance.
Register for free to continue reading
Registration is a free and easy way to support our truly independent journalism
By registering, you will also enjoy limited access to Premium articles, exclusive newsletters, commenting, and virtual events with our leading journalists
Already have an account? sign in
Join our new commenting forum
Join thought-provoking conversations, follow other Independent readers and see their replies