Oxford University students are latest to boycott student survey in protest over tuition fee hikes
'The University say that they want students to complete the survey because they value students' feedback, but really it's because they want students' fees'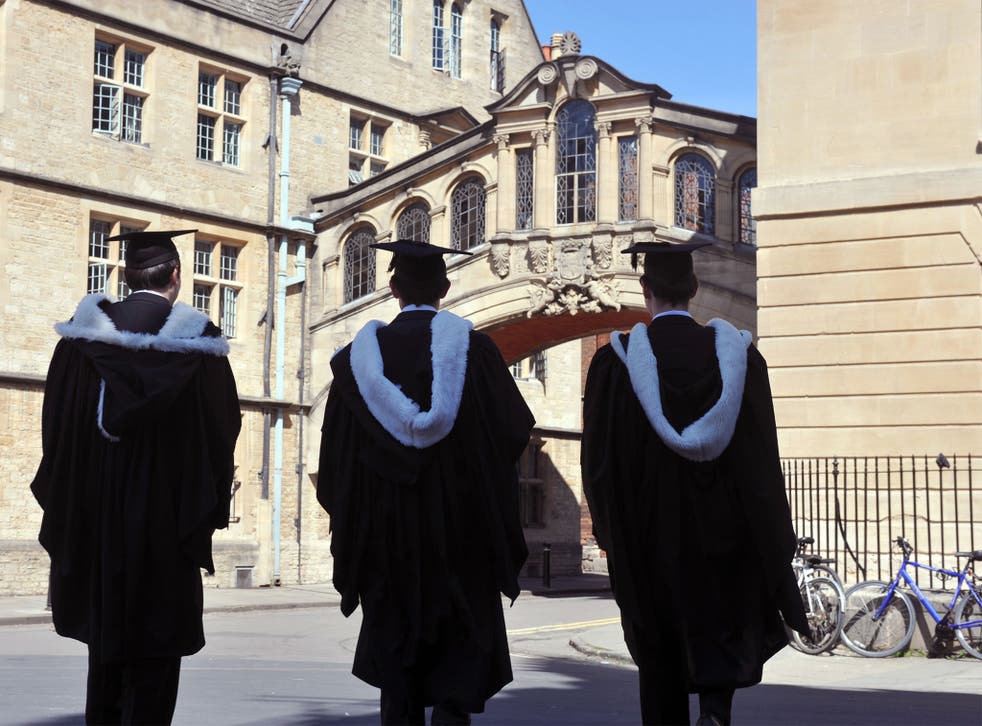 Oxford University Student's Union has become the latest in a string of institutions to boycott this year's controversial national student satisfaction survey in protest over increases to tuition fees.
Some 20 student unions across the country have asked their members not to fill out the voluntary survey this year, following a wider campaign led by the National Union of Students.
The National Student Survey is sent to all final-year students studying in the UK and is used by universities and third parties to get feedback on courses and individual institutions.
Student groups argue that the information can be used to give institutions the data they need to increase tuition fees, however, as part of the government's new Teaching Excellence Framework (TEF) for universities.
The next stage of the TEF in May 2017 (TEF2) will put universities into categories of gold, silver, and bronze.
Their rating "will be used from Year Three [2018] onwards to inform differentiated fees", the Department for Education announced in September.
A survey of more than 2,000 students by website savethestudent.org, found that 76 per cent were opposed to the Teaching Excellence Framework.
The NUS have confirmed that 20 Student Unions are currently supporting their boycott.
Oxford University Student Union (OUSU) have criticised the university over their support of the survey.
Eden Bailey, OUSU vice-president who is in charge of Access and Academic Affairs, told The Independent: "The University say that they want students to complete the NSS because they value students' feedback, but really it's because they want students' fees.
Student news in pictures

Show all 34
"If they really valued our feedback, they wouldn't be participating in the TEF and embarking on increasing tuition fee hikes.
"The University has student feedback through their own surveys, such as the Student Barometer, so encouraging students to complete the NSS isn't about valuing student views, but is simply a veiled way of getting students to fuel fee rises."
Oxford University itself has encouraged students to fill in the survey.
In an email to all students, Professor Sarah Whatmore, Pro-Vice-Chancellor for Education at the University told members it would be used to find areas of improvement and help those choosing where to apply to university.
A spokesperson for the University of Oxford said: "In common with other UK universities, we write to our students every year to make them aware of the National Student Survey (NSS).
"We have been working with colleagues from across the collegiate University, and with OUSU, to secure a strong response to the NSS, as we genuinely value the feedback we receive from students. This exercise is entirely unrelated to the Teaching Excellence Framework.
"The NSS allows students to tell us what they liked and didn't like about their time at Oxford, giving us valuable feedback as we seek to improve the student experience.
"Additionally, if more than 50 per cent of our students respond, the results are published on the Unistats website, which is linked to the UCAS website and allows students thinking of applying to Oxford to see what previous students thought of their time here."
Vice-president for Higher Education at the National Union of Students, Sorana Vieru, outlined the NUS's opposition to filling in the National Student Survey in The Guardian.
Johnson risks row with Prime Minister over dropping students from migration statistics
She argued the Teaching Excellence Framework, announced by Universities Minister Jo Johnson, does not measure excellence in teaching, as it only uses student satisfaction, dropout rates, and graduate prospects.
By boycotting the National Student Survey, students hope to show the government their opposition to the TEF and subsequent fee increases.
"Even small reductions in student participation will send a clear signal to the government – we will not be complicit in raising the fees of future generations," Ms Vieru wrote.
"Don't allow your feedback to be used against you, don't fill in the NSS. Not for a free coffee, not for an Amazon voucher, not even for a crack at a free iPad."
They will not be able to stop the government classifying universities since they will use an average score from the past three years and not 2017's results, noted Philip Walker, a spokesperson for the Higher Education Funding Council of England, which administers the survey.
"The National Student Survey is actually designed for students and particularly for prospective students," he said.
"It has made a big impact on improving the teaching and learning experience that students get."
Cambridge University Student's Union (CUSU) is yet to announce official support of the boycott.
​CUSU President, Amatey Doku, told Cambridge students via Facebook: "Our advice to finalists is to not fill out the survey until CUSU Council has decided exactly how it will continue to oppose the [Teaching Excellence Framework]," the student newspaper Varsity reported.
A spokesperson for Cambridge University said: "Student feedback, such as from the NSS, plays a key role in improving the academic experience at Cambridge, and we encourage Cambridge students to take part in the Survey.
"It is important that students are aware that this year's Survey results will not inform TEF2 ratings because the first ratings will only draw on earlier NSS results from 2014, 2015 and 2016."
Cambridge Student Union said they were "dismayed and disappointed" when the University announced they would take part in TEF2 in December.
They are advising students not to complete the National Student Survey until they make a decision on whether to officially boycott it at their next meeting on 23 January, SU President Amatey Doku told The Independent.
Register for free to continue reading
Registration is a free and easy way to support our truly independent journalism
By registering, you will also enjoy limited access to Premium articles, exclusive newsletters, commenting, and virtual events with our leading journalists
Already have an account? sign in
Register for free to continue reading
Registration is a free and easy way to support our truly independent journalism
By registering, you will also enjoy limited access to Premium articles, exclusive newsletters, commenting, and virtual events with our leading journalists
Already have an account? sign in
Join our new commenting forum
Join thought-provoking conversations, follow other Independent readers and see their replies