Pupil's hilariously accurate critical thinking and problem solving test answer proves a hit with the Internet
It might not have been the answer the teacher was looking for - but the student actually wasn't too far off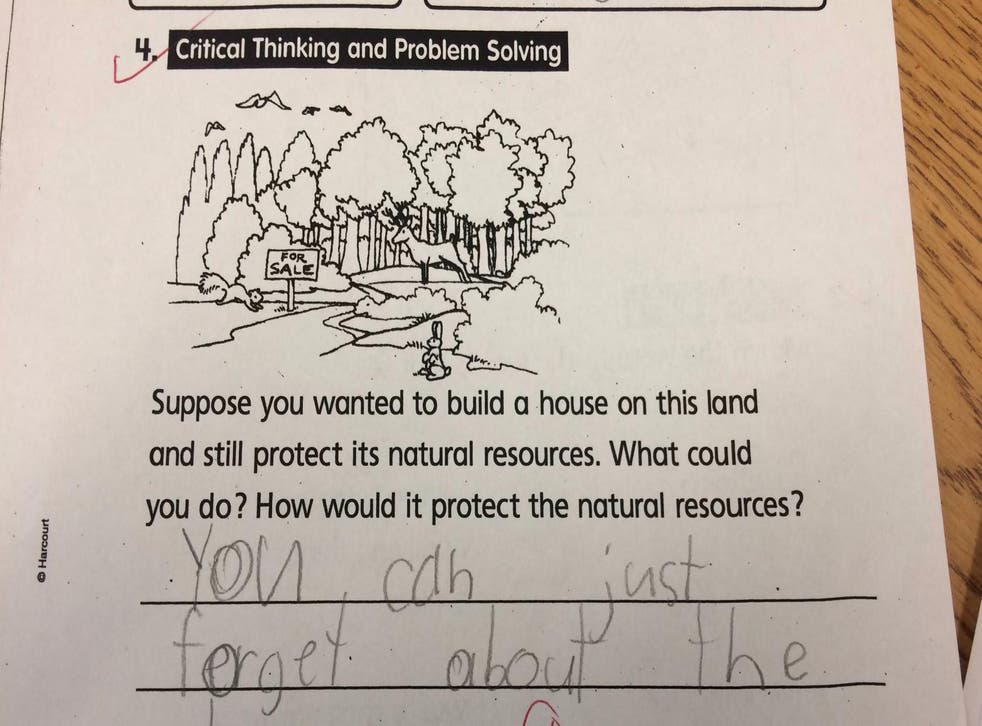 We've had the dating expert, the critical thinker - and now a budding property developer/environmentalist.
A young pupil's sassy homework answer has been racking up the views on image sharing site Imgur.
In a problem solving question, a student was asked: "Suppose you want to build a house on this land and still protect its natural resources. What could you do? How would it protect the natural resources?"
The pupil answered: "You can just forget about the house."
It might not have been the answer the teacher was looking for, but the student actually wasn't too far off.
Thankfully, it seems the teacher managed to see the funny side of it all, by writing "haha!" along with a small, smiley face.
Having been posted just 13 hours ago, the post has been viewed almost 425,000 times.
Heartwarming news stories from around the world

Show all 30
We hope the pupil in question managed to get some form of recognition for possibly the most on-point test answer we've seen.
Register for free to continue reading
Registration is a free and easy way to support our truly independent journalism
By registering, you will also enjoy limited access to Premium articles, exclusive newsletters, commenting, and virtual events with our leading journalists
Already have an account? sign in
Join our new commenting forum
Join thought-provoking conversations, follow other Independent readers and see their replies