Rhodes Must Fall- inspired students call for Bristol University tower name change over slave-trade links
Students believe the Wills Memorial Tower serves as a 'glorification' of a man who financed the university 'with slave-profited money'
Rachael Pells
Education Correspondent
Wednesday 29 March 2017 11:42 Comments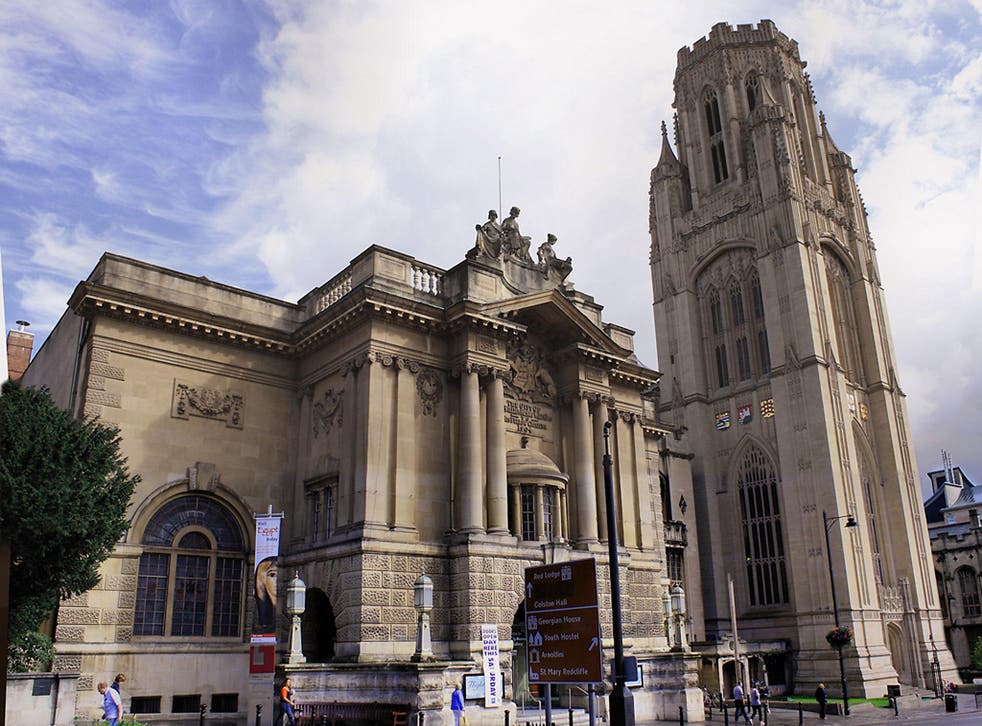 Students at the University of Bristol have launched a campaign to rename one of the city's most iconic buildings over its alleged links to slavery.
Campaigners inspired by the Rhodes Must Fall movement claim the Wills Memorial Tower "glorifies" the slave trade due to its namesake, Henry Overton Wills III, Bristol's founding chancellor.
Mr Wills was the first official chancellor of the university and used profits from his tobacco trade investments to fund Bristol's royal charter.
The tower was dedicated to him by his two sons after his death.
The student protestors argue the building undermines the university's commitment to "diversity and inclusivity" and symbolises the "toleration" of former slave masters.
Should their campaign be successful, the tower will be renamed after "somebody the entire university population can be proud of".
Launching a petition, the student group said: "Every student who first attends Bristol cannot help but notice the grand prominence of Wills Memorial Building at the top of Park Street.
"However, little know the history behind the name… Wills is known best for being the first chancellor of the university; less people are aware that this position was granted to him after financing the university with slave-profited money.
Cheapest universities for undergraduate cost of living

Show all 3
"While we begrudgingly understand that Bristol has a historical connection to the slave trade, we find it hard to accept that the university still glorifies an individual who advocated such an immoral practice.
"We also find it ironic that the building is often the setting for events hosting some of this century's most progressive thinkers."
Known as one of the last Gothic buildings to be built in England, the grade II listed tower was designed by the architect Sir George Oatley and was opened in 1925 after Mr Wills's death.
Responding to the petition, a spokesman for the university said would be "disingenuous" to "cover up" the university's historical relationship with the Wills family, adding that it was important to be "open and reflective" about the city's history.
They added that the university was still in the process of considering the students' demands.
NUS Presidential candidate claims the far left have 'hijacked' the student organisation
The spokesman said:"In 1908, a substantial gift of £100,000 from Henry Overton Wills III helped to establish our University, and a year later, partly as a consequence of that gift, we were awarded a Royal Charter.
"We have never sought to hide our association with the Wills family. We believe that it is important to be open and reflective about our history, and the city's historical connection to the slave trade.
"To us, it would seem disingenuous to seek to deny or cover up our relationship with the family. We would welcome the chance to discuss this further with the organisers of this petition."
Register for free to continue reading
Registration is a free and easy way to support our truly independent journalism
By registering, you will also enjoy limited access to Premium articles, exclusive newsletters, commenting, and virtual events with our leading journalists
Already have an account? sign in
Join our new commenting forum
Join thought-provoking conversations, follow other Independent readers and see their replies