Students attempt to storm Tory party HQ but are thwarted by riot police
The march was the biggest demonstration by students since protests four years ago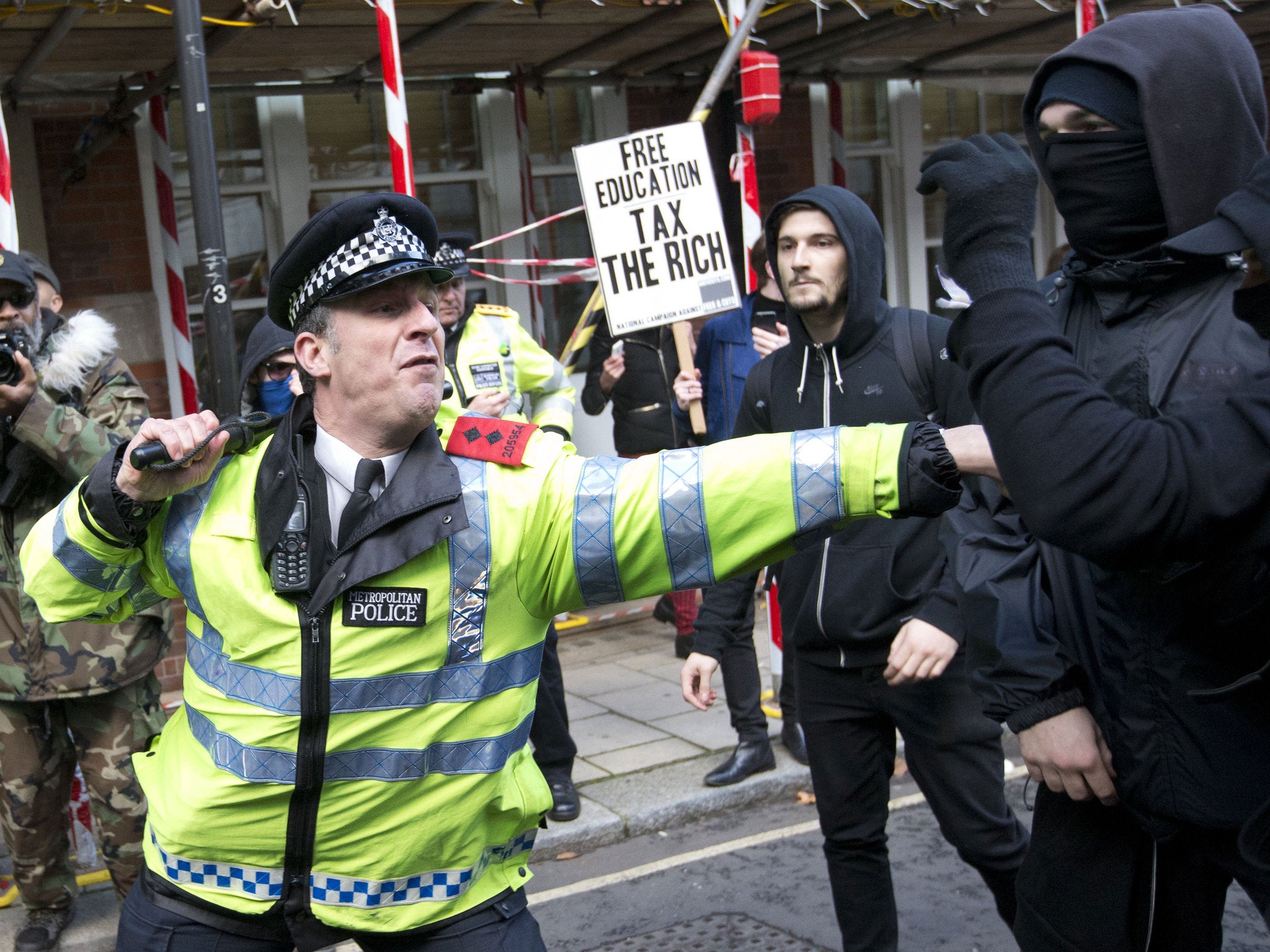 Riot police clashed with student protesters today as campaigners attempted to break into Conservative Party headquarters in central London.
An initially peaceful march by thousands of students against university tuition fees turned violent as demonstrators were confronted by hundreds of police in Westminster. One group, armed with a large wheelie bin, tried to storm the entrance to the Tories' national offices where they were pushed back by lines of officers in riot gear.
Police made four arrests – two for assault and two for affray – and three officers sustained minor injuries during a succession of scuffles.
The student march began close to the University of London near Euston and headed for Whitehall. As it approached the House of Commons, demonstrators broke through police barriers and flooded into Parliament Square. They then pulled down a second set of fencing to occupy the grass area opposite the Commons.
In pictures - Student protest in central London
Show all 10
Some protesters disguised in black bandanas broke off from the main march to let off flares as they ran through surrounding streets.
In other clashes, orange paint was flung over the entrance to the Department for Business, which oversees the tuition fees policy, while customers were trapped inside a Starbucks coffee shop after eggs and white paint were thrown over its front window.
A large group then held a sit-down demonstration outside New Scotland Yard, where they chanted against the police and the Tory Party.
The march was the biggest demonstration by students since protests four years ago over the increase in tuition fees to £9,000 a year in England.
Supporters, who travelled from more than 40 cities across the UK, were also protesting against the Government's continuing austerity programme and cuts to higher education.
The London protest, which was not supported by the National Union of Students as it involved "an unacceptable level of risk" to members, will be followed by two days of action next month with events planned in several cities.
Organisers, who are mobilising under the banner of "free education – no fees, no cuts, no debt", say the protests are based on successful campaigns in other western European countries against cuts to higher education funding.
They are vowing to stage protests over the next six months in the run-up to the next general election.
Aaron Kiely, the demonstration's organiser, said it was the beginning of a "major wave of action" designed to "turn up the heat on politicians and political parties to listen to the demands of the student movement".
He said: "A modern economy capable of competing in a globalised world can only function with a highly educated workforce."
A spokesman for the Department for Business said: "We recognise the right of all students to free speech. However, the world-renowned calibre of the UK's higher education system would not be sustainable if tuition fees were removed."
He said the latest figures showed numbers of disadvantaged students apply to university had increased.
Join our commenting forum
Join thought-provoking conversations, follow other Independent readers and see their replies