Student satisfaction levels fall amid nationwide protest against rising tuition fees
The number of students responding to the National Student Survey – used by the Government to help determine fee increases – fell dramatically this year, as elite institutions refused to take part for the first time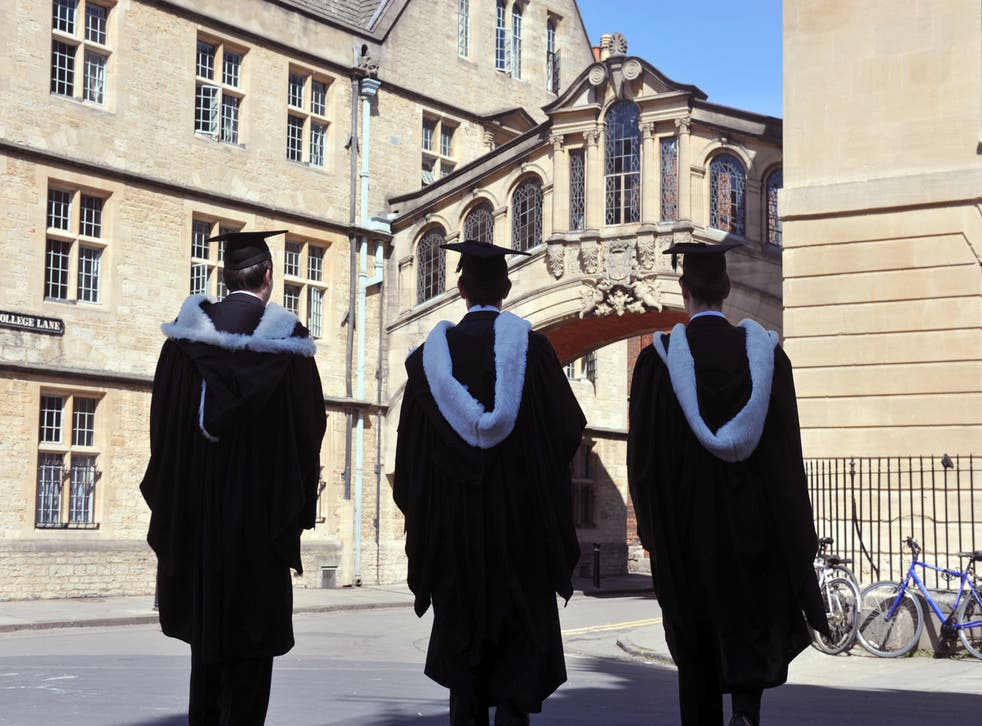 Students across the country have voiced their objections to rising tuition fees by refusing to take part in this year's highly anticipated National Student Survey (NSS).
Brand new figures published by the Higher Education Funding Council for England (Hefce) reveal a decline in student satisfaction levels for the first time in years, with some 84 per cent of final-year students saying they feel happy with the quality of their education, down from the record 86 per cent of the previous three years.
While the vast majority of the university and college students who did respond did so positively, this year's publication shows a dramatic fall in participation – down by 12,000 people on 2016.
This is despite a total of 530 higher education providers taking part – an increase of around 50 per cent.
The decline in responses could largely be a result of some of the biggest and most prestigious institutions staging a student-wide boycott of the survey.
But the survey was also targeted at a higher number of students this year – 446,000 up from 431,000 in 2016.
By The Independent's calculations, around one third of students targeted with the survey this year declined to respond.
The NSS is sent out annually to final-year undergraduate students across the country, and is designed to provide feedback on universities and the quality of courses offered, but this year a number of top institutions declined to take part in the voluntary data collection for the first time.
As part of the Government's White Paper reforms to higher education, this year's student satisfaction scores are to be used alongside graduate employment figures to determine teaching quality in universities – known as the Teaching Excellence Framework (TEF).
Those that score highly will be granted permission to increase tuition fees for undergraduates above the current cap of £9,000 per year.
NUS leaders argue by giving feedback, students are forced to be compliant in the proposals. As a result, the union called on individual university unions to encourage members not to respond.
Along with Manchester – the biggest university by student population, with around 30,000 undergraduates – a number of Russell Group institutions including Sheffield, Oxford, Cambridge, University College London and Bristol declined to take part this year.
UK news in pictures

Show all 50
An NUS spokesperson said the fall in responses was indicative that students were not willing to be used as tools in the Government's fee-hike plans.
NUS vice president for higher education, Amatey Doku said: "The Government wanted to use today's NSS results to allow universities which scored highly to raise fees from £9,000 to over £10,000 by 2020 as part of their draconian reforms to higher education.
"Our membership made it clear to us that they found this unacceptable and demanded we campaign to sever any link between their crude Teaching Excellence Framework (TEF) and a rise in tuition fees which would hit students hard.
"Figures released today demonstrate just how easily this data can be skewed and how unreliable they are as a measure of teaching quality within this framework. This serves as a reminder that students are opposed to soaring tuition fees and are ready to use their power to challenge any ill-thought changes to the sector which will ultimately see them losing out.
"We will continue to call for the link between fees and surveys like the NSS [to be broken] and engaging students' unions across the country to do the same."
Of the 530 higher education providers which did take part in the 2017 survey, 304,000 students submitted their responses – 68 per cent of those targeted.
Tory minister suggests drop in overseas student numbers is down to 'uncertainty' with Brexit
In 2016, as many as 312,000 students took part from just 358 providers.
Of the 68 per cent eligible this year, 84 per cent said they were satisfied with the overall quality of their courses – a slight fall on last year (86 per cent).
Student satisfaction with teaching is high, with 85 per cent agreeing that teaching staff are good at explaining topics and that they feel intellectually stimulated and challenged.
Last year, only 2 per cent of respondents said they were strongly dissatisfied with their course overall.
Publishing the results of this year's survey – undertaken for Hefce by Ipsos MORI – analysts declined to give details of the level of student dissatisfaction, however.
The higher education body emphasised that, as a result of changes to the study, this year's figures could not be directly compared to previous years.
In terms of university breakdown, the University of Buckingham, came in joint first place with St Andrews and the Royal Vetinary College for overall student satisfaction.
Sir Anthony Seldon, vice chancellor of the University of Buckingham, said: "The NSS remains the voice of the UK's students and Buckingham is thrilled to be top once again; we are very fortunate to have such great students and academics who clearly make learning at Buckingham such a success for all.
"It is a shame for students when considering their choices that some universities have not been included in this year's results."
Other elite universities expressed disappointment with the results.
Of the 460 institutions included in the "satisfaction" part of the questionnaire, 44 of them are listed as being significantly better than their benchmark – a score deemed to reflect the sector average satisfaction levels but adjusted to reflect the mix of students and subjects at the institution.
The figures showed 60 of the 460 were significantly worse than their benchmark.
Of those in the Russell Group of universities – considered the UK's best institutions – two of the 16 included in the survey scored significantly worse than their benchmarks.
They are the London School of Economics and Political Science (LSE) and Edinburgh University.
LSE interim director, Professor Julia Black said of LSE's results: "Rigorous academic standards and independent critical analysis will continue to be an essential part of undergraduate education at LSE. However, it is clear that work is needed in order to improve our students' overall experience.
"The School has already made a number of significant changes in the past year, including the opening of the new academic and personal development centre, LSE Life.
Best Universities for Life Sciences and Medicine

Show all 20
"We have also agreed to implement further changes to our assessment system and will be introducing in-year exam resits. All new developments have been made through working closely with students and in direct response to concerns they have raised."
LSE was one of three Russell Group institutions (along with Liverpool and Southampton) to suffer under the Government's new TEF rankings this year, achieving a bronze award – the lowest possible score.
The university achieved a 74 per cent student satisfaction rate this year, down from 81 per cent in 2016.
Many traditionally high-ranking universities are said to have fallen short in the TEF scores due to a lack of emphasis on student welfare and lack of diversity.
Responding to the results, Alistair Jarvis, chief executive of universities UK, said: "The new questions in this year's survey and the boycott of the NSS in some universities makes year-on-year comparisons difficult.
"For this reason we would urge students and those who advise them on application decisions to take into account a range of information about institutions and courses. Ultimately there is no substitute for speaking to admissions officers, lecturers and current students to get a feel for the university and course."
Universities minister Jo Johnson said: "While overall student satisfaction remains high, we know there is significant variation in teaching quality and outcomes both within and between providers.
"There is more to do to ensure that students and taxpayers investing heavily in our higher education system secure value for money from it.
"In the next phase of performance assessment, the TEF will focus on teaching and outcomes at subject level and we are also developing a powerful new teaching intensity metric informed by contact hours and class sizes."
Professor Madeleine Atkins, HEFCE chief executive, added: "The NSS continues to be the largest and most authoritative survey of its kind in the UK.
"Its role in gathering crucial evidence about the student experience in higher education has been enhanced this year by new questions on student engagement and updated questions to reflect the latest approaches to learning and teaching.
"The 2017 results show that students provide particularly positive feedback on the quality of teaching and on learning opportunities. Institutions will also, however, be considering carefully how they can continue to improve assessment and feedback, and their broader engagement with students."
A Russell Group spokesman said: "Collectively, Russell Group universities included in the NSS figures this year have continued to outperform the sector as a whole.
"Our universities continue to invest millions of pounds in improving the teaching, facilities and services available to our students.
"This is the first year that some of these questions have been asked as part of the NSS and the overall picture is complicated by the impact of the boycott pursued by the NUS."
Join our new commenting forum
Join thought-provoking conversations, follow other Independent readers and see their replies