The Independent's journalism is supported by our readers. When you purchase through links on our site, we may earn commission.
Students end a day of action and occupations in the wake of Government's higher education green paper and Spending Review
'Our opposition must be as unflinching as their attacks,' says NCAFC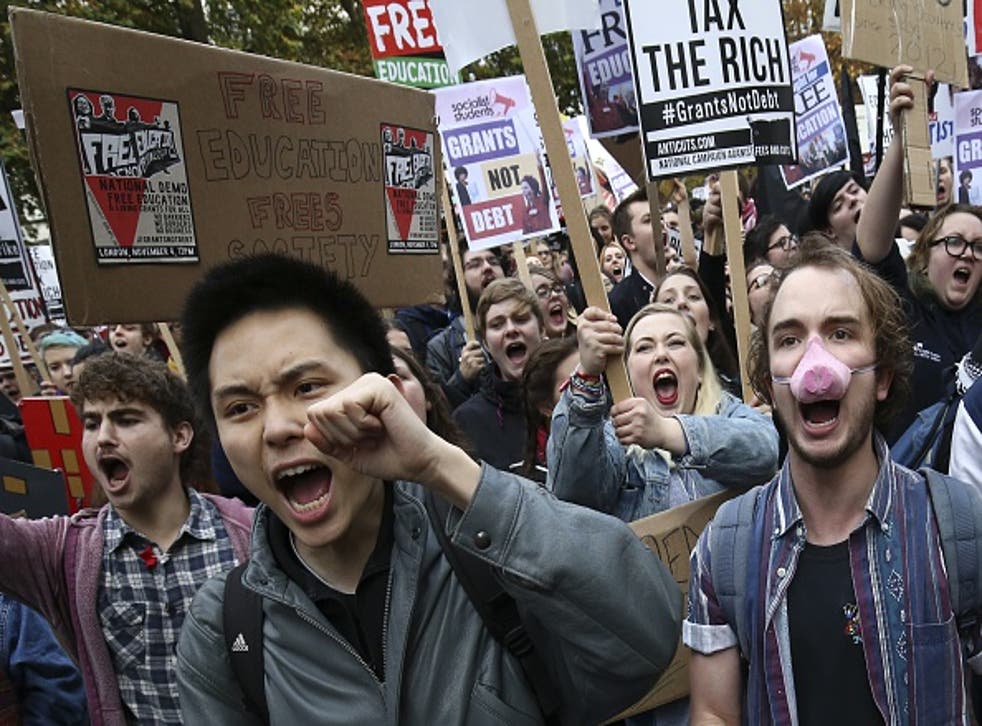 Hundreds of students across the country have finished a day of action and occupations against the Government's "worst attacks on education in decades."
Organised by the National Campaign Against Fees and Cuts (NCAFC), students across London, Warwick, Bath, Sussex, and many more, demonstrated fiercely in the wake of this month's higher education green paper, and Wednesday's Spending Review which saw the Government confirm plans to retroactively change student loan conditions despite an overwhelming majority (95 per cent) of respondents to a consultation opposing them.
Regarding the contents of the green paper, the NCAFC described how governments "could raise fees without even a vote in Parliament", and added: "This is not just an attack on education as a public service, it is a direct assault on the right of students and the wider public to scrutinise and resist future fee rises."
Hope Worsdale, with the NCAFC national committee, said the Government's actions - after it was revealed Chancellor George Osborne made a U-turn on a 2012 student loan promise - have shown it is "intent on waging ever more unjust attacks on borrowers and the low waged," and added: "Our opposition must be as unflinching as their attacks."
Today, however, Warwick for Free Education - which organised a mock funeral procession - said: "This is the vision of the future the Tories have in store for us. If the higher education green paper is passed, universities will be fully marketised and students will become nothing more than customers of a business, run in the interest of profit. We cannot allow this to happen."
Having collected concerns to send to Universities Minister Jo Johnson, University College London's UCL Defend Education said: "As if hiking our loan repayments, cutting maintenance grants and cutting Disabled Students' Allowance wasn't enough for the Tory government, now they've unveiled plans for the worst attacks on education in decades. They want to force full marketisation on universities, and give their ministers the power to raise tuition fees without limit.
"We need to fight to stop their plans becoming a reality."
It also emerged that the London School of Economics' LSE Occupation had occupied part of their vice chancellor's office, demanding a consultation about the green paper.
According to the Bath Impact, the students' union at the University of Bath remained occupied for the best part of the day as protesters demonstrated against the privatisation of education and the PREVENT policy too. Bath Students Against Fees and Cuts said: "We cannot let ourselves be the last generation to have access to publicly funded higher education. We cannot let something as important as education be turned into just another way for corporations to make profit at our expense."
A 'teach-in' took place at the University of Sussex whereby students took it upon themselves to take to the campus grounds and put on a series of lectures and discussions in order to educate as many people as possible about their cause.
Register for free to continue reading
Registration is a free and easy way to support our truly independent journalism
By registering, you will also enjoy limited access to Premium articles, exclusive newsletters, commenting, and virtual events with our leading journalists
Already have an account? sign in
Register for free to continue reading
Registration is a free and easy way to support our truly independent journalism
By registering, you will also enjoy limited access to Premium articles, exclusive newsletters, commenting, and virtual events with our leading journalists
Already have an account? sign in
Join our new commenting forum
Join thought-provoking conversations, follow other Independent readers and see their replies