Students fought to change the world in 2015, 10 ways how
Both at home and abroad, students from across the globe worked hard to bring about change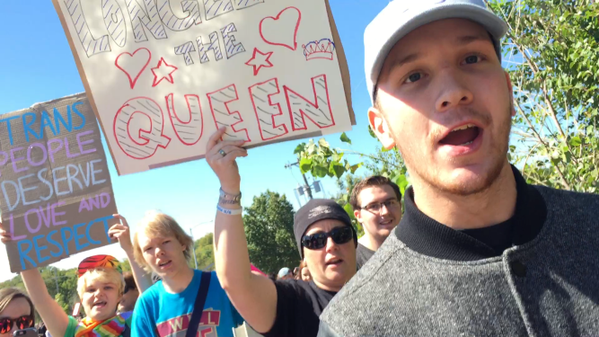 Students, this year, have changed the world in countless ways. Across the globe, they've been faced with elections, ever increasing cost of living, and rising social unrest.
Students have done everything from seizing back money from imperious landlords to shifting political paradigms and fighting for those less fortunate than themselves - so here's a countdown of the top ten ways students worked to change the world in 2015:
10) #Millibae: Abby Tomlinson and the Milifandom
In Ed Miliband's resignation speech as Labour leader, he thanked "the most unlikely cult of the 21st century" - the Milifandom.
It all started in April, when Abby Tomlinson - a 17-year old A-level student - lead the #Milifandon Twitter craze, proving young people were actually interested in politics. She said she started the movement to counteract the negative portrayal of Ed Miliband in the right-wing media, and also to "show powerful young people are."
Despite Labour's loss at the election, she clearly proved high levels of youth engagement in an election, taking on Murdoch in the process.
Now, she is running to be under-19s officer on Young Labour's national committee and applying to university where she hopes to study politics, eventually making a difference campaigning on inequality, education, and ending austerity.
9) UCL students' rent strike victory
The housing crisis is something that's affected nearly every demographic over the last few years. This year, though, UCL students scored a major victory when they were repaid over £100,000 in compensation, following a seven-month long campaign, after living in, what they described as, "unbearable" conditions, including alleged rat infestations and noise caused by demolition work which hindered them from sleeping and studying.
Students took decibel readings in every room of the halls of residences and, in some, claimed it reached up to 95 decibels.
The university complaints panel found the university management demonstrated "a lack of empathy towards the students' circumstances and an understanding or appreciation of what would be an acceptable student experience".
It added: "Overall, the living conditions with which the residents...were faced with were unacceptable and their experiences were not in-keeping with that expected for students of UCL."
The panel also found managers were "disingenuous to the students concerned".
In May, students embarked on a rent strike in frustration over, what they sawn as, the university's deplorable disregard of their welfare. Initially, the students were threatened with exclusion from the university.
The university was found to have "seriously failed" and shown "a lack of empathy" by UCL's complaint commission and, since the campaign's success,the group UCL, Cut the Rent has continued to campaign for a 45 per cent reduction in rent in its halls.
8) The Umbrella Revolution in Hong Kong
Despite not much coverage in the mainstream media, the Umbrella Revolution - led mainly by students - continued into 2015 in Hong Kong as citizens fought to keep democracy.
The 2014 Hong Kong protests was perhaps the biggest student story of last year, However, on 28 September this year, though, hundreds of students marched on the Hong Kong government headquarters to remember the demonstrations that began a year to the day prior.
Protesters planned to hold a one-minute silence at 17:58 - the exact time a year earlier police had fired tear gas at demonstrators. Instead, they held up yellow umbrellas and banners stating: "I want genuine universal suffrage."
The impact of the protests became clear in Hong Kong's district council elections in November when all pro-democracy parties gained seats and a record-breaking number of voters turned out.
7) Oak Park High School, USA
Landon Patterson hit the headlines when she became the first transgender person in the history of the US to be crowned homecoming queen. When crowned, she told American broadcaster Fox 4: "I've dreamt about it [since] freshmen year, like, 'Oh, I wanna be that girl out there walking'. To have my students and my friends vote for me just really makes me feel welcomed and loved for who I am. Life is too short and you've got to be who you are."
When controversial group, the Westboro Baptist Church, picketed the school shortly after, they were met by a rally of students holding signs and wearing T-shirts reading: 'Long live the queen' and 'Westboro Baptist Church needs Jesus'.
6) Protests after students in Ethiopia killed following demonstrations
Oromia is the largest of Ethiopia's nine ethnically-based states, with nearly half the population living there. In the last decade, the main city of the state, Addis Ababa, has experienced large growth but Oromo activists - who have a longstanding tenuous relationship with the national government - have denounced the government's lack of schools and hospitals for Afaan Oromo speakers.
In November, protests broke out about 50 miles west of Addis Ababa. These were carried out by university students and led to other students, including those from high-schools and primary schools students, to stage demonstrations and sit-ins across the country.
Activists claim security forces killed at least seven students across the state during the protests.
5) Malala continued to fight for girls' education
Malala Yousafzai, the youngest ever recipient of the Nobel Peace Prize continued her fight this year for girls' education in Pakistan and across the globe.
In April, she launched the #DearSisters campaign on the one year anniversary of the Nigerian schoolgirls having been kidnapped by Boko Haram. This led to more than 3,400 people joining the Malala Fund's letter-writing campaign in support of the girls. In May, Malala's campaigning paid off and world leaders committed to 12 years of education for every child at the World Economic Forum.
In July, Malala celebrated her 18th birthday by opening a girls' school on the Lebanon/Syria border for refugees from Syria. The students at the school, aged 14 to 18, will study for a bachelor's or vocational degree. The courses are also available online, which helps them to find income and employment while studying. The following day, the Malala Fund announced a $250,000 donation to support Syrian refugees in Jordan's Azraq Camp to attend and succeed in school.
Oh, and she aced her GCSEs at the same time too.
4) US students protested what it was like to be #BlackOnCampus
Campuses across the US saw a level of protest not reached since the 1960s as students demanded their universities to confront institutional racism.
At Amherst College in Massachusetts, students staged a three-day sit-in where they wrote a list of demands including for the president of the college to issue a statement of support to revise the school's honour code to "reflect a zero-tolerance policy for racial insensitivity and hate speech."
It also called on the school to reject the unofficial mascot 'Lord Jeff'. The mascot was said to be based on Lord Jeffery Amherst - who commanded British forces in North America during the French and Indian War - and is believed to have endorsed giving blankets containing the smallpox virus to Native Americans, according to The Boston Globe.
At the University of Missouri, students forced their president to step down following a number of allegedly racially-charged incidents. At Yale University in Connecticut, the uproar began when Erika Christakis, a lecturer, who questioned whether there were issues of "censure and prohibition" brought into play by objections to "offensive" Halloween costumes.
The president of Georgetown University, in Washington, D.C., announced it would rename two buildings named for school presidents who were said to have organised the sale of Jesuit-owned slaves to help pay off campus debt in the 1830s, according to The Washington Post.
At the same time, the hashtag #BlackOnCampus went viral.
3) Students helped refugees
Students from across the globe dropped their textbooks this year in favour of helping refugees when the civil war in Syria resulted in the biggest refugee crisis since the Second World War.
In the UK, students organised dozens of collection points on campuses and a number of medical students travelled to Calais to assist with first aid.
In Germany, universities announced they would be offering free education and language tuition to help refugees into further education. Many institutions also opened up hardship funds and grants to students seeking asylum.
The National Union of Students (NUS) also helped to organise an international students' 'Day of Solidarity' campaign where thousands of students walked out of their classes to show support of the refugees and to also highlight to highlight their dissatisfaction with government immigration policies.
2) Nepalese students protested in Kathmandu
Tens of thousands of students took to the streets of Kathmandu, capital of Nepal, following a severe fuel and medicine shortage and increasing food prices caused by a border blockade with India.
The students and schoolchildren formed a human chain along the full length of Kathmandu's Ring Road to protest Nepal's new constitution which divides the country into seven states and takes away autonomy from many Madhesi people's ancestral homeland. Over 50 people died in the protest.
1) South African students protested a rise in tuition fees - and succeeded
This year, South African students staged the biggest protests the country has seen since apartheid ended in 1994.
The country's tuition fees have risen gradually in recent years, and university fees in South Africa differ between different institutions and degree programmes. This year, though, increases of ten to 12 per cent were proposed and demonstrations spread to the top universities in the country, forcing some to close.
Students argued the raise in fees would lead to further discrimination against black families whose average income was said to be significantly less than that of white families.
Following a week of protests, South African President Jacob Zuma ruled out any tuition fee rises for 2016.
Twitter: @bridiepjones
Join our commenting forum
Join thought-provoking conversations, follow other Independent readers and see their replies