Students outraged as ULU president Michael Chessum arrested in 'attack on the right to protest'
Arrest made after ULU failed to notify police about a demonstration yesterday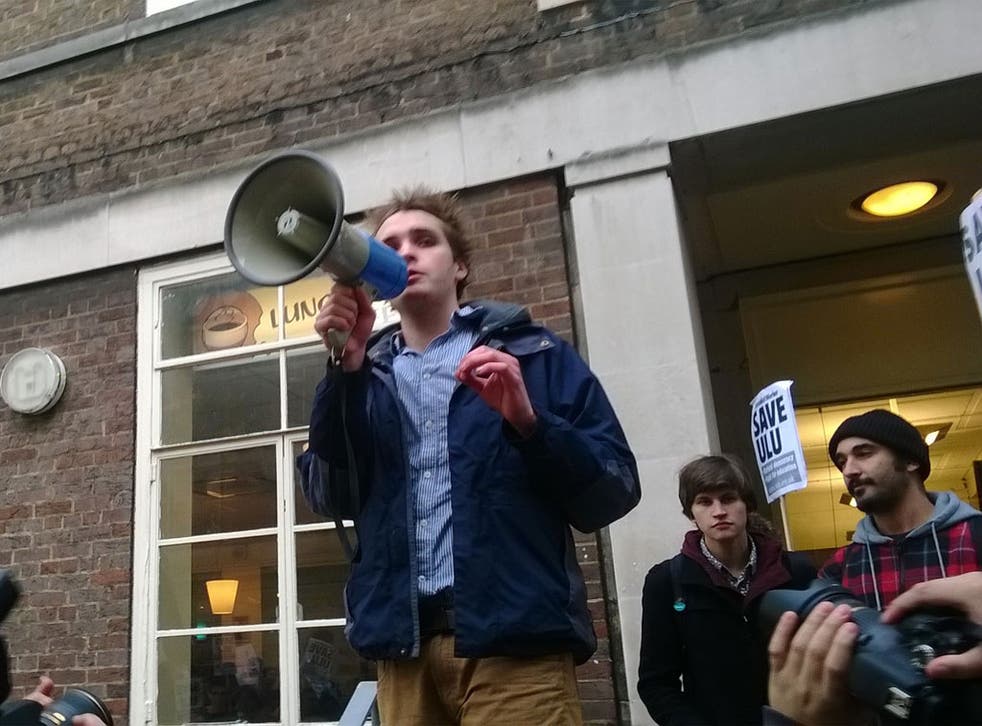 A student leader in London has been arrested in a move that has been branded a "clear attack on the right to protest".
Michael Chessum, president of the University of London Union, was arrested at around lunchtime this afternoon, in connection with a demonstration he had organised the day before in central London, against the planned closure of ULU.
Witnesses claim that Mr Chessum was "intercepted by several police officers" outside the ULU building in Bloomsbury, as he made his way back from a meeting with University of London management. He was taken to Holborn Police Station.
In a statement, ULU said: "This is a clear attack on the right to protest. It is a transparent and shameful attempt to intimidate students from demonstrating against the actions of university management."
Dan Cooper, the vice-president of ULU, told The Independent that he believes Mr Chessum was arrested "on the grounds that ULU failed to properly notify police of yesterday's demonstration".
"We think this is a disgraceful act of intimidation, and call on the University of London to intervene and help get Michael released," he said.
A spokesperson for the National Campaign Against Fees and Cuts said: that "NCAFC utterly condemns this shameful arrest".
He added: "At this time of police repression and the withering of our democratic rights it is vital that as students we stand firm and defend our right to protest and freedom of association.
"The demonstration Michael helped organise in his role as ULU President was peaceful and part of a proud history of student dissent. The students protest didn't even leave the pavement for goodness sake!"
The Metropolitan Police confirmed that "a 24-year-old man was arrested under Section 11 of the Public Order Act" today.
A group of around 60 or so students had gathered at Holborn Police Station at 4:30 this evening, in protest at the arrest.
Additional reporting by Sadie Hale
Register for free to continue reading
Registration is a free and easy way to support our truly independent journalism
By registering, you will also enjoy limited access to Premium articles, exclusive newsletters, commenting, and virtual events with our leading journalists
Already have an account? sign in
Register for free to continue reading
Registration is a free and easy way to support our truly independent journalism
By registering, you will also enjoy limited access to Premium articles, exclusive newsletters, commenting, and virtual events with our leading journalists
Already have an account? sign in
Join our new commenting forum
Join thought-provoking conversations, follow other Independent readers and see their replies