Sussex protest grows as 200 students temporarily occupy lecture theatre
Eduard Mead
Friday 01 March 2013 11:03 Comments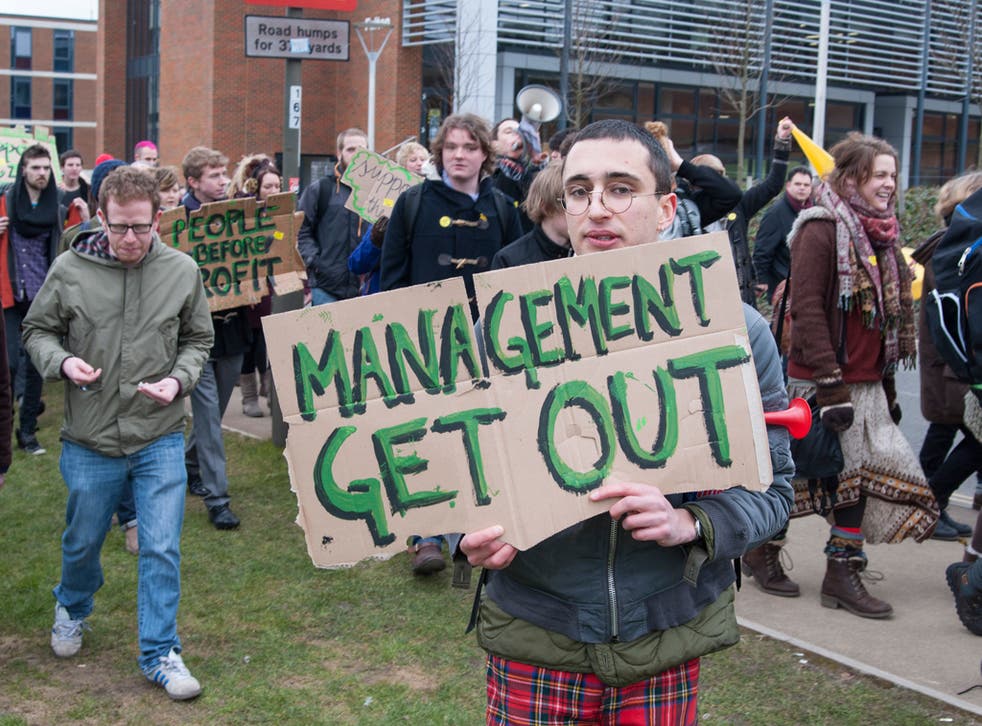 Around 200 students have occupied a Brighton and Sussex Medical School lecture theatre on the Sussex University campus, following a protest of over 400 students, as they up their efforts to block the proposed outsourcing of catering, security and several other on-site services.
Eye-witnesses reported that upon arrival at the Medical School, the protesters announced that they would be "taking back what is ours" before storming the building and taking over the lecture theatre.
In a defiant statement, the protesters reiterated their initial demands before declaring that: "in being here, as with the occupation of Bramber House, we go beyond those demands" and that their 'temporary occupation' should be regarded as a 'warning shot'.
After insisting that they would no longer allow 'management to terrorise our community' they declared: 'the university is a factory – shut it down'.
Although hailed as a success by the occupiers, there has been a degree of dissent amongst some students, many who although sympathise with the concerns of the protesters, believe that this latest development could be self-defeating: 'I think occupying a lecture theatre is a step too far, this is going to directly harm fee-paying students' said one student.
Another, whose lectures are regularly held in the affected building, said he was 'deeply angered' by today's events and was "worried about how the occupation, and potential future occupations, will affect my course".
"There's protesting and then there's taking things too far, stopping us from attending lectures that we're paying for is taking it too far."
Although there is still wide reaching support for the initial occupation, there appears some scepticism towards occupations in study space and lecture theatres. What affect this latest development will have on the anti-outsourcing movement remains to be seen, but for the meantime, the group faces the challenge of convincing students that taking their lecture halls out of action is of any benefit to them.
Later in the afternoon around 50 students broke off and occupied the Jubilee building lecture hall in a third occupation. "We have taken this space temporarily as a portent of things to come," a spokesman claimed.
In response to the initial occupation, the university issued a statement saying that 'the issues which [students] are protesting about are already the subject of discussion through the proper processes'. The outcome of which University of Sussex Registrar John Duffy, who is responsible for the university's professional services, has said "reinforced our view that external partners – focused as they are on the specific services we need – are best placed to continue to develop our services and to invest in staff, systems and technologies that will enable us to maintain a culture of continuous improvement in what we offer to our staff and students."
UPDATE 01/03/2013
The university reports that the two more recent occupations in the Jubilee building and the Medical School have now ended. The Bramber House occupation is ongoing.
Register for free to continue reading
Registration is a free and easy way to support our truly independent journalism
By registering, you will also enjoy limited access to Premium articles, exclusive newsletters, commenting, and virtual events with our leading journalists
Already have an account? sign in
Join our new commenting forum
Join thought-provoking conversations, follow other Independent readers and see their replies