Sutton Trust calls on Oxbridge to simplify 'intimidating and complex' admissions tests for bright, low-income students
Both universities criticise new report's suggestions, with Cambridge saying it is 'disappointed' at the 'lack of understanding'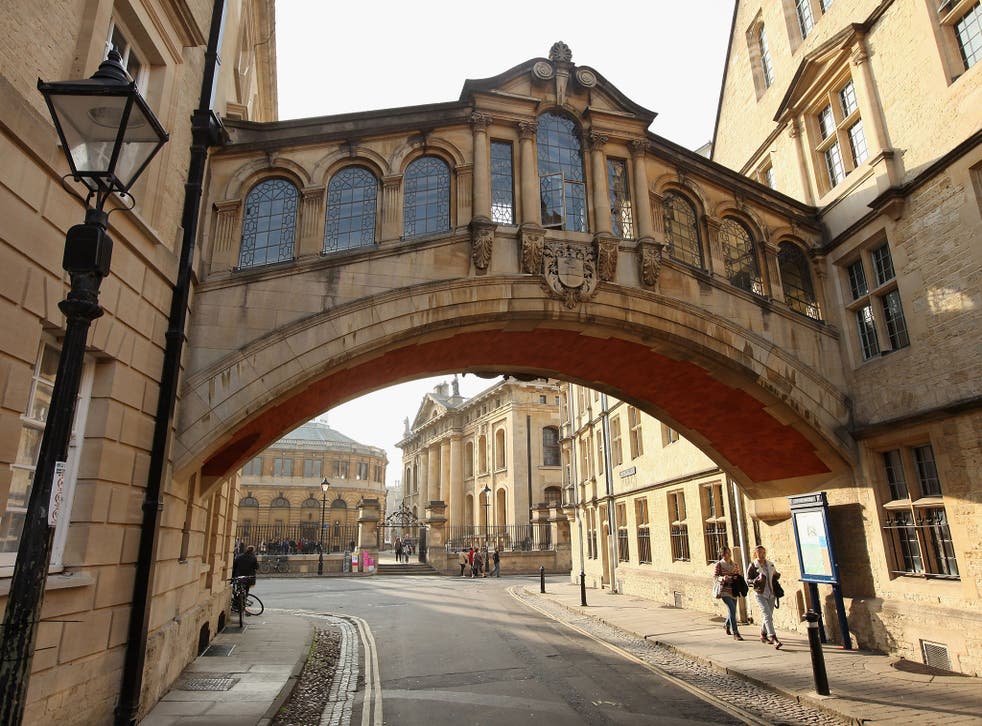 A leading education think-tank and charity has called on the universities of Oxford and Cambridge to simplify their "intimidating and complex" application processes for fear bright students from low-income backgrounds are being discouraged from applying.
The Sutton Trust, which aims to champion social mobility in education, undertook new research to analyse how both elite universities pick their undergraduate students.
As students currently have to apply to individual colleges by undertaking different interviews and written assessments, the charity said it wants to see just one application process at each university, and that that single test should have more transparency in the interview process.
According to the report, Oxbridge Admissions, the charity said it found almost 400 different possible tests beyond A-levels which would-be undergrads would have to take. On Tuesday, Cambridge confirmed it will introduce new written tests for prospective students from this autumn, depending on their chosen subject area.
In a letter to schools and colleges, Dr Sam Lucy, the university's director of admissions, backed-up the introduction of the new tests, insisting they would provide "valuable additional evidence of our applicants' academic abilities."
The charity's report has come just shortly after Prime Minister David Cameron called on the country's top universities to do more to stop inequality among their student bodies.
The top 10 universities in the UK

Show all 10
According to Schools Week, however, both institutions have responded to the Sutton Trust's report with criticism.
The site reported how a Cambridge spokesperson said the university was "disappointed" at the "lack of understanding" of the admissions process demonstrated by the Sutton Trust's findings, adding: "We have a proven track record of improving access."
Meanwhile, an Oxford spokesperson told the site: "These myths are a fundamental barrier to Oxford's access work, and only reinforce perceptions that deter exactly those candidates we try hardest to encourage to apply."
Sir Peter Lampl, chairman of the Sutton Trust and the Education Endowment Foundation, highlighted how, over the last two decades, the Trust has worked closely with both Oxford and Cambridge "to increase the proportion of state schools students." However, he insisted that more needs to be done, and said: "Our surveys and experience suggest many bright state school students are put off by the application process, which is both intimidating and complex.
"Specifically, we believe the universities, rather than the colleges, should control the admissions policies and interviews. The numbers of additional exams and tests should be reviewed, again to avoid advantaging those who gain from extra tuition and support..
On the whole, Sir Peter said more needs to be done to consider "contextual admissions," in order to recognise the challenges being faced by bright students in tough inner city schools, compared with a successful private or state school.
Register for free to continue reading
Registration is a free and easy way to support our truly independent journalism
By registering, you will also enjoy limited access to Premium articles, exclusive newsletters, commenting, and virtual events with our leading journalists
Already have an account? sign in
Register for free to continue reading
Registration is a free and easy way to support our truly independent journalism
By registering, you will also enjoy limited access to Premium articles, exclusive newsletters, commenting, and virtual events with our leading journalists
Already have an account? sign in
Join our new commenting forum
Join thought-provoking conversations, follow other Independent readers and see their replies