Syria air strikes: Government 'prioritising warfare over welfare' as NUS votes 100% unanimously against British intervention
'This is a vote in support of Syrian civilians and against further destruction of an already embattled population,' says NUS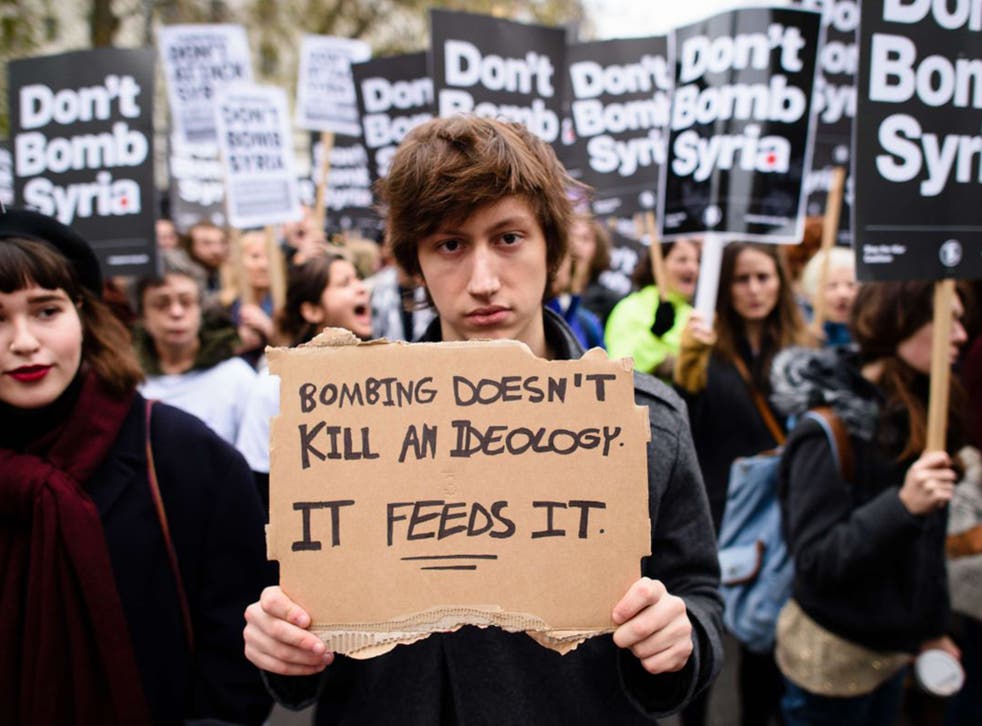 The Government is "prioritising warfare over welfare" as the National Union of Students' (NUS) National Executive Council (NEC) today voted 100 per cent unanimously against the UK carrying out air strikes in Syria.
The group's emergency 'Don't Bomb Syria' motion - which was debated at a meeting in Manchester - stated how "British military interventions in Afghanistan, Iraq and Libya have left those countries in situations much worse than before the interventions."
It also added: "The ongoing bombing of areas controlled by Isis by a range of countries has led to many civilian deaths. The political and social instability fomented by these military campaigns has led to the rise of groups like Isis and will further perpetuate a climate in which they, and mass political violence, can thrive.
"There is no transparency regarding any long-term political or military strategy by this government concerning Syria as Britain is opposed to most players engaged in the complicated conflict. Western military interventions have continually betrayed ulterior motives by these governments, as can also be expected of this move by the Government to bomb Syria.
"Bombing Syria is another clear case of the Government prioritising warfare over welfare."
The NUS - which represents around seven million students in the UK - also criticised the lack of transparency regarding any military or political strategy following the proposed intervention.
The motion continued: "During the 2013 Commons vote, NEC voted to adopt a stance of having 'no position' on British military intervention against Syria. Such a position is untenable given the impact such a move would have on the political and social situation in the UK and on our membership, particularly international students and refugees."
NUS international students' officer, Mostafa Rajaai, described how the UK must not cause more more difficulty in what is already a troubled nation. He said: "This is a vote in support of Syrian civilians and against further destruction of an already embattled population.
Cameron: No civilian casualties of UK airstrikes
"Despite the wide ranging political standpoints and opinions often found on our National Executive, this motion passed unanimously. This is a clear signal that, across the UK's campuses and colleges, the students we represent are not in favour of a misjudged and dangerous war.
"The student movement has a proud history of standing up against injustice and we believe the lives of civilians in Syria to be valuable.
"The Government has no clear plan for involving British armed forces in Syria and we call upon MPs, who represent our millions of members nationwide, to listen to our call and vote against military intervention."
The National Campaign Against Fees and Cuts (NCAFC) - which today took part in a protest outside the department of health against the cutting of bursaries for student nurses - also hit out at the Conservatives' and tweeted: "Disgraceful that Tories are on the brink of investing in war whilst education and NHS are being slashed."
Register for free to continue reading
Registration is a free and easy way to support our truly independent journalism
By registering, you will also enjoy limited access to Premium articles, exclusive newsletters, commenting, and virtual events with our leading journalists
Already have an account? sign in
Join our new commenting forum
Join thought-provoking conversations, follow other Independent readers and see their replies