Toni Pearce: she flunked her exams – but fought her way to the top to become President of the NUS
Toni Pearce tells Richard Garner how her background will help her fight for students
Richard Garner
Tuesday 16 April 2013 09:53 Comments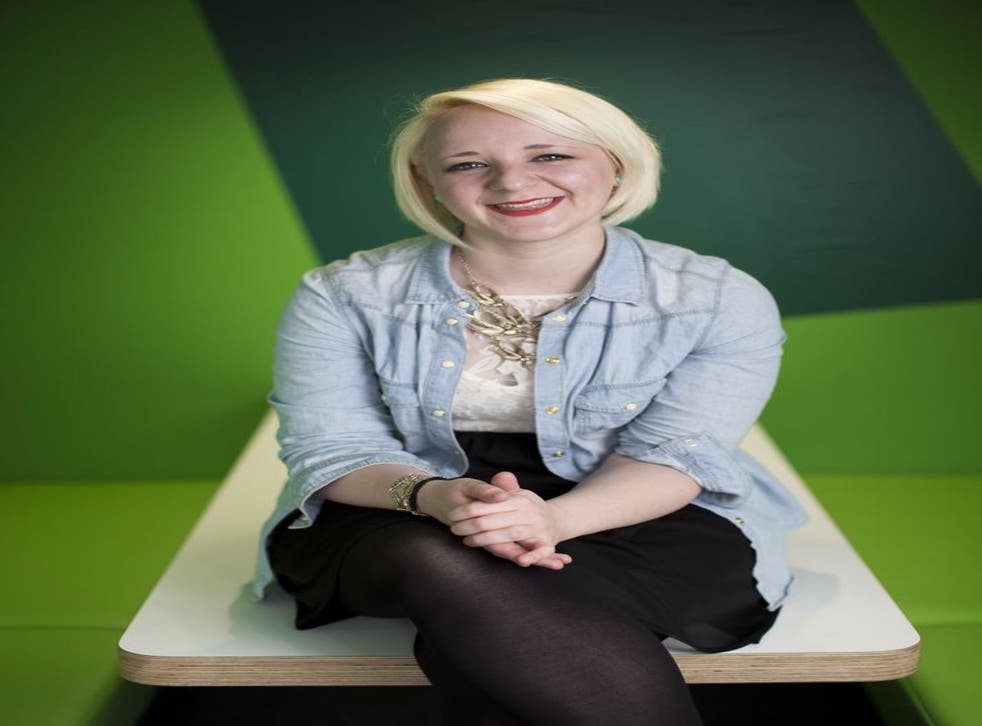 Toni Pearce, the new president of the National Union of Students, is unique. Not only does she not have a degree – the first leader of the NUS without such a qualification – the 23-year-old also flunked her sixth-form exams.
Her initial failure led her to worry she could be barred from carrying on her studies before she even had a chance to become involved with the student movement.
"My first year I spectacularly failed," she told The Independent in her first interview since being elected. "I got two Us [unclassified] and two Ds. I was ill and had been on some strong medication all year. My college was incredible in letting me start the course again.
"If I hadn't had the opportunity, I wouldn't be here today. I'd probably still be working as a waitress and that's not where I wanted to be."
Now she is worried people in a similar position will not find it as easy to continue their studies, due to the restrictions on resits proposed by the Education Secretary, Michael Gove.
Pearce eventually obtained two As and a B in English, maths and history from Cornwall College after three years of study.
She was set to take up a university place at Bath when it was suggested she might like to take a sabbatical year as president of the Cornwall College Students' Union.
She decided she would – the start of several years of union work which culminated in her winning the presidency of the NUS on the first ballot, with 424 of the 732 votes cast at its conference last week.
Her first involvement with the union was lobbying Parliament to campaign for a better deal for mature students.
"I won't pretend I was going as a tried and tested politico," she said. "I just jumped on a bus at two o'clock in the morning, went to London and spoke to my MP."
What impressed her, though, was her first experience of seeing hundreds of people coming together to demand better treatment.
She has now joined the Labour Party – although she describes herself as "one of the least active members". She added: "Some of the decisions the Labour Party has made aren't necessarily helpful to students."
She will bring a new focus to the job because of her background as the only further education college student to have held her office. She said in her election address that she wanted to stand in favour of education policies, not just against them.
She is anxious to put the academic and vocational paths in education on an equal footing and champion teenagers opting for apprenticeships rather than, say, seeking a place at an elite Russell Group university.
Figures published last week show that fewer boys are now choosing to go to university. Academics claim many of them could be following the apprenticeship route instead.
"People should be able to make decisions that are the best for them and be supported in them," she said. "You shouldn't be looked down on for doing an apprenticeship just because historically your family has always gone to Russell Group universities."
During her time as an officer with the NUS – she was the vice-president in charge of further education before being elected president – she had a good rapport with former Further Education minister John Heyes and the union has what she describes as a "working relationship" with his successor, Matt Hancock, and Universities minister David Willetts.
"I have called them several times on things where they've been spectacularly wrong – such as scrapping student governors on FE colleges," she said.
However, she says the union has "no relationship at all" with Mr Gove. "I do think we should [have one], because of the impact his policies are having on many of our members – reforms to GCSEs and A-levels – but we have written and, I think, only got one reply," she said.
Pearce still has problems with her health – she was diagnosed with hypermobility syndrome, which led to a hip operation. But she believes her struggle with her health will help her in promoting the rights of disabled students.
When we met at the end of last week she was still struggling to get to grips with what she had achieved.
"If you told me at 16 that I'd be sitting here today as president of the NUS, I wouldn't have believed you," she said.
A life in brief
Born 13 April 1990
Education Cornwall College of Further Education. Does badly in her first year and almost drops out, but successfully resits and gains A-levels in English, maths and history, as well as AS-levels in chemistry and philosophy (2006-09)
Union history President, Cornwall College Students' Union 2009-2011; NUS vice-president for further education 2011-13; Elected president of NUS in April 2013 Takes office 1 July.
Register for free to continue reading
Registration is a free and easy way to support our truly independent journalism
By registering, you will also enjoy limited access to Premium articles, exclusive newsletters, commenting, and virtual events with our leading journalists
Already have an account? sign in
Join our new commenting forum
Join thought-provoking conversations, follow other Independent readers and see their replies