Universities must unite to beat 'lad culture' sexism on campus, claims NUS
One third of women have reported unwanted sexual advances
Richard Garner
Monday 15 September 2014 17:32 Comments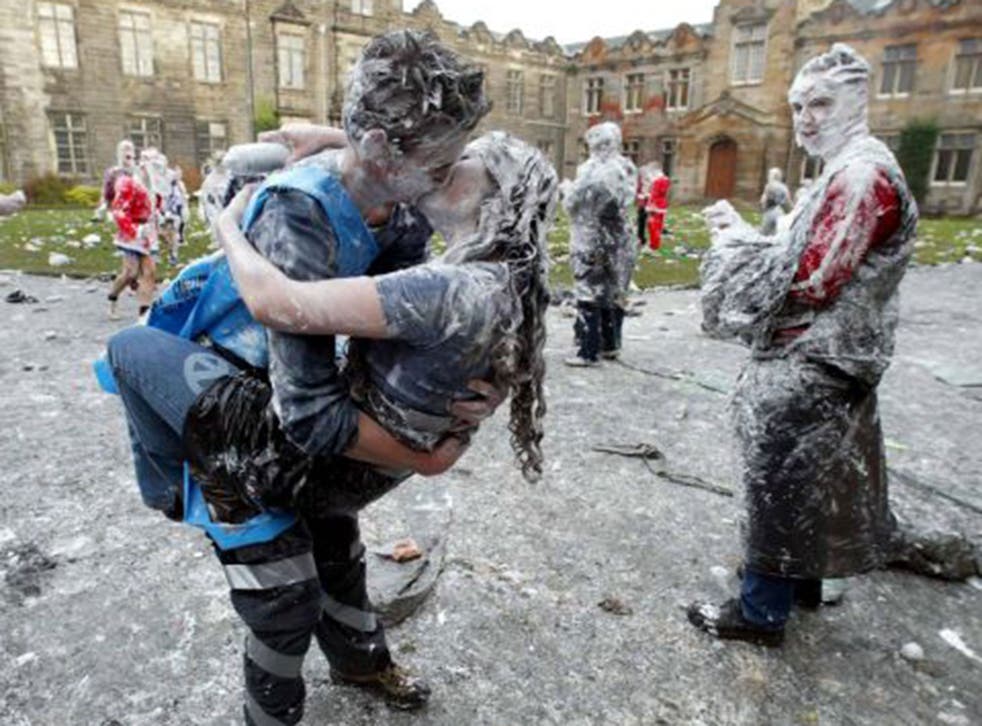 Universities have been urged to join forces with students to cool lad culture on campuses after it emerged three out of four students were familiar with sexually provocative websites such as Unilad and the Lad Bible.
A survey of 2,156 students by the National Union of Students revealed that the majority (55 per cent) acknowledged the websites painted an "unfair" representation of women. In all, 74 per cent said they were aware of the websites.
Unilad promotes itself as the "number one university student's lad magazine and guide to getting laid". Lad Bible describes itself as a fun website aimed at 16 to 30-year-olds.
The survey revealed that nearly half of students (44 per cent) have seen sexualised images of women around their university that made them feel uncomfortable. Many of the examples consisted of women in little or no clothing who were often in provocative poses.
Examples included a feature in a student publication entitled Top Student Totty inviting women to submit pictures of themselves for publication.
Another female student told researchers: "Every Monday is the sports/societies night at the nightclub on campus. The themes are often fancy dressed and are advertised with a man near enough fully dressed in a costume of some sort and a woman wearing barely anything."
In addition, the survey revealed 62 per cent of the students had heard jokes being cracked about rape or sexual assault.
One in four students (26 per cent) - and 37 per cent of women - had also suffered unwelcome sexual advances such as groping and touching, it added. Two thirds of respondents said they had been aware of students putting up with unwanted sexual comments, with just under one third bearing witness to verbal harassment because of a student's gender.
"These stats show that harassment is rife on campus but we still keep hearing from universities that there is no fear, no intimidation, no problem," said Toni Pearce, president of the NUS.
"I say to universities everywhere: the passing the buck approach of 'not on my campus' is completely unacceptable. They must acknowledge the problems and join with us in confronting them."
Laura Bates, of the NUS' new "Lad Culture National Strategy Team", said it was worth bearing in mind that one category of the unwanted experiences faced by women, "inappropriate touching or groping", constituted sexual assault under UK law.
Nicola Dandridge, chief executive of Universities UK, the body which represents vice-chancellors speaking to BBC online, said: "Universities take the welfare of their students very seriously and have internal rules relating to student behaviour. If alleged criminal behaviour is involved, all universities would support any students reporting such incidents to the police."
One unnamed UK university professor, responding to the research online, said: "The girls are often no better than the boys for this. Many are just as 'laddish' as the lads. Not saying it's right, but it's not changed dramatically in my 30 year career."
Register for free to continue reading
Registration is a free and easy way to support our truly independent journalism
By registering, you will also enjoy limited access to Premium articles, exclusive newsletters, commenting, and virtual events with our leading journalists
Already have an account? sign in
Join our new commenting forum
Join thought-provoking conversations, follow other Independent readers and see their replies