University of Hertfordshire graduate, Tobi Akingbade, criticises Twitter user for using 'Nutella blackface' to mock her
Graduate decides to go ahead with open letter, even after Twitter user apologises, to highlight how people should not remain silent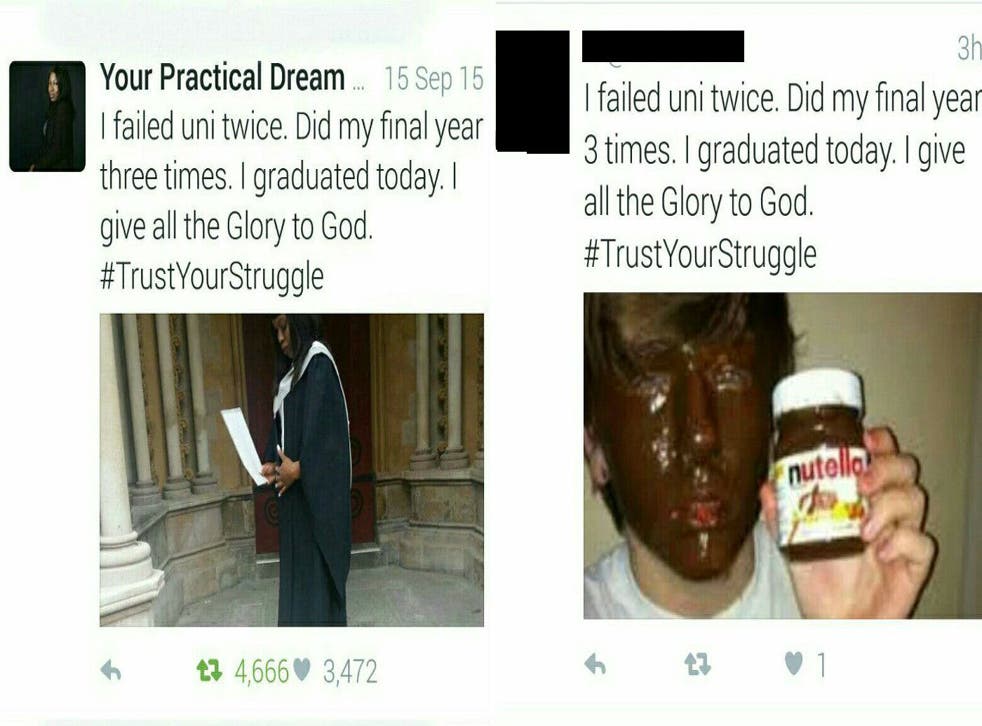 A recent graduate has spoken out about receiving a torrent of abuse online by issuing an open letter to a Twitter user who mocked her by smearing his face in Nutella in a 'blackface' attempt after she revealed she passed university after three times.
Tobi Akingbade, 24, who graduated from the mass media communications course at the University of Hertfordshire last September, tweeted her success in a celebratory tweet on graduation day.
In that tweet - which she said went on to be viewed more than 500,000 times and also began to trend on South Africa at the time - Miss Akinbade wrote: "I failed uni twice. Did my final year three times. I graduated today. I give all the Glory to God. #TrustYourStruggle."
This week, though, it came to her attention another Twitter user used the exact same message she posted, and accompanied the message with an image of himself holding a jar of Nutella with his face covered in the chocolate spread.
Now editor-in-chief at social enterprise Dream Nation, Miss Akingbade described in the letter on Medium.com how she sat behind her screen at work and "burst into tears" after she saw the tweet. She added: "I was hurt. I was disgusted. I was angry. Most of all, I was shocked."
She cited personal reasons for her "five difficult years in university" and said: "On the day I graduated, like the rest of my class, I tweeted a picture of myself a few hours later. I had no idea that tweet would go viral on multiple social media platforms. I quickly became a mentor to many and I've spent the following months advising people of all ages on the art of overcoming failure and the beauty of perseverance."
She also highlighted how she received two other negative tweets. One read: "why does this have rts lol," while another said: "Proof that women, especially blacks, shouldn't go to university. Waste of time and money imo."
Describing how blackface is "not cool," Miss Akingbade wrote: "Blackface is not cool during Halloween and it's not cool in February. Did you not know you veered into racism when you turned me into an object of ridicule using blackface?"
Miss Akinbade said the user - whom she has labelled "Nutella Blackface" - apologised to her before she published her letter, and concluded with a final message for the social media user: "As weak as your apology was, I accept it. Why? Because I have a life to live and harbouring unforgiveness does nothing for my own sanity.
"There is no way I'm letting the actions of an ignorant Twitter warrior stay rent free in my head."
Reflecting on her decision to publish the open letter, Miss Akingbade told the Evening Standard how, in Britain, people can be quiet about such issues. She said: "I really do believe silence does not protect anybody. I felt I had a responsibility."
Register for free to continue reading
Registration is a free and easy way to support our truly independent journalism
By registering, you will also enjoy limited access to Premium articles, exclusive newsletters, commenting, and virtual events with our leading journalists
Already have an account? sign in
Register for free to continue reading
Registration is a free and easy way to support our truly independent journalism
By registering, you will also enjoy limited access to Premium articles, exclusive newsletters, commenting, and virtual events with our leading journalists
Already have an account? sign in
Join our new commenting forum
Join thought-provoking conversations, follow other Independent readers and see their replies