The Independent's journalism is supported by our readers. When you purchase through links on our site, we may earn commission.
University of Salford launches Tinder-style Clearing app to 'match' students with their ideal course
Said to be the first Clearing app of its kind, the university added it's seen around 10,000 unique visitors since it launched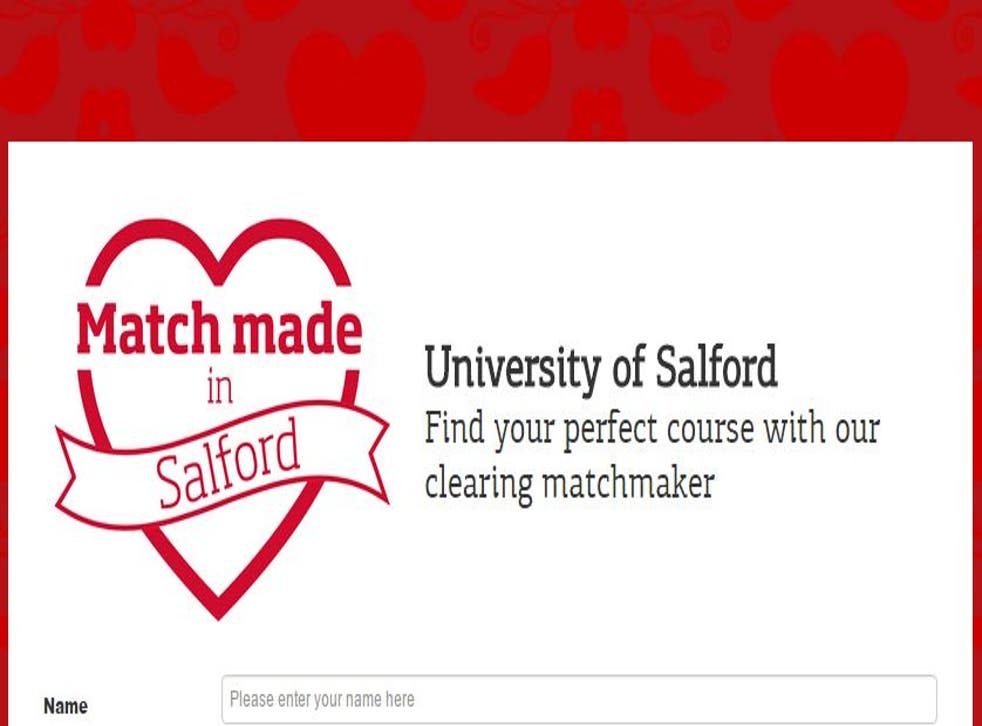 Prospective university students who are still mulling over what to do post exam-results just might end up being partnered-up with their ideal course – thanks to a new Tinder-style Clearing app.
The University of Salford in Manchester has teamed-up with digital company Squiz to create Match Made in Salford which asks users to 'swipe left' or 'swipe right' when they are provided with personalised course recommendations, based on their grades, course, and career of interest.
Delivered across mobile, desktop, and tablet, any 'match' in the digital clearing tool can be explored in more detail – with information provided about the course and institution too. Matches are then added to a shortlist which can be viewed once the user has exhausted all course recommendations.
Director of marketing and student recruitment at Salford, John McCarthy, described how, at this time of year, students are usually faced with lengthy and confusing lists of available courses and added: "With this tool, we're making our Clearing process student-driven and much more interactive.
"Because users are recommended a course based on their interests and long-term goals, it means that, when they telephone us, they feel more informed about the course they are enrolling on."
Head of strategy at Squiz, Roger Warner, said it was only a matter of time before a university launched such an app, considering so many younger people use similar and popular mobile apps every day.
Praising the university for leading the way in how institutions should be interacting with students during this busy period, he added: "This digital service allows the university to quickly see which courses are being filled and where there is space available through a highly engaging experience."
The university said it saw over 10,000 unique visitors using the match-maker to find courses since it launched last month, with site engagement increasing by a staggering 264 per cent. Prospective students are also being encouraged to share their matches by using #MatchMadeInSalford.
Register for free to continue reading
Registration is a free and easy way to support our truly independent journalism
By registering, you will also enjoy limited access to Premium articles, exclusive newsletters, commenting, and virtual events with our leading journalists
Already have an account? sign in
Register for free to continue reading
Registration is a free and easy way to support our truly independent journalism
By registering, you will also enjoy limited access to Premium articles, exclusive newsletters, commenting, and virtual events with our leading journalists
Already have an account? sign in
Join our new commenting forum
Join thought-provoking conversations, follow other Independent readers and see their replies