Warwick University places 20 jobs at risk over failure to meet fundraising targets
University cuts pile pressure on staff to raise research income
Richard Garner
Thursday 11 December 2014 19:17 Comments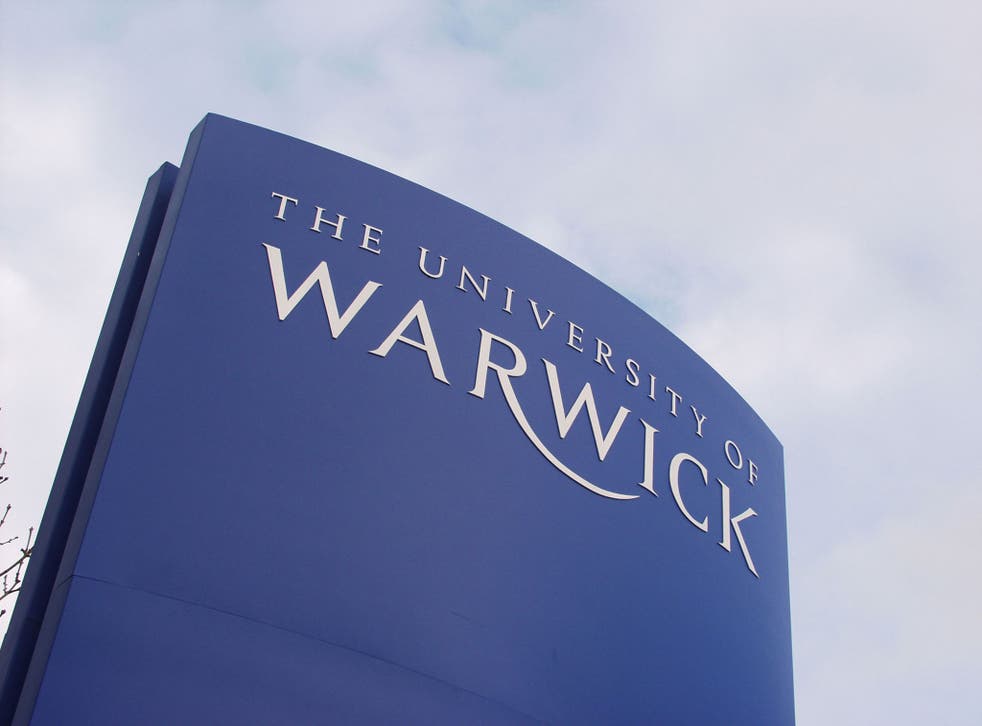 Academics have accused their university of treating them "like City traders" after staff were put at risk of redundancy for not bringing in enough research income.
A total of 20 staff at Warwick University's medical school have been told their jobs are in jeopardy because they have failed to attract enough cash to the institution
Professors, associate professors and readers at the school were told the benchmark to avoid being put at risk was bringing in an average of £90,000 a year over the last four years.
The redundancy row comes at a time of heightened financial pressures within the university sector as it braces itself for the publication next Thursday of the latest Research Excellence Framework, which measures all institutions in the UK on the quality of their research.
It also comes just two months after a senior professor at Imperial College London was found dead after telling colleagues that he felt under pressure from the university over grant applications.
In the Warwick case, Dennis Leech, president of the university branch of the University and College Union, told fellow union members in an email that the financial targets set by the university put academics in "a similar position to market traders in the City who are judged solely on the amount of money they raise".
Anne O'Sullivan, UCU regional official, added: "Warwick Medical School is at the forefront of cutting edge research into life-threatening illnesses, It should be looking to foster closer links and develop its expertise, not arbitrarily axing staff.
"The university's approach demonstrates a worrying lack of understanding about research work and its funding. We would urge the university to step back from this unusual move and reconsider how the school might be able to meet targets."
However, the university argued that it had a problem to deal with as a result of the school's "under-performance". "There was a shortfall and we had to deal with it," said a spokesman.
He added that an employee's job being put "at risk" was not the same as declaring a redundancy. A final decision on the future of the 20 staff is expected early next year.
According to an analysis of research council income by Times Higher Education, Warwick secured £32m in 2013/14 – down from £45m the previous year.
The university adopted a similar process earlier in the year when it declared two academics compulsorily redundant and eight voluntarily at its School of Life Sciences. There the average figure was £75,000 a year.
In the Imperial case, Stefan Grimm, professor of toxicology, was found dead in Northwood, Middlesex, in September. Two academics who knew the 51-year-old have said that he complained of being put under undue pressure by the university and that he had been placed on performance review, according to THE.
Professor Grimm is understood to have been unsuccessful in a number of grant applications and told that his job would be at risk unless the situation improved. The academics said he felt let down by ICL.
A spokeswoman said the college would provide "all the assistance it can" to an investigation into Professor Grimm's death. She said the university had launched the investigation to see if "wider lessons" could be learned.
Meanwhile, union officials have been told two universities in Northern Ireland – Queen's University Belfast and Ulster – are facing cuts of up to 15 per cent next year.
Register for free to continue reading
Registration is a free and easy way to support our truly independent journalism
By registering, you will also enjoy limited access to Premium articles, exclusive newsletters, commenting, and virtual events with our leading journalists
Already have an account? sign in
Join our new commenting forum
Join thought-provoking conversations, follow other Independent readers and see their replies