The Independent's journalism is supported by our readers. When you purchase through links on our site, we may earn commission.
We-Consent: American businessman launches sexual consent app for students and athletes which records mutual sex agreement
Inventor wants the app - designed to open dialogue around sex on campus - to be aimed at athletes to prevent sex scandals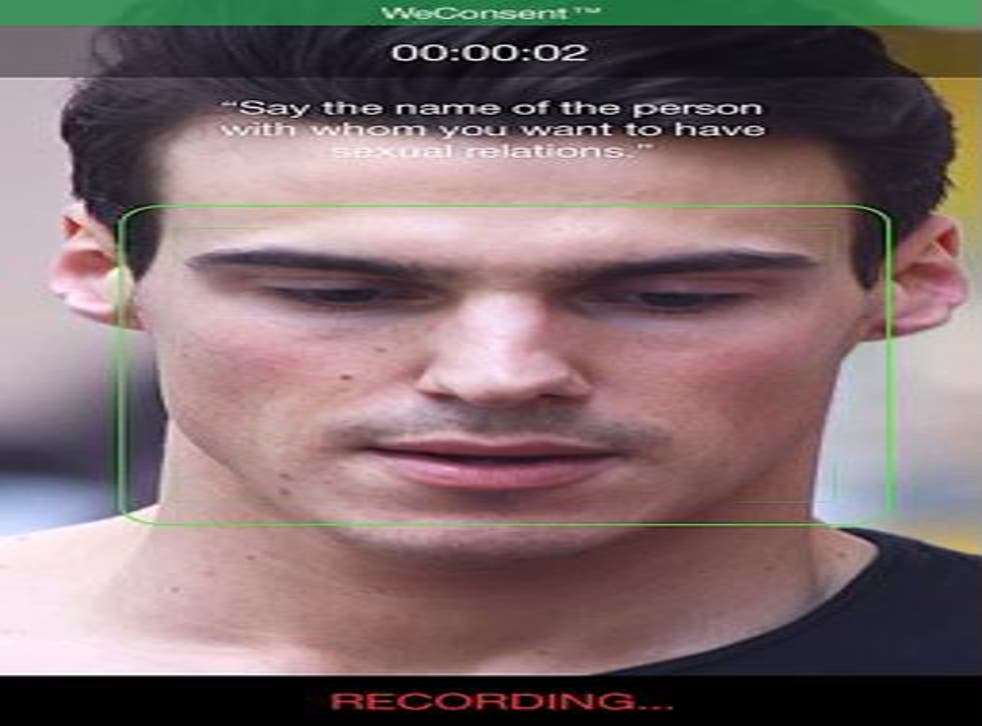 A businessman has launched a group of sexual consent apps which allow students to make a video recording of mutual consent to sex in order to 'open discussion' about the topic on campuses.
Michael Lissack, who is also executive director of the Institute for the Study of Coherence and Emergence, created We-Consent which is an umbrella brand consisting of three apps.
Known as 'the discussion app', We-Consent records a 20-second video clip, asking users for their name and verbal confirmation that they want to have sex with the other person. Facial recognition technology is used to capture images of users while a microphone records their agreement.
Mr Lissack described how he got the idea for the app last year after participating in debates about a sexual-assault policy at Harvard University in Massachusetts.
With today's young and tech-savvy generation, the businessman said "there had to be a better way" to ensure that both people involved had consented to sexual activity.
According to the website, the mutual 'yes' between both parties is "available only to law enforcement, upon judicial order, or as evidence in a college or university sexual assault disciplinary proceeding." Videos are not otherwise available to users and cannot be hacked, he said.
Speaking with The Chronicle of Higher Education about who his current main target audience group is for the app, Mr Lissack said it would be athletes.
He added: "Who seems to be mostly involved with scandals? Athletic teams and fraternities."
Putting himself in the role of a coach, Mr Lissack said the easiest way to prevent a sexual assault scandal from happening would be if coaches told their players they are required to use the app.
Along with We-Consent, Mr Lissack has also developed What-About-No and Changed-Mind.
What-About-No – a.k.a. 'the no-means-no app' – is used when 'a No message does not get through to the other person' and the yet-to-be-launched Changed-Mind – a.k.a. 'the not-now app' – is seen to be 'a more gentle way of saying: No, not now'.
In order for the apps to be successful, Mr Lissack believes there needs to be a shift in behaviour and attitudes towards sex first and added: "Societal changes do not happen overnight."
Last year, campus safety advocate, Lee Ann Allman, launched a similar app called Good2Go which was eventually shutdown by Apple, with users complaining of it being impractical, insecure and tedious.
Although We-Consent has been praised for incorporating a serious topic into the digital age and social media, it has also drawn criticism with sceptics saying the app could possibly give perpetrators access to force, coerce or threaten their partner into saying yes on camera.
Register for free to continue reading
Registration is a free and easy way to support our truly independent journalism
By registering, you will also enjoy limited access to Premium articles, exclusive newsletters, commenting, and virtual events with our leading journalists
Already have an account? sign in
Join our new commenting forum
Join thought-provoking conversations, follow other Independent readers and see their replies