'When you see the planet from space it puts the common challenges faced by all humans into perspective'
American astronaut Ron Garan returned from his time on the International Space Station in a Russian capsule - and new faith in the power of global collaboration
Carol Turner
Tuesday 28 May 2013 12:36 Comments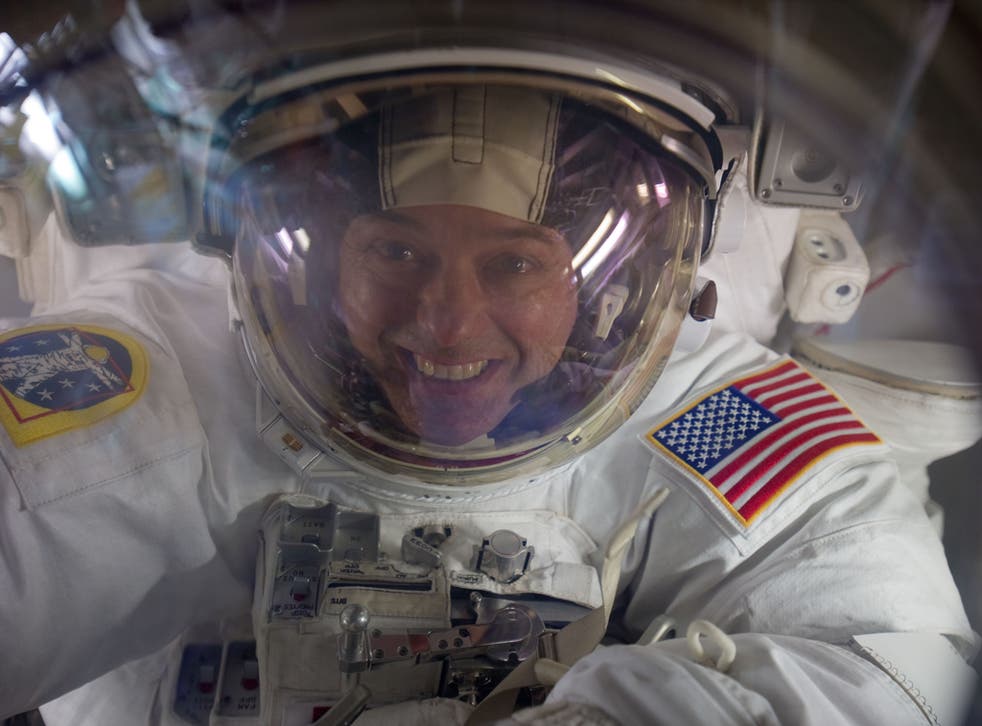 It's not often that the view from your gym changes your life. But if that view is one of continents and oceans, and multiple sunsets and sunrises more than 250 miles below, well, maybe it just might.
Tied onto the equipment so he didn't float off, NASA astronaut Ron Garan kept fit during his six-month space mission by running on a treadmill. It was this orbital view from the window in the International Space Station that inspired his next steps on Earth.
"The orbital view gives you a whole new perspective," he told a packed room of business school deans and directors at the Association of MBAs (AMBA) international conference in Warsaw last week.
"You realise that each and everyone one of us are interconnected and in this together," said Garan. "When you see the planet from space it puts the common challenges faced by all humans into perspective."
In a presentation where he shared awe-inspiring images of planet Earth from the International Space Station, Garan said that today's rapid changes to business and technology could be made to have a more positive impact on society.
"We already live in world with all the tools necessary to solve most, if not all, of the problems facing our planet. Yet the answer to why our world still faces so many critical problems in spite of our ample technology and resources lies primarily in our inability to effectively collaborate on a global scale."
Garan's experiences have influenced his 'big picture' vision. There are not many people who can boast a career that has included living and working on the bottom of the ocean for 18 days in the world's only undersea laboratory, a two-week construction mission on board the Space Shuttle Discovery and then half a year on the International Space Station.
It was launching from Kazakhstan in a Russian Soyuz spacecraft with two Russian crewmates on the 50th anniversary of the first human space flight - from the same launch pad that Yuri Gagarin used back on that historic day - that has helped Garan put the actions of the human race into perspective.
From competition to collaboration
"The space programmes were born out of competition. At the height of the Cold War we found a way to cooperate on a space mission. The beginning of space exploration was something that was more important to humanity and proves we can do amazing things together rather than fight."
During his time on the International Space Station, Garan has worked with people from many different nationalities. "For me launching in to space onboard a Russian rocket with a couple of Russian guys is a tremendous example of the power of collaboration."
This view of world collaboration rather than competition framed the theme of his presentation to the business school community at AMBA's annual gathering of MBA deans and directors as they met to discuss innovation and future-proofing the MBA.
"On Earth many of our problems stem from not being able to collaborate on a global scale – we need to put aside our differences. There are lots of organisations independently working for good – but what if they collaborated?"
He explained that collaboration doesn't mean that everyone in a group has to have an equal vote or that any solution has to include all inputs. "True collaboration means that different individuals and groups bring together different pieces of the puzzle; each of the members contribute something unique and add value to the group. This type of collaboration leads to solutions that are significantly better than any one member of the group could have created themselves."
He told senior management at the world's leading business schools that social considerations need to be at the core of every business transaction. "Business is a way you can change the world. You can have a profound and positive effect on the world by encouraging people going into business to look for ways to do good."
"I think the successful companies of the future will be those that realise that businesses that have the main focus to create social good are simply good businesses."
At the end of his mission, Garan reentered earth's atmosphere in a small Russian space capsule. With his face pressed against the glass of the capsule's window as it came to rest on earth once again he looked out at the desert, a flower and a small rock and thought: "I'm home".
He might have been a New Yorker in Kazakhstan, but after six months in space, the world was his home. It is this perspective that has kept his motivation strong for changing the world and believing that 'everything is possible'.
Many years ago people believed flying to the moon was impossible, simply because it had not been done before. Astronauts like Garan can now help us all believe that nothing is impossible, and with more collaboration in business and society we can make the world a better place.
"It is possible to live in a world without poverty, where everyone has access to clean water, has food, where there are no diseases. Working together we can solve the issues of today's global society."
Ron Garan was a keynote speaker at the Association of MBAs' International Conference for deans and directors held in Warsaw between 15 and 17 May 2013. The event was called Beyond tomorrow: anticipate and act and was attended by deans and directors from 140 of the world's leading business schools.
Register for free to continue reading
Registration is a free and easy way to support our truly independent journalism
By registering, you will also enjoy limited access to Premium articles, exclusive newsletters, commenting, and virtual events with our leading journalists
Already have an account? sign in
Join our new commenting forum
Join thought-provoking conversations, follow other Independent readers and see their replies