Conservation courses: Breathe life into old treasures
The broken artefacts of history can be restored to their former glory using the skills you will learn on a conservation course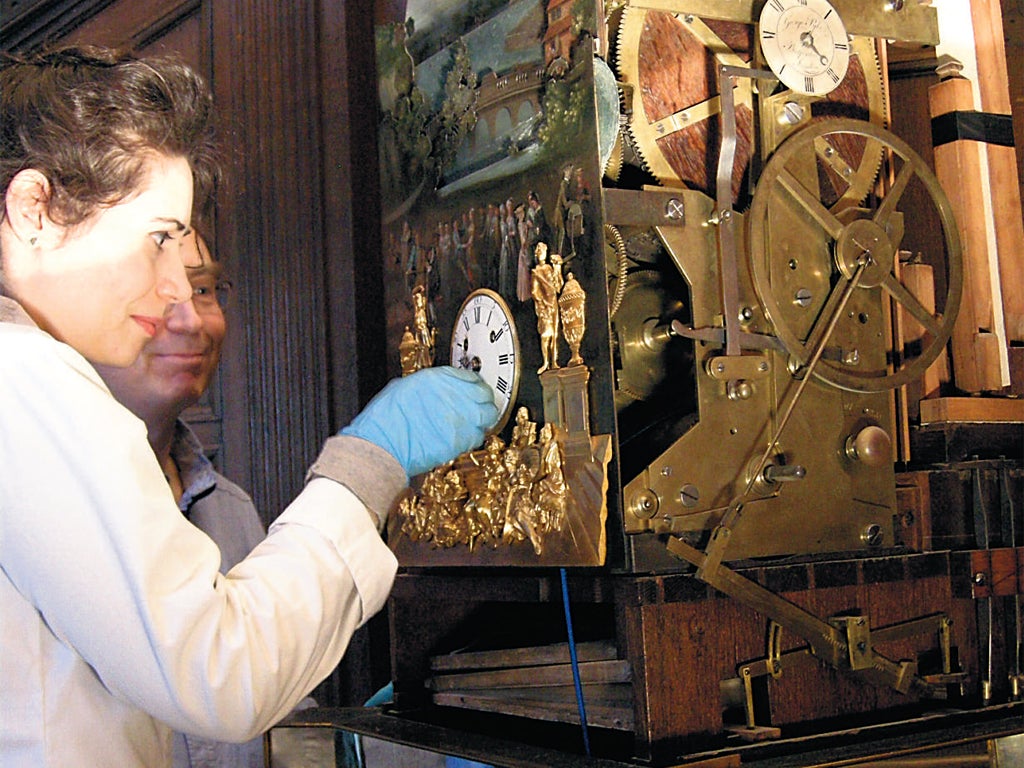 A small clockwork bird with faded red feathers and a charcoal black tail twitters from its perch, head moving stiffly from side to side as its tail wags. This tiny automaton was once a vivid scarlet tanager songbird from South America.
It was probably made in France more than a century ago when society was fascinated by moving objects, endeavouring to create the illusion of life. But the delicate mechanism had all but fallen apart until conservation postgraduate Brittany Cox nurtured it with forensic attention to detail. She used goat intestine to rebuild the bellows powering its voice, rebalanced the tiny spring-loaded mechanisms that make it move and crafted a "toupee" of feathers to perk up a sparse tail. "He's outlived all his contemporaries," says Cox. "There was a time when he sang just for me, now he's singing for all of you."
Cox is dedicated to her craft and is currently studying for a Masters in conservation at West Dean College in West Sussex. A former Swiss watch maker, she was drawn to the course by the well-publicised restoration of another automaton – a magnificent silver swan that had been rescued by a West Dean conservator for the Bowes Museum in County Durham, and was the inspiration for Peter Carey's novel The Chemistry of Tears. Cox's next project is the conservation of a clock that is reputed to have belonged to Marie Antoinette. "As soon as I saw it I wanted to be the one to fix it," she says.
Traditionally, conservators have laboured in the back rooms of museums or behind private collections, their role unseen and their value misunderstood, says a report by the think tank Demos. Yet there's a dearth of informed, skilled conservators to protect and maintain historic and artistic artefacts in the UK and abroad. And this lack of visibility – combined with a declining number of specialist courses offered around the country – has created a real risk to the UK's material heritage, the report says. "When we do not care for the world around us, it shows a poor sense of social responsibility and collective will," argues Demos. Although, as specialist colleges note, this means skilled professionals qualifying now will enjoy healthy job prospects.
"We keep a strong focus on professional work," says Jon Privett, a metalworker and tutor on West Dean's Masters in conservation studies. More advanced students will often work on "real" projects – cathedral
bells, for instance, and medieval casket locks. Conservation alumni go on to find jobs at museums such as the V&A or British Museum, or those overseas, as well as with private collections and heritage organisations.
"Conservation is about the joy of working with beautiful objects, stabilising them and trying to make them last as long as possible," says Privett. "You get to see them close up, and understand how their creator put them together." Graduates of West Dean's metalwork department over the past six years have all found jobs. "We have a totally immersive, hothouse atmosphere," he says. "It's almost like learning another language."
In the past, some restorers actually damaged the artefacts they were meant to be looking after by using what are now considered invasive and inappropriate methods. All the work of today's conservators must be reversible. So at a simple level, Cox attached the tail she fashioned for her bird with tiny brass paper clips, rather than with glue, which could have damaged the original. "It looks the same, but everything I do can be undone," she says.
As with many of the making and conservation specialisms offered by West Dean – which include ceramics, books, furniture and clocks and stringed instruments – conservation students cross into other disciplines during their studies in order to meet the demands of the profession. Privett's metalwork students, for instance, are currently working with leather, glass and ceramics, as well as their time at the blacksmith and silversmith. "No object exists in isolation," he says.
Applicants for conservation diplomas and Masters come from a mixed bag. Some of them already skilled craftsmen and women, and others with archaeology, history or science backgrounds. A few career changers from the City, IT and even dentistry have made their way on the courses, which are validated by the University of Sussex. "We look for people who like problem solving, who are good on practice as well as theory," says Privett. "The type of people who took things to pieces when they were little." Tutors assess potential candidates for an aptitude or experience of practical skills, or look for solid proof of interest in a relevant area.
Most students, unless they already have years of relevant experience, undertake a one year graduate diploma in conservation – equivalent to a degree – before embarking upon a postgraduate year with the option to convert to a Masters. It's a qualification that carries weight at international level. "I call the first year the 'you make it, I break it, you fix it year'," says Privett. By understanding how an object has been made, students learn how to take it apart safely and conserve it.
Fees stand at £3,855 per term and international students pay the same rate as their EU counterparts. Many organisations provide grants and scholarships and the college advises applicants on seeking finance. "Other disciplines just don't offer the same magic," says Cox. "I feel like a doctor or a magician. Mending these broken things gives them life and makes people happy."
Join our commenting forum
Join thought-provoking conversations, follow other Independent readers and see their replies