School leaver: It's a good time to be leaving school in the UK
Apprenticeship and school leaver programmes in top firms such as EY, PwC and Nestlé are expanding, and many apprentices are showing more potential than graduate trainees - Liz Lightfoot discovers what's available
Liz Lightfoot
Tuesday 26 May 2015 14:36 Comments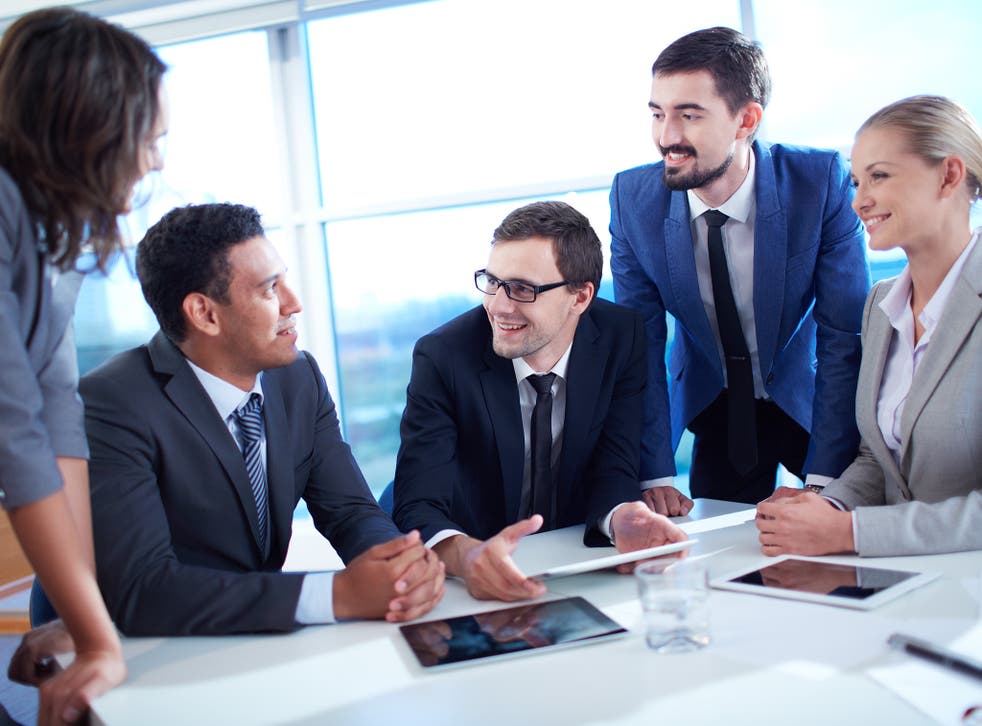 A £20,000 salary in your teens, a job with one of the most sought after global employers and free courses to help you gain professional qualifications - it sounds too good to be true.
But that's what is being offered by some of the big graduate recruiters that have been putting their energies into devising ways of attracting talent at an earlier age through school leaver programmes.
It's a good time to be leaving school in the UK. The lifting of the cap on student numbers means universities will be offering more places this summer while the higher apprentice scheme has been adopted by many of the biggest recruiters as a different route to career success.
Meanwhile the growing emphasis on employability skills, a global mindset and cultural awareness has made students who take a well-planned gap year more attractive to both universities and employers.
If you don't want to stay on to do A-levels there is now a much wider range of apprenticeships suitable for 16-year-old leavers. More than 1,500 different sorts of training places are on offer in over 170 industries, from boatbuilding to outside broadcast engineering, live events and biomass installation.
The Trailblazer programme launched in March encourages employers to co-operate on the design of innovative apprenticeships. More than 100 Trailblazer groups will be offering on-the-job training in areas such as mortgage advice and video games development, with some starting in September this year.
For older recruits, global employers such as PricewaterhouseCoopers (PwC), Nestlé and Ernst & Young (EY) are still prominent on the UK university milk round but they now offer more school leaver training schemes for sixth formers.
Of course, a university degree will continue to be the professional qualification for careers such as medicine or veterinary science. Universities will always attract those with a passion for a subject, be it geography, English or history. But if your ultimate goal is not to dissect the works of Marvell but to travel the world for Nestlé, work in the Bahamas for PwC or become a partner with EY then it's worth considering the alternatives.
The myth that apprenticeships are for plumbers and electricians and inferior to a degree in terms of graduate level jobs is beginning to break down, says Jack Collins, head of operations at AllAboutSchoolLeavers, the careers information gateway for school and college students.
"These top employers are looking to bring in talented students at a younger age so they get to understand the business earlier. They are looking for candidates with As and Bs at A-level and top grades in equivalent qualifications, the sort of grades that would get students into a Russell Group university," says Collins.
"Many companies have found that the commitment to the organisation and the retention rate is better than that of their graduate schemes," Collins says.
"At the same time students themselves are thinking more deeply about university and not just following the herd. Partly it's the increase in fees; mainly because the message is getting out that university is not for everyone."
Students such as Alistair Franke, for example, who achieved ABB grade A-levels then went off travelling on a gap year before planning to take up a deferred place to study Spanish and Chinese at the University of Manchester.
"When I returned after six months I worked for Mercedes-Benz and began to wonder if I really did want to go to university," Franke says.
"I saw online that a lot of professional services companies were taking on higher level apprentices. I looked into it and the opportunity seemed too good to turn down - you are guaranteed a job with a relatively well paid salary, you get your foot in the door of arguably one of the most prestigious accounting firms in the world and they provide all the training and qualifications. It was a bit of a no brainer."
After two years he will have taken the first set of accountancy exams and be on the same level as those coming in through the graduate scheme. In another two years he will be a qualified chartered accountant.
"I get just over £20,000 a year being in London and I don't have to pay for the professional qualifications. I don't have anything against university but it wasn't right for me," he says, adding, "I do think some young people go for the wrong reasons, however, because it's expected of them or all their friends are going or because they are not ready to go into the world of work."
Getting a head start on graduates and sitting pretty with no debts while they compete for sought-after training places does sound like a 'no brainer' but what happens later on? Will the lack of a university degree hold people back from promotion at the higher levels?
Definitely not says Farrah Woolley, the recruitment advisor (trainees) for Baker Tilly, the firm of chartered accountants and business advisers. "School leavers and graduates end up at the same level with AAT qualifications and then it comes down to the individual, not how they got there. We hope these school leavers become our future partners at the firm," Wolley says.
"We currently have partners at Baker Tilly who came through the trainee route," she adds.
Baker Tilly's school leaver recruits are based in offices nationwide, earning between £13,000 and £19,000 a year and are sponsored for up to five years for accountancy qualifications leading to chartered status. Places have been offered to 42 school leavers this year and 200 graduates.
One of the first firms to target school leavers was PwC, one of the UK's biggest and most popular graduate employers. It was a pioneer of the higher apprenticeship in professional services launched in 2012.
Though its scheme is targeted at school and college leavers - and they make up the majority of joiners - the programme is also open to more mature career changers. "PwC welcome a diverse range of applicants," says Kate Awdry, PwC's schools recruitment and development manager.
Higher apprentices are employed and can expect to continue to progress with PwC after the initial two years of the scheme, but they are free to move around within the business or seek new opportunities elsewhere. "We have been very pleased with the retention rate and the fierce loyalty that our higher apprentices show to the place where they started their careers," she says.
The number of higher level apprenticeships at PwC has grown from an initial 60 to 160 this year. "It has been successful programme from a recruitment perspective and we are seeing applications increase from year to year as students, teachers and parents become more aware of the range of options available," she says.
Is there a difference in performance between the school leavers and graduates? "Our higher apprentices are among our highest performers," she says. "They bring enthusiasm and fresh perspectives and see PwC as a firm where they can grow their long term career," she says.
To add to the diversity of opportunities for school leavers, a growing number of companies are offering sponsored degrees to build up an on-going relationship with students and foster work-place skills.
Schemes differ widely with some commissioning bespoke courses from individual universities, others paying tuition fees on mainstream courses for students who commit to work for the firm on graduation and others offering paid work experience, training and internships.
Nestlé Academy's fast start programme, for example, provides a job and a degree through a link up with Sheffield Hallam University. The three year degree in professional business practice is done as block release from the company and is fully funded, with no fees or accommodation costs. Nestlé's students also earn a salary of between £16,000 and £17,000 a year. "It means they can put into practice immediately what they learn at university and they graduate with a job and no debts," says Tom Banham, head of Academy talent and acquisition.
"Our original intention was that the fast track recruits would provide a strong pipeline to our middle management but in a lot of instances they were outperforming our graduates so we reframed our strategy and now see them as future leaders," he says. "The school leavers need much less support than we expected and are generally more resilient and have a greater appetite to do well," he says.
So what should you to do if you are not sure that university is for you? Talk to students who are there already and find out what they like and don't like. Think about where you want to be by the age of 30. Then seek out the best way to get there. And if you are still not sure, then perhaps get off the education conveyor belt and take a gap year.
Leavers' lives: Mike Fell - "I'm looking forward to seeing the contribution I've made"
Mike Fell has the best of both worlds - a full time job with Nestlé and time off to study for a university degree. He was one of the first cohort of commercial trainees in 2013 and is rotating around placements whilst studying for a business degree with Sheffield Hallam University.
"I've had the opportunity to work in different areas of the business and that has been extremely useful. I came in with the desire to pursue a career in sales, however after experiencing other areas I am now more open to cross- functional opportunities.
I started in HR and had the opportunity to help promote and organise the Fast Start campaigns.At one I presented to more than 70 parents and pupils. Then I moved to supply chain where I was responsible for all forecasting activities for Nestlé confectionery. I then went to sales for six months, working in the business team looking after the fifth largest food and drink retailer in the UK.
I'm now on my final placement with the marketing department, working on the Rowntree's brand. It's fantastic to be working on a brand with such an iconic heritage. I've also been doing work on new product development, involved in such things as labelling. I'm really looking forward to seeing the contribution I've made on products in stores across the UK."
Teachers expected Charlotte Wain, 20, to go off to university but she had other ideas. Now she is an assistant tax advisor with EY and says it was the right decision.
"University wasn't the right option for me. I got a job as a hotel receptionist at 16 and worked in the evenings throughout my GCSE's and A-Levels. The grades I got for A-Levels could have got me into a good university, but I wanted to start working straight away. I started to look at alternatives that would fit in with my interest in business studies and economics, subjects I studied at A-level.
I applied to the EY School Leaver Programme because I wanted to kick- start my career in business, working with a prestigious company dealing with real life client queries from day one. As well as this, at the end of the five year training course, I'll have a world renowned accountancy qualification.
The pay is very competitive, a lot for a 20-year-old. Career-wise I qualify a year before a graduate with the same qualification but with more practical on-the-job experience and I won't have any student debt to pay back.
The work is really interesting, you are a company's right hand advisor; you are the person who can raise things that they might not have thought about and help them make important business decisions. You look in detail at their business and put all the puzzle pieces together to assist them.
I would say to school leavers that they should consider all of the options to make an informed, personal decision. Take advice from teachers, friends, parents and even different companies; but do what you want to do, not what other people expect of you.
Register for free to continue reading
Registration is a free and easy way to support our truly independent journalism
By registering, you will also enjoy limited access to Premium articles, exclusive newsletters, commenting, and virtual events with our leading journalists
Already have an account? sign in
Join our new commenting forum
Join thought-provoking conversations, follow other Independent readers and see their replies