The Independent's journalism is supported by our readers. When you purchase through links on our site, we may earn commission.
'Largest student rent strike in British history' gathers momentum in London
Strikers from Roehampton University and the Courtauld Institute of Art join those from Goldsmiths and UCL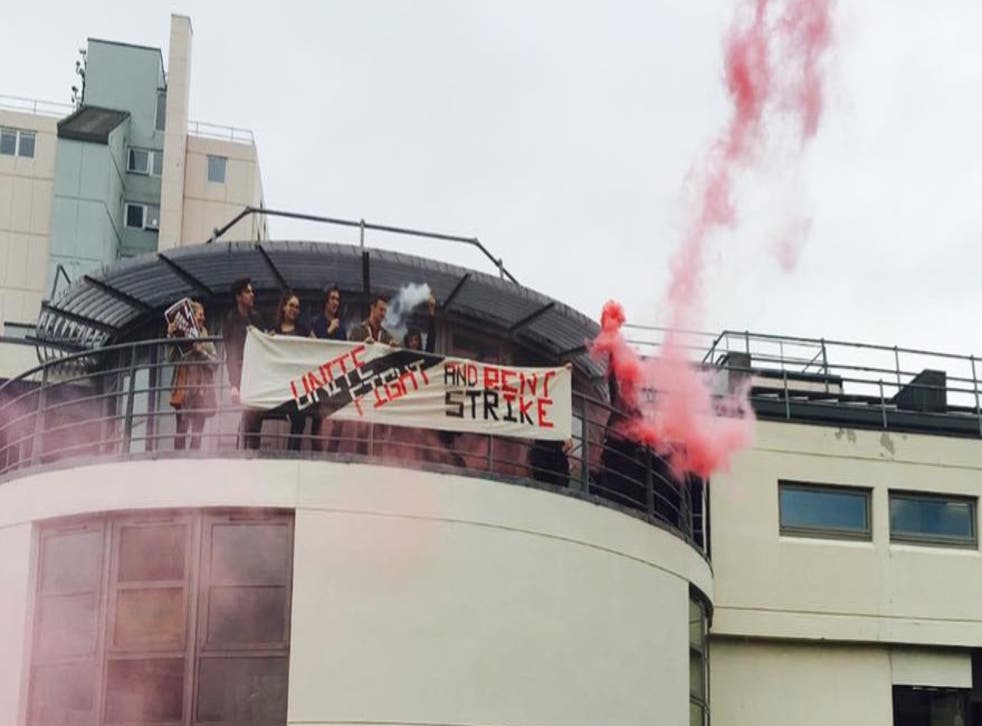 More than 1,000 students are now reportedly withholding rent payments at universities across London in what's being described as "the largest student rent strike in British history".
Strikers at the University of Roehampton and the Courtauld Institute of Art have joined those from Goldsmiths and University College London (UCL) to bring up the total number of protesters over the cost of accommodation prices they say are "soaring".
As well as this, some of the protesters have complained about what they claim are below-standard living conditions.
Demonstrators who are part of the Goldsmiths, Cut the Rent group said students have a right to housing that is affordable and which meets the standards set by Shelter.
The students announced this week that, after a meeting with university management, no satisfactory conclusion had been reached, meaning the strike has failed to come to an end.
In a statement, the strikers added: "Unfortunately at Goldsmiths...halls' rents are on average £150 per week - higher than the market rate for the area - despite it being an economically efficient way to house students."
The statement also highlighted a list of problems being experienced by renters, and said: "For all of these reasons, the rent strike is going to go ahead.
Student news in pictures

Show all 34
"This strike is not just for the benefit of current students, but future students too. We are part of a wider movement, with nearly 1,000 strikers across London - from UCL, Roehampton, and the Courtauld - who believe that going to university in London should be open to all, however much your parents earn."
However, a spokesperson for Goldsmiths said the university understands that housing is "a real issue," adding that the institution is working hard to keep rents "as low as possible."
The spokesperson added: "We use a six-figure grant to subsidise rents and offer a range of prices to meet all budgets, starting at £109 a week inclusive of bills, contents insurance, and Wi-Fi. This is one of the cheapest accommodation offers in London.
"We've met with the student campaign group to discuss ways of meeting their demands but they have told us they are unable to offer any suggestions as to how these can be achieved."
The university also confirmed that, for the next academic year, it had frozen prices on more than 100 of the cheapest rooms.
A spokesperson from Roehampton's accommodation office described how, so far, a group of eight students have confirmed they are withholding payment of their final rent instalment for accommodation at Mount Clare and Chadwick Hall.
The spokesperson added: "There have been a few maintenance issues at these sites and we have been working with the students involved to resolve these issues quickly.
"University of Roehampton rents are amongst the cheapest in London and start at £109. The university has already announced its decision to freeze rent in a number of its halls of residence for the coming academic year starting in September 2016."
The Courtauld Institute of Art told the Independent it is aware of the concerns that some students have raised, and will be meeting with them to consider how to address them.
After a joint investigation, UCL students criticised the institution's management on Wednesday for cutting bursaries for poorer students amid the escalating row over costly rent prices which, they say, will be leave next year's students between £500 to £1,000 worse-off.
UCL has yet to respond to the Independent's requests for comment regarding the investigation's findings.
Shelly Asquith, vice president of welfare with the National Union of Students, recently called for as many UCL and Goldsmiths students as possible to join the strike, and said Birmingham, Sussex, and Warwick were just a few universities to have done so - and won - in the past.
She added: "As a movement facing a cost of living crisis, we can learn from their actions and take inspiration from them. Having exhausted other tactics, the students on rent strike are withholding their payments collectively, and the more student tenants who join them, the stronger the chances of winning."
Register for free to continue reading
Registration is a free and easy way to support our truly independent journalism
By registering, you will also enjoy limited access to Premium articles, exclusive newsletters, commenting, and virtual events with our leading journalists
Already have an account? sign in
Join our new commenting forum
Join thought-provoking conversations, follow other Independent readers and see their replies