Christmas party pieces: Student fashion to keep you on trend and under budget
The festive party season can be tough on already overstretched student budgets. Fashion blogger Alice Tate believes, however, that you can look good for relatively little.
Alice Tate
Wednesday 05 December 2012 16:32 Comments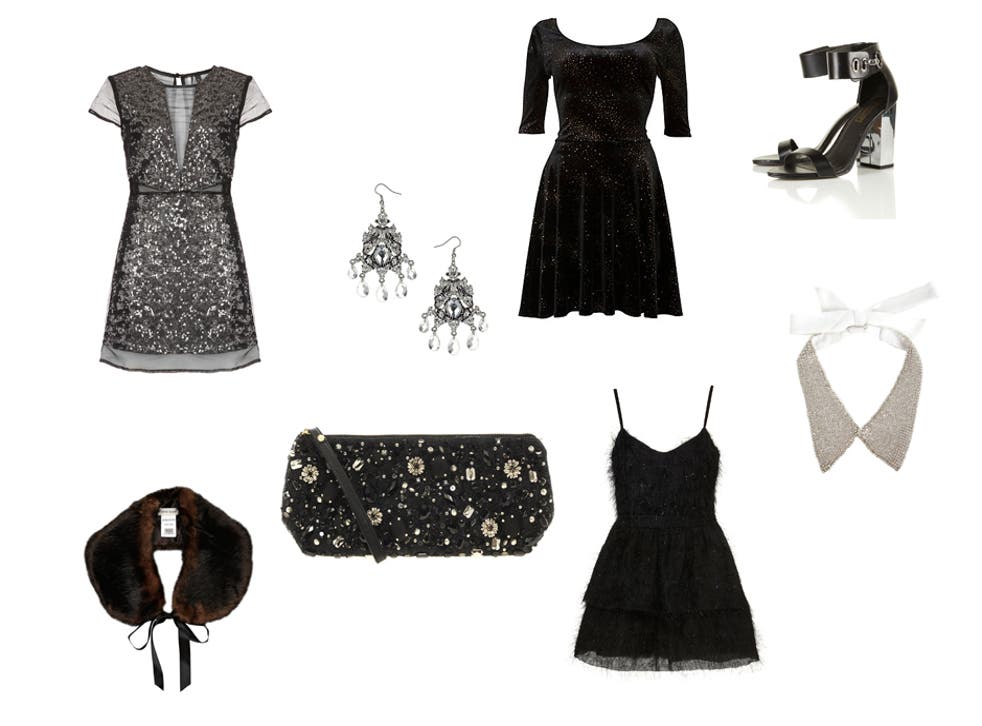 The Coke advert is on television, the red cups have arrived at Starbucks, and you've already bought Snow-in-a-can. Mince pies and mulled wine are making up your five-a-day, and the Santa emoticon is cropping up in all sorts of emails and iMessages, even lecturer correspondences. It's beginning to look a lot like Christmas, and for students that means one thing: saying "adios" to any that remains of your student loan.
Most importantly of all, there's party season to embark on - with sub-zero funds and plenty of places that require you dressed to impress. Bah humbug, spot the conflict. Instead of staying in like Scrooge to watch yet another rerun of Downton, let this shed some light on the coming season with a few savvy style ideas to have you perfect for the parties at a portion of the cost.
Embellished dresses
It's near impossible to shop the high street at this time of year without being blinded by the assortment of jewelled and adorned dresses. Attracting us like moths to a flame - or more accurately magpies to shiny objects of desire - embellished pieces often come with equally jazzy price tags to make our student budgets weep and our festive cheer die, whilst simultaneously limiting the scope for our relatives' gifts.
French Connection, All Saints and Topshop are magpies' heaven at the moment, but will swallow all your gold coins in return for half an outfit. Thus, we revel in the delight of budget retailers offering us just as much shine and the same amount of glitz at a student-pleasing snip of the price. Sequins, glitter, 'crystal' embellishment, and change from a £10 note? A Christmas miracle.
Though easy to get caught up in a sequin-fuelled sparkle splurge, take it from someone who's been there and done that, and refrain from stocking your party wardrobe with an array of Primark's finest. Fast-forward a few pre-drinks, you've left your sequins in the cab and are entering the party in a very plain shift dress.
The trick is to have an LBD as your base and use accessories to inject festive cheer. That's a Little Black Dress to any foreigners of fashion-lingo and chances are, you've probably got plenty of those already. If not or you're looking for an update, there's some Christmas crackers to chose from on the high street. A velvet skater dress can be worn day or night- bundled under a chunky knit, teamed with tights and a denim jacket, or glammed up with heels and bling as an evening dazzler. A plush velveteen fabric is on trend for the season, warm for winter, and scores with vintage appeal to give your party outfit extra luxe.
If you don't fancy yourself as a little velveteen rabbit, you can still shine in black. Opt for a sophisticated cut, a swathe of lace, or a girly peplum to score maximum Mistletoe opportunities. The LBD is a timeless keep and should be a staple in your student wardrobe. Whichever you pick, however much you spend, it's a glorified investment so choose wisely.
Keeping warm
Alas, the age old "should I take a coat, shouldn't I take a coat" palaver. For girls, this is perhaps one of university's biggest cruxes, and come party season it escalates to even higher significance. A cold-blooded mammal I think myself to be would almost always say take one, though come party season it becomes questionable. Marred with potential loss, extortionate cloakroom fees and the slaying of a considered ensemble, a coat seems less of a sensible option for wine-fuelled student parties.  May I suggest a shawl, snood or 'fur' stole as a party-perfect replacement? (Note the inverted commas for a student-friendly option.)
All that glitters
It may well be the season to be jolly but it doesn't have to be synonymous with sequins. Glitzy accessories offer a great way of adding party pizzazz to a seasonal ensemble. Jewelled shoes, a glitter clutch or a diamante headband all add sparkle with added benefits of lower costs and increased longevity. Plus, it's far easier to find a decent cheap headband than it is to source a cheap dress with more than 50 per cent sequin-survival rate.
It's easy to underestimate the power of accessorising. A dress from the back of your closet, a golden pair of heels, a dazzling (budget) necklace and a pair of show-stopping earrings; add a slick of vampy lippy and heck, you're the belle of the ball. Maxed out your overdraft already? Don't worry, delve into your jewellery box and pile current pieces high: arm candy, neck candy, 10 digits full – 'tis the season after all.
Entertaining the end of your fingertips: a party clutch. There are no excuses for bulging pockets or bulky bags as there's plenty of cute clutches on the high street that won't blow your budget yet gleam with Yuletide joy. From glittery to plush velvet, to block colour brights, a covetable clutch doesn't have to break the bank and adds extra oomph to polished party style. Zara and ASOS are coming up trumps with the goods and are likely to leave you with a few gold coins leftover for a little merry tipple.
Next, let's think about shoes. Whilst yes, saving money and shopping savvy is the nature of this piece, I'd argue spending a little more on your heels would be a worthwhile investment. Trips and tumbles are a given when heels and alcohol are around each other, but budget shoes make such predicaments even more inevitable. Instead of teetering around on the shiniest, highest shoes 'cos they were "such a steal" and under a sign that said 'Party Shoes', don't play victim to such marketing ploys and opt for something a little more low key. A metal block heel has party-shine, an oxblood velvet wedge has festive written all over it, whilst a demure black sandal has a certain "je ne sais quoi".  
From now through New Year's Day, shop savvy, party hard and be merry.
Alice Tate blogs at flashanthology.com. Find her on Twitter: twitter.com/@ALICETATE
Register for free to continue reading
Registration is a free and easy way to support our truly independent journalism
By registering, you will also enjoy limited access to Premium articles, exclusive newsletters, commenting, and virtual events with our leading journalists
Already have an account? sign in
Join our new commenting forum
Join thought-provoking conversations, follow other Independent readers and see their replies