Freshers' Week: Managing your finances and finding the right student account
Student overdrafts: although they are interest-free, sadly, it's not the same as free money
Hannah Maundrell
Monday 12 September 2016 17:56 Comments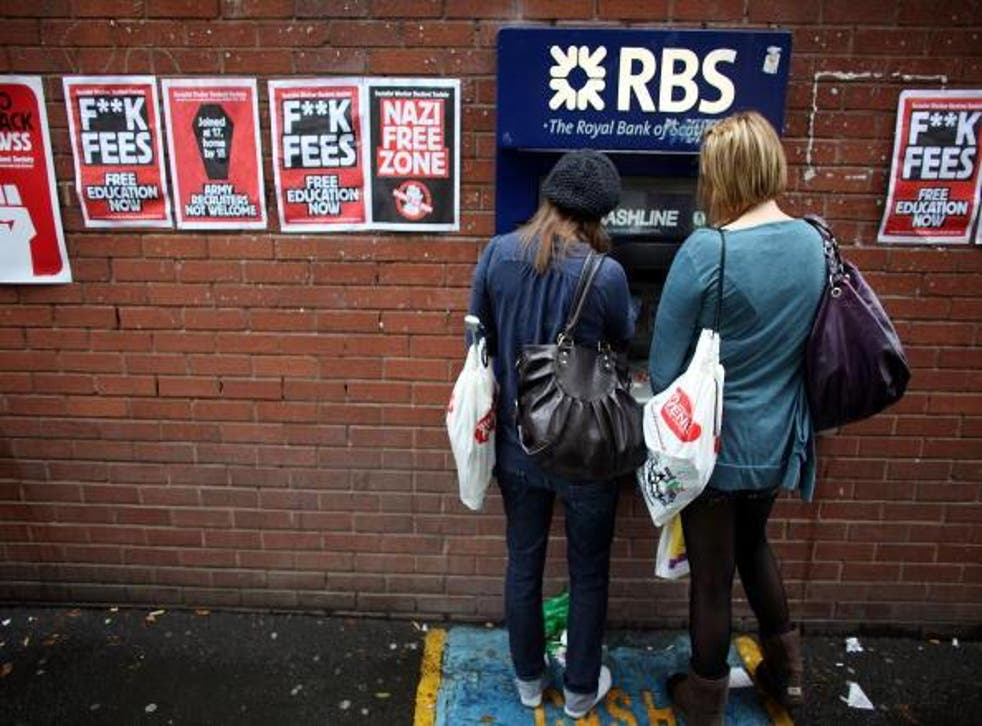 If you're starting university this month, now is the time to get your money situation sorted. That way, you can focus on having fun when you get there. You're able to apply for your first student bank account as soon as you get your exam results and this is a great place to start.
The biggest difference between a student account and a standard current account is the free overdraft you get from most banks. What is an overdraft? You can use an overdraft to take out more money from your account than you actually have. It's a type of borrowing that shows in your account as a negative balance; that's because you will need to pay the bank back.
Normally, banks charge interest on money you borrow so you end up paying back more than you took out. The best thing about student accounts is they usually give you an interest-free overdraft. That means you get more flexibility with your budgeting because it doesn't cost you anything extra.
Overdrafts are really useful but they do come with a big health warning. Your bank will set you a limit; this is the maximum amount you can borrow and you must stick to it like glue. If you take out any more than this, you will be charged hefty fees and it could also hurt your credit rating - this could make it more difficult to get a new mobile contract now or a mortgage or a loan after university.
Your bank will let you set up alerts that let you know if you're almost hitting your overdraft limit. If you get one, it's a sign to stop spending. It's a good idea to keep an eye on your bank balance too. You've also got to remember that you will need to pay your bank back when you finish university. Although student overdrafts are interest-free, sadly it's not the same as free money. So, what other things should you take into consideration when choosing the best student account for you?
1. Free stuff = bank bribery
Banks want you to take out their student account because, once they've hooked you with an account, it's easier for them to sell you other things like loans or credit cards so you make them money. Just say no, because they are likely to charge you a hefty amount of interest unless you pay it off in full each month.
8 boring but important things to do during freshers week
As much as they'd like you to think it, they're not your friend, but that doesn't mean you can't get something out of it. To win you over, you'll be offered perks like free student railcards, gift vouchers, free software - or even simply cash. Don't be tempted to take the cash and run. Work out which freebie is worth the most to you. If you'll be making regular trips home, it might be best to get a student rail or coach card. If you don't take the train, cashback could be a big win. Be savvy so you get the best deal - as tempting as the cash may be.
2. Which account?
An interest free overdraft is the best possible student account perk. So, if you plan to borrow, choose the account that gives you the biggest interest-free overdraft for the most years. Things to check:
How big an overdraft do you get in your first year? Does your limit go up every year you're studying?
What happens if you go over your overdraft limit?
Can you set up free text alerts that tell you if you're getting near your limit?
Is it compatible with Apple Pay and/or Android Pay?
Do you get a contactless card?
Does the bank charge for any services?
Will you get interest on the money you pay into the account?
Do you need to pay in a certain amount each month or term as part of the deal? 
How long after you graduate will your overdraft stay interest-free?
Does the bank have a decent online banking app?
Is there a monthly charge?
Where's the nearest ATM to your uni? Is it compatible with the bank or will you be charged?
Do you have a bank branch close to campus in case you needed to go in? Is there a student adviser there you can speak to?
Overall, you can compare every student bank account really easily in our comparison so you can find the right one for you.
3. Applying for a student account
You'll need to prove to the bank you are a student. That means you will need to show them:
Your AS12 letter from Ucas
Proof of your identity i.e. passport or driving licence
Proof of address i.e. mobile phone bill
4. Stay in control
Whatever student account you decide on, be sure to let your bank know if you are ever struggling with money. Always tell them before going over your overdraft limit; they'll be much more lenient if you keep them in the loop.
Before you head off to university, set out a monthly budget that helps you stretch your student loan for the whole term. Here's how:
Divide your student loan by the number of weeks you'll need it to last for 
Work out your weekly income from any part-time jobs
Add the two together so you know how much you have to live on 
Work out how much you will need to spend each month including rent, bills, food, gym memberships, mobile, and transport 
Overall, take your spending total away from your income total and you're left with your 'fun money' - this is how much you have left to play with.
5. Damage limitation
Open two accounts: one for bills and one for play. Transfer all the money you need for bills into one account and set up your direct debits to go out from here. Leave this bank card at home so you can only get at your fun money while you're out. Always keep some money back for emergencies too - savings in a separate account will be your saviour in the last week of term.
Stick to your budget and you'll graduate, not only with a degree, but with a solid knowledge of how to handle your money - something that will help you throughout your adult life. Budgeting is so simple and there are loads of apps that make it easy. Get it sorted now and, I promise you, you won't regret it. For more information, read our How to find the best student account guide.
Hannah Maundrell is a leading personal finance expert and editor-in-chief at money.co.uk
Register for free to continue reading
Registration is a free and easy way to support our truly independent journalism
By registering, you will also enjoy limited access to Premium articles, exclusive newsletters, commenting, and virtual events with our leading journalists
Already have an account? sign in
Join our new commenting forum
Join thought-provoking conversations, follow other Independent readers and see their replies