University grants for poorest students axed and replaced with loans
Around 500,000 of England's poorest students are set to be saddled with more debt now that tuition fees have been increased to £9,250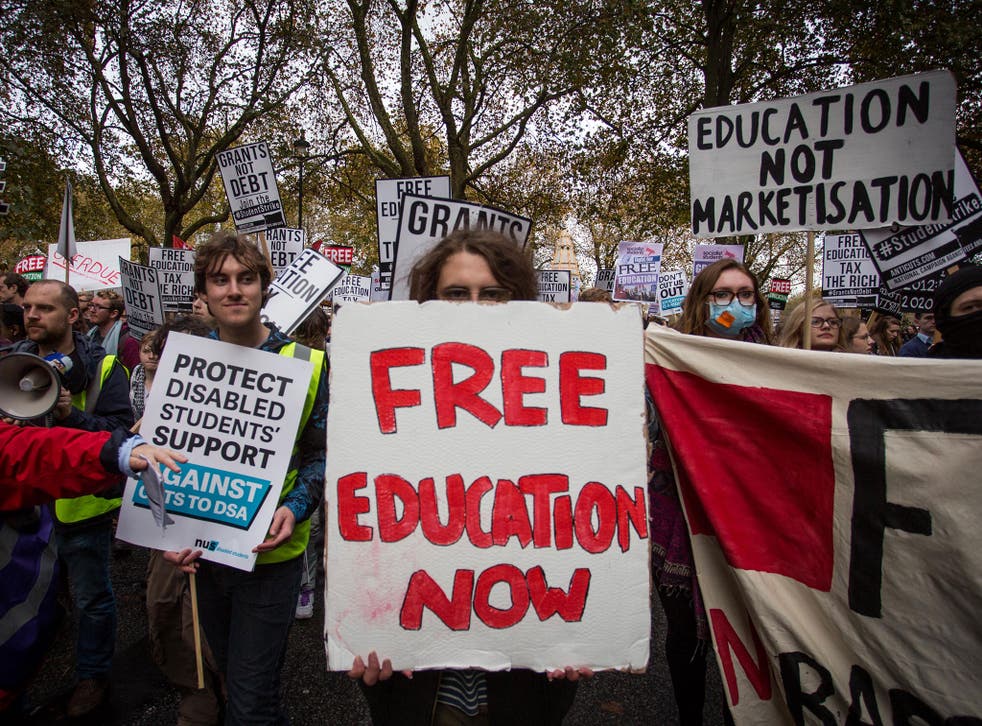 The Government has faced heavy criticism on the day university maintenance grants were replaced with loans for half a million of England's poorest students.
Sorana Vieru, National Union of Students vice president, labelled the move "disgraceful" and said it "basically punishes poorer students simply for being poor".
"So they have to take a bigger loan than those students from privileged backgrounds," she told BBC Breakfast on Monday.
"It could put off students from underprivileged backgrounds from applying, who might not understand how the loan system works, or are very debt-averse.
"We also know mature students are way more debt-averse than younger students and BME [black and minority ethnic] students perceive student debt on a par with commercial debt."
The Government was heavily criticised earlier this year for "frighteningly and undemocratically" pushing the change through a small committee most people had never heard of, consisting of just 18 MPs and at a debate which lasted just 90 minutes.
In the 2015 Budget, former chancellor George Osborne announced the Government's intention to abolish grants and replace them with increased maintenance loans, a change which campaigners argued would have an impact on student perceptions of the value of higher education.
University students from families with a household income of £25,000 or less were entitled to a grant to cover living costs of £3,387 per year. This grant then decreased as the family's income increased and came to an end when a household earned more than £42,620.
As of Monday, though, those students who live away from home outside of London will receive a higher loan amount of up to £8,200, while those in the capital will get up to £10,702.
This will then all have to be repaid under the same terms as existing loans once a graduate earns more than £21,000 per year.
At the time of the debate, Liberal Democrat leader, Tim Farron, described how he worked in higher education before becoming an MP and saw, at first-hand, how being at university allowed people "to grow and develop".
He added: "This is a very frightening prospect for young people and their parents. This is a typical Tory reaction, they don't understand what it is like to struggle.
Students protesting for free higher education
"We have worked to target support to the poorest students, and removing that vital help will hurt those who need it most. Plans to cut maintenance grants are wrong and we will fight these plans tooth and nail. Social mobility is a real priority and these changes threaten to further entrench inequality. It is something I oppose."
An opposition day debate in the Commons, which was launched by the Labour Party following significant cross-party opposition to the proposals and lobbying from students' unions from across the UK, saw MPs vote down the opposition day motion to annul the Tories' plan by 292 for and 306 against. The vote on the praying motion to annul the regulations also narrowly fell by 292 for and 303 against.
The Government, however, has faced fresh criticism of its handling of student loans repayments after making a U-turn on a 2012 promise by freezing the student loan repayment threshold at £21,000, meaning around two million graduates are now being forced to pay back more on their loans than originally promised.
The change was implemented despite 84 per cent of respondents to a Government consultation opposing the move.
A parliamentary debate was recently triggered after more than 130,000 people signed a petition calling on the Tories to overturn the decision. The petition said the retrospective changes "threatened any trust had in the student finance system".
At the debate, MPs argued the Tories had "maxed out the nation's credit card" and now students and graduates were being left to "foot the bill".
Helen Jones, Labour MP for Warrington North and chair of the Petitions Committee, said in her opening remarks: "What's happening at the moment is simply and totally wrong.
"The worst thing about this decision is it is retrospective. A commercial organisation would not be able to do this, but the measures it imposes on others it appears [the Government] is not prepared to adhere to itself."
Join our new commenting forum
Join thought-provoking conversations, follow other Independent readers and see their replies