Student's graduation day pictures capture the harsh reality of debt after university
This week marks four years since the US student loan debt amount surpassed $1 trillion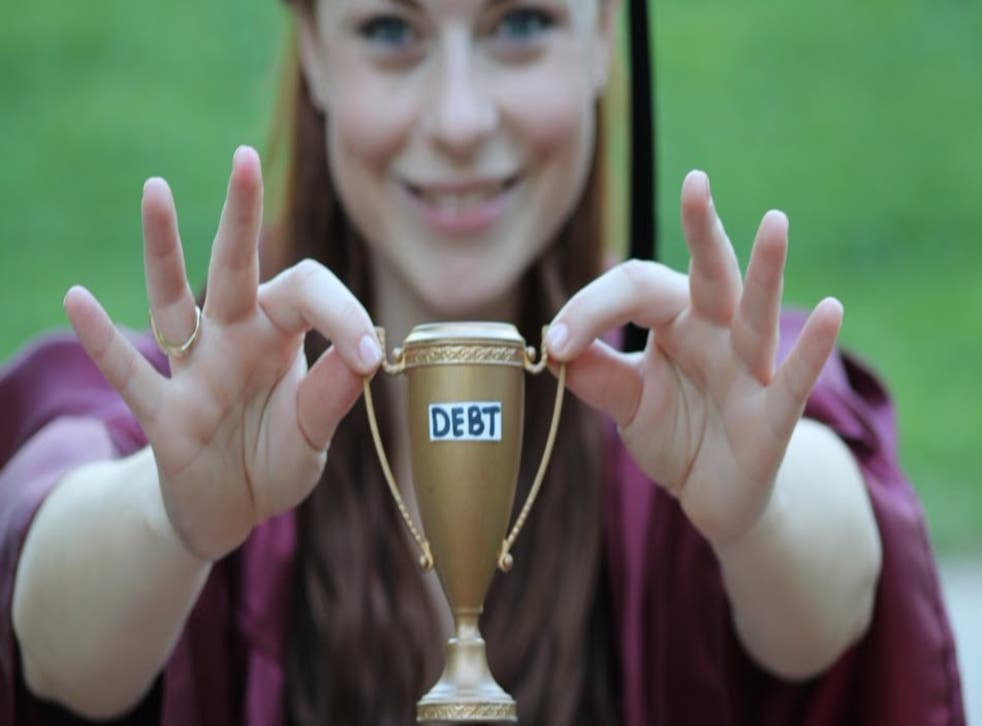 Graduation day pictures are usually filled with students smiling, punching the air victoriously, and throwing their caps around, as they finally say goodbye to their studies and look ahead to life in the real world.
However one student from North Carolina in the US has been gathering attention online for her unique - yet somewhat accurate - vision of life after university.
Having completed her BA in theatre performance from Meredith College, 27-year-old Maigan Kennedy decided to capture the harsh reality of debt that students are leaving the American education system with.
Taking to photo sharing site, Imgur, Ms Kennedy's pictures have gathered hundreds of comments and have been viewed over 200,000 times in just a week, with many users relating to her situation.
Images taken show her leaving university with a debt trophy, lying on the ground 'drowning' in overdue payment notices, as well as looking sad while holding a handwritten sign which reads: "Will run lines 4 food."
Graduation photos show harsh reality of student debt

Show all 7
Speaking to the Independent, Ms Kennedy said she partly wanted to have the photos taken because she "wanted to have a laugh."
Although affected by the debt - somewhat admirably - it seems the graduate is continuing to look on the bright side. She said: "It's taken me nine years in and out of school to complete my degree, and my family wanted photos to celebrate but, of course, I had to goof off.
"Debt has become a part of the American college experience - it was certainly a part of mine - and I'm choosing to laugh about it.
"I wanted to do these pictures so others could laugh with me."
We're trying to laugh with you, Maigan. Really, we are…
Ms Kennedy's images have come as activists in the US mark this week as being four years since the total outstanding student loan debt amount hit $1 trillion.
According to MarketWatch, the problem has "only continued to grow" as activists continue to campaign for progress.
Join our new commenting forum
Join thought-provoking conversations, follow other Independent readers and see their replies