Festival season 2016: The top 10 to do this summer
On a shoestring budget? Who needs Glastonbury when you've got these 10 festivals to look forward to instead
Thursday 03 March 2016 18:01 Comments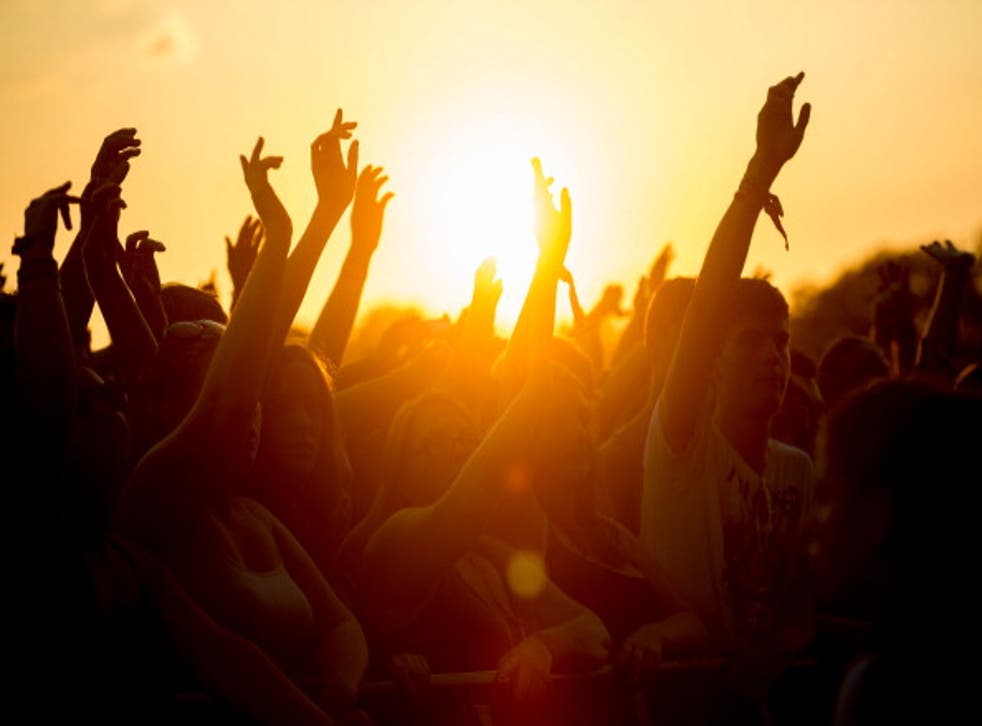 Everyone loves a big music festival. A dozen good friends, a plethora of entertainment, and acts that fill stadiums around the world are the perfect mix for the perfect long weekend. But, how many times have people failed to get their Glastonbury tickets after clicking 'refresh' a hundred times and, honestly, how often can a student afford to spend £300 on an extended party?
This is where small festivals come into their own: intimate gatherings of a few thousand people, the British countryside at its best, and tickets that cost the same as a couple of nights out. Britain has a huge variety of small music festivals, and these are the ten that every student should try this summer:
1) Farmfest
When? 29 to 31 July
Where? Gilcombe Farm, Bruton, Somerset
Cost? Currently £67
Why? Farmfest provides a perfect mixture of dub, folk, house, and everything else, with brilliant local food, artists, and performers all over the site. It's family-friendly but also perfect for a group of students looking to have a big weekend and avoid breaking the bank at the same time.
2) Shindig Weekender
When? 27 to 28 May
Where? Secret location in the countryside near Bath, to be revealed to ticketholders soon
Cost? £99 to £115 plus booking fees
Why? Shindig Weekender is a true highlight of the festival calendar. Hosted by Ghetto Funk, a hot new British record label, it's one of the best party weekends you can have. The headliners range from Dub Pistols to Featurecast to the musical genius that is Beardyman, so it's sure to be a serious weekend of fun.
3) Love Saves the Day
When? 28 and 29 May
Where? Eastville Park, Bristol
Cost? Weekend ticket is currently £71.50
Why? Love Saves the Day started back in 2012 as a one-day event in Bristol's Castle Park, and has now rocketed forward, attracting more than 20,000 attendees a year. The line-up covers all the best aspects of underground music with the Saturday covering house and techno. Sunday will bring reggae, dub, drum and bass and, of course, grime. With heavyweights like Stormzy and Eats Everything headlining this year, it's among the best summer events in the country.
4) Parklife
When? 11 and 12 June
Where? Heaton Park, Manchester
Cost? A weekend ticket is currently £95
Why? Firstly, if you need any reason to go other than the fact Ice Cube is playing then you're insane. If that's the case, then Parklife is being put on by the crew behind Manchester's legendary Warehouse Project. This means huge attention to detail and creativity, resulting in one hell of a party. Accompanying Ice Cube on the line-up are the likes of Skepta, Earth, Wind & Fire and everyone's favourite act, Kurupt FM.
5) MacFest
When? July 2016
Where? Location is currently unconfirmed, but there's a pre-party at Switch in Southampton on 2 April
Cost? Unconfirmed at the time of writing
Why? Tragically, in February 2016 Mac Campbell, a 20-year-old from near Southampton, was killed in a road accident. Quickly, his friends and family started a fund in order to create an event in his memory, with a target of £5,000. Within a matter of weeks, over £18,000 had been raised and MacFest was being planned. This followed a successful online campaign, with the likes of Craig David, Rob Da Bank, and the cast of Geordie Shore lending a hand. Not only will this be a great way to remember a much-loved young man, it will be a great day out as well.
6) Gottwood
When? 9 to 12 June
Where? Anglesey, Wales
Cost? £140
Why? Even though it's among the most expensive of the smaller festivals, Gottwood is an essential in the festival calendar. Set in a forest on the edge of a lake, Gottwood has a truly unique location. This adds to the magical decoration, and revellers can really see the amount of sheer effort put into the event. The line-up is strictly electronic, with the likes of Daniel Avery and Adam Shelton providing the soundtrack.
7) Beat-Herder
When? 17 to 19 Julu
Where? Dockber Farm, Lancashire
Cost? Currently £144.70
Why? The fancy dress fiesta that is Beat-Herder is a true highpoint of any summer. Having won the 2014 'Extra Festival Activity' award from the UK Festival Awards for effort, you can guarantee this will be a truly memorable experience. With Basement Jaxx having headlined last year and 2016's yet to be released, this is a festival to anxiously wait for.
8) The Big Feastival
When? 26 to 28 August
Where? Kingham, The Cotswolds
Cost? Tickets go on sale 29 March
Why? Created by Jamie Oliver and Alex James, The Big Feastival values food, just as much as it does music. It offers brilliant live cookery shows, so we can all learn how to improve our student dinners, as well as a musical line-up to get the most boring among us excited. Chefs such as Raymond Blanc, Gennaro Contaldo and, of course, Jamie Oliver are giving their live shows, alongside artists such as Groove Armada, Ella Eyre, and Grandmaster Flash.
9) BoomTown Fair
When? 11 to 14 August
Where? Near Winchester, Hampshire
Cost? Currently £170, plus booking fee, or four instalments of £42.50
Why? Describing itself as the 'UK's maddest city', BoomTown Fair lives up to its name. The festival is divided into ten districts. With camping spread throughout, each district focuses on a different style of music and has its own main stage. The lineup this year includes Parov Stelar, Damian Marley, and Fat Freddy's Drop, with huge musical diversity that appeals to thousands from across the country. It has the style of a rave with the atmosphere and friendliness of a gathering of friends, so is a must for any festival goer.
10) 2000trees
When? 7th-9th of July 2016
Where? Upcote Farm, Gloucestershire
Cost? £95
Why? 2000trees provides an intimate atmosphere for about 5,000 people, with focus on quality food and drinks as well as the finest rock and indie acts. Past headliners have included Frank Turner and Twin Atlantic, with this year's including WSTR, While She Sleeps, and Kagoule. If you want to roll your favourite gigs and the British summer into one, this is the festival for you.
Register for free to continue reading
Registration is a free and easy way to support our truly independent journalism
By registering, you will also enjoy limited access to Premium articles, exclusive newsletters, commenting, and virtual events with our leading journalists
Already have an account? sign in
Join our new commenting forum
Join thought-provoking conversations, follow other Independent readers and see their replies