iSessions final 2016: A round-up of the night's student bands
A home run for Manchester as The Vanity Project are crowned the winners of this year's contest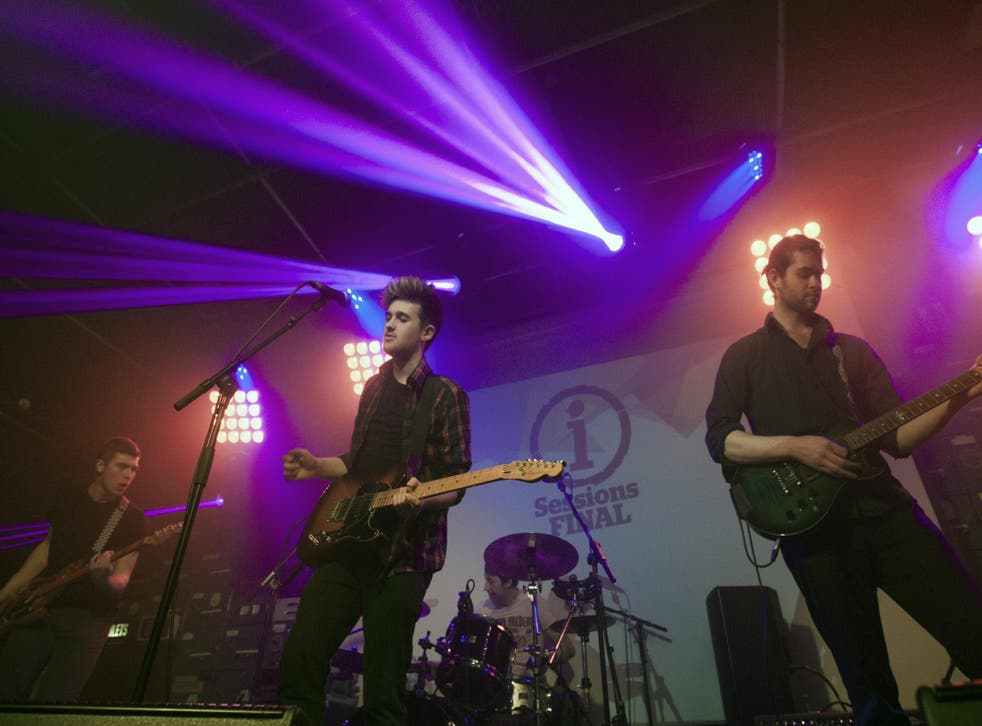 Monday 29 February saw Manchester's Gorilla play host to some of the country's most exciting new bands in the iSessions final - a national student battle of the bands competition - which featured acts from the universities of Manchester, Liverpool, Leeds, Cardiff, and Newcastle all competing for the winner's prize: studio recording time and festival tickets.
With a heaving audience consisting of a mixture of Manchester locals, students, and proud parents, each band played a 15-minute set under the watchful eyes of the competition's judges: Marc Riley, BBC Radio 6 music DJ, Tom Baker, founder of London's Field Day Festival, and Alice Jones, deputy arts editor at the i.
With a team of iStudents helping their bands make it into the final stages, here is the rundown of each individual act in order of performance from the night:
Three Denims - Cardiff University
This acoustic Gloucester based trio opened the night with their original song 'See You Soon' - a stripped-back and mainly vocal tune. The emotive lyrics held meaning for lead singer, Dan Graham, who described how the "songwriting itself acted as a relief" following the passing of his grandmother.
The band then picked up the pace with their version of Paolo Nutini's 'Candy'. Despite playing a cover, they still managed to make it sound original by giving an acoustic twist. Vocalist and guitarist, Anna Crosby, composed their final song 'Let It Rain', which showcased a unique tone by tuning the two guitars differently; one sound from the bass of the electric and another from the melodic acoustic.
Lowlanders (runners-up) - University of Liverpool
This four-piece bounded onto the stage with an air of self-assuredness which made them reminiscent of a band that had been touring renowned venues for years. Lowlanders play catchy pop-punk style songs that make an audience want to dance and sing along. On the night, this materialised in the form of standout tracks 'Forget About Him' and 'Apathy'. The band describe the former as being centred around a Royal Blood-style riff with "stompy verses" and a bright, pop-friendly chorus.
The crowd was yelling and waving drinks around ecstatically as the band offered T-shirts to whoever "danced the maddest," showing that their aim to give people a good time was definitely paying off. 'Apathy' emanated indie festival anthems with its fast pace, hooky bass riffs, and complex drum patterns, all culminating in a drum solo and huge final verse that further united the excitable audience.
Youthful Fancy (formerly known as P.O.T.S) - University of Leeds
This four-piece brought a hint of psychedelia to the stage, with lead singer, Samuel Brunt, citing the band's main influences as Led Zeppelin, Iggy and the Stooges, the Smiths, and Brian Jonestown Massacre. Their frantic riffs and pounding synths mirror elements from each of these bands, important for their own growth. The bass player singled out their track 'Sinner' as his personal favourite, due to its fast-paced snarls and ability to allow him "to release his inner shredder."
The crowd completely ate up the band's contagious energy, with lead guitarist, Guy Portman, teasing those at the front of the audience with erratic riffs and an air of confident swagger. He "enjoyed playing Gorilla because the sound quality was so good and the atmosphere was great too, really enthusiastic," he said.
Mama's Kumquat - University of Newcastle
This duo prides itself on having grimy tones that deal with controversial topics. They began by telling the crowd: "For our fans that have come, we will give you flowers. For everyone else, we will woo you." Their set began with 'Cash Cow', a marching song that, according to vocalist and guitarist, Seb Masters, is about "greedy b******s". They then went on to play 'Spinnin'', an original mixture between grunge and blues, with the lyrics expressing feelings of futility and ineffectiveness.
They also performed 'Mrs White Ghost': a psychedelic and experimental song about what they describe as "sweaty passion," and, finally, rounded-off with 'Tower Clowns', consisting of a high-tempo scrappy track that related to a dystopian future.
The Vanity Project (winners) - University of Manchester
This multi-instrumental and experimental duo consisted of Rob Paterson and Flora Jackson who emerged onto the stage in white lipstick and bloodstained boiler suits that screamed originality. Their set began with 'Antrim', a sprawling ten-minute ode to Ireland that Rob described as a "beautiful country marred with a violent and divided past, which lingers long past its welcome." Including an indie rock refrain as well as ambient sections, the live version was (surprisingly) cut down from Flora's original solo album.
Their bitter-sweet second song 'Graduation Blues' generated laughter from the audience with relatable lines like "type another 100 words and have another cup of tea." However, Rob's comments on how students tell him of "relating to the same anxieties after hearing it" gave the song an underlying sense of melancholy. Finally, they performed 'Moving Forward' which built the loops up to a climax and then broke them down into drums and bass whilst Rob performed a monologue over the top. The duo described it as "one of the only happy songs Flora has ever written."
On the whole, each band gave a successful showcase of the diversity existent in the student music scene and the event brilliantly portrayed the excitement that pervades university campuses nationwide in terms of live music. From psychedelia to folk, pop punk then back to classic indie rock, the iSessions final was a triumphant broadcasting of everything that's going right with new UK music.
Join our new commenting forum
Join thought-provoking conversations, follow other Independent readers and see their replies