Norwich is the best student city in the UK, 5 reasons why
Vintage shopping, thriving nightlife - and a one-hour flight to Amsterdam. What's not to love about the city on the River Wensum?
Katie Gleeson
iStudent
Thursday 14 January 2016 19:09 Comments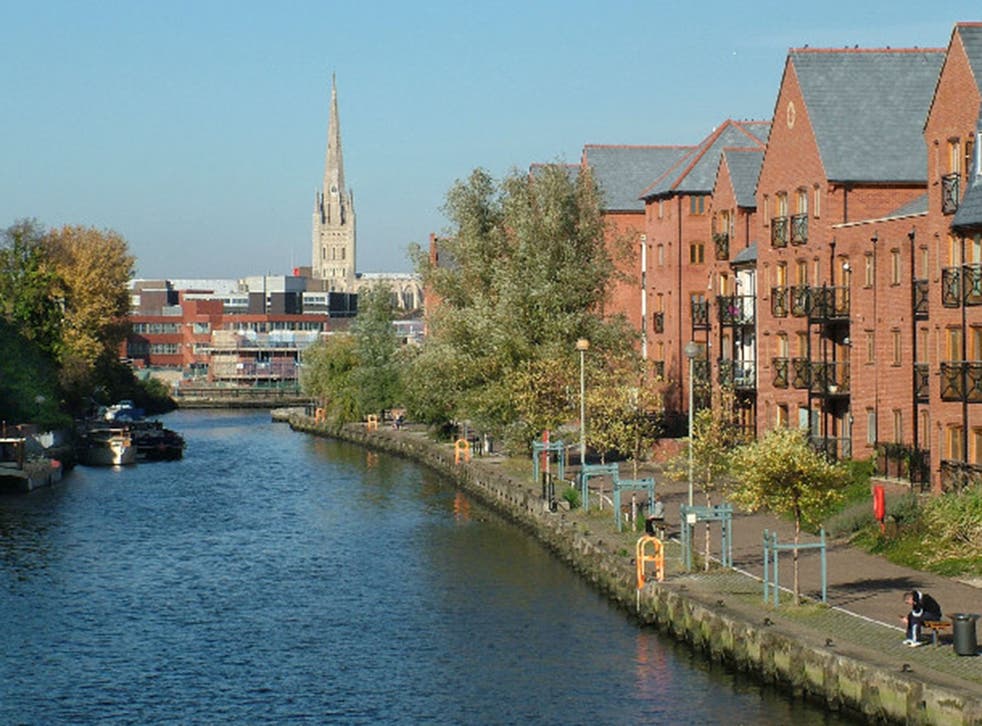 It's mid-January already which means the Ucas deadline is all but upon us as offers of university places continue to roll in for thousands of students from across the country. Going to university is one of the most pivotal things a person can do, so making the right decision on where to go is crucial - so here's why Norwich has got to be one of the best student cities in the UK:
1) Location
Norwich is often given an unfair rep of being in the provincial backwaters of England - and this couldn't be further from the truth. Its unique placement makes it one of the only places in the UK where a quick trip out from the bustling city could take you to the coast or to the countryside: the Broads, a peaceful national park with miles of waterways and beautiful scenery surrounds the city itself. If big cities are more your thing then London's less than two hours away by train. Or you could fly to Amsterdam in less than an hour.
2) Culture
Norwich is steeped in history. It's home to a Norman castle, two cathedrals, and a large number of medieval buildings, all ready for students to explore. It's also a fantastic literary hub, being one of only eleven Unesco Cities of Literature in the world. There are cultural opportunities around every corner, be it a film at Cinema City - Norwich's art-house cinema - a poetry reading, or an exhibition at the Sainsbury Centre for Visual Arts.
3) Shopping
Home to two shopping centres and a thriving high street, all of the major British retailers can be found in the city. But Norwich's secret shopping weapon is the Norwich Lanes. Winner of the 2014 Great British High Street of the Year Award, the Lanes are home to a plethora of independent, creative retailers, selling everything from antiques and vintage clothing to records and health foods. Hours can be whiled away exploring what this little haven has to offer.
4) Food, drink and going out
While it can't be denied that Norwich's nightlife can't quite stand up to the 'big guns' like Manchester and London, the city still has a decent range of clubs that more than cater to most students' needs. Big clubs Mantra and Mercy cater for the mainstream crowd, while more alternative fare can be found at Bedfords Crypt and Karma Kafe, venues that hold a whole host of nights including soul, reggae, and techno. There's a good gay scene, too.
If a quiet drink at the pub is more your thing, you're in luck. It's said Norwich once had a pub for every day of the year, and while that's no longer true, there is still an abundance of pubs and bars perfect for students spread across the city. Highlights include The Mischief, a dirt-cheap student favourite, and the quirky Playhouse Bar with its fantastic beer garden and frequent gigs. Food-wise, there are just as many opportunities to grab something to eat as there are to have a drink. The city is littered with restaurants, cafes, and even street food stalls.
5) Music scene
The music scene is Norwich's crowning glory. Being the only big city in the region, loads of bands and artists stop off here on tour. 2015 saw Foals, The Maccabees, and Years & Years (among many others) play at one venue alone. The local scene is brilliant and varied too, with numerous opportunities for musicians and music fans alike.
Twitter: @katiegleeeson
Register for free to continue reading
Registration is a free and easy way to support our truly independent journalism
By registering, you will also enjoy limited access to Premium articles, exclusive newsletters, commenting, and virtual events with our leading journalists
Already have an account? sign in
Register for free to continue reading
Registration is a free and easy way to support our truly independent journalism
By registering, you will also enjoy limited access to Premium articles, exclusive newsletters, commenting, and virtual events with our leading journalists
Already have an account? sign in
Join our new commenting forum
Join thought-provoking conversations, follow other Independent readers and see their replies