Want an earnest answer to 'voluntourism'? The International Citizen Service may be for you
Is it possible to travel the world and actually do some good?
Charley Utton
Tuesday 31 December 2013 14:56 Comments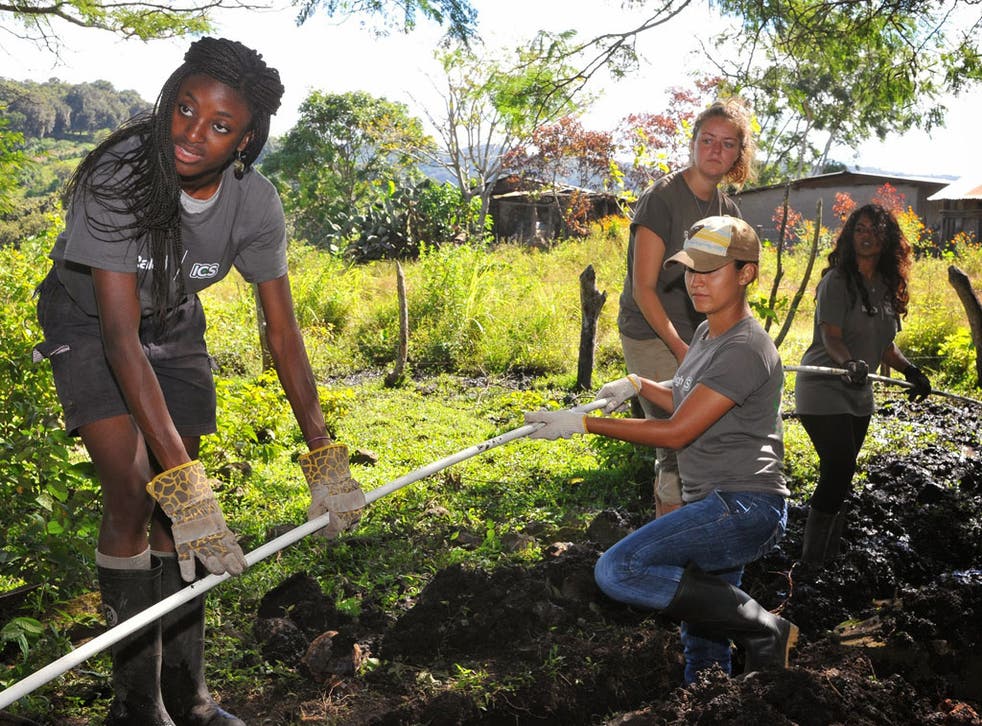 In the world of gap years and student summer-planning, the term "voluntourism" has become ubiquitous. Stories and stereotypes abound of young middle class world-savers paying ludicrous sums of money to go abroad for a few weeks, hug some orphans, go on safari, take some photos, and come back with sanctimonious grins.
There are serious concerns about the nature of voluntourism; not only are volunteers said to gain more from the experience than those they are meant to be helping, but in some cases the industry built around voluntourism is said to be actively damaging to people's lives.
The UK government-backed International Citizen Service (ICS) may provide an alternative to those who seek to do good, but who find themselves lost in the quagmire of pseudo-charitable options thrown at them by a quick Google search for "gap year volunteering".
ICS
ICS, funded in part by the UK Department for International Development, is a scheme that provides the opportunity for 18-25 year olds to volunteer abroad with reputable organisations. It is coordinated by Voluntary Service Overseas, and operated by seven further UK-based international development organisations. Between 2011 and 2015 it aims to involve 7,000 young people from the UK, and 7,000 from the 24 countries its projects run in. There are a few ways its programme is distinguishable from the average "gap yah" jaunt.
The work
The issue areas and types of work that fall under ICS are diverse. Poverty reduction is the general focus, but under this umbrella fall issues such as sexual and reproductive health, civic participation, the environment, access to education, and disability. Though each organisation has its particulars, volunteers commonly engage through peer education, community awareness events, research, sports and study clubs, and general awareness raising activities. Though there is some infrastructure work, for which full training is provided, there is no chance of volunteers building schools that are going to fall down the second a spot of rain comes along, or of them forming unsustainable relationships with vulnerable children.
Duration and programme structure
In-country placements last 10-12 weeks, but total involvement with the programme typically lasts 11-12 months. Before placement volunteers engage in fundraising, and afterwards are committed to completing an "action at home" – some sort of activity that will raise awareness of the issues they encountered on placement, and that may go a way to fighting them. Training to deliver a given programme is provided before and during placement, and training to contribute to volunteers' actions is provided afterwards.
In most cases volunteers live with host families in their assigned communities, living as a local, without many of the luxuries that are the norm in the UK. Additionally, each UK "international" volunteer is paired with a "national" volunteer from the community. The duration and living arrangements provide the opportunity for a relationship between the volunteers and the community to establish, and for the volunteers to develop their own understanding of the issues facing the community and how they can angle their projects to address them.
Unlike with voluntourism, the opportunity to travel or sight-see is extremely limited in ICS. In the entire in-country placement volunteers take just two weekends off, and are not permitted to travel either side of the placement. The emphasis is that the programme is about supporting communities, not about enabling young Brits to get drunk and take selfies in front of monuments.
Money
ICS covers the costs of flights, visas, accommodation, food, insurance, and a certain amount of living expenses; putting in roughly £6,000 per national-international volunteer pairing. Each UK volunteer, however, has to raise £800 in funds prior to leaving. This initiates them in the programme and proves their commitment. Importantly, the money does not go directly towards their placement costs; it is not a case of asking others to fund a summer holiday.
Is it selfless?
It depends what your view of selflessness is. It's inevitable that volunteers stand to gain something from taking part in ICS, be it personal development or extra points on a CV, but that's not necessarily a bad thing. ICS in fact has two main aims – the delivery of development projects, and the personal development of volunteers. The idea is to provide assistance to those in need, while simultaneously being a learning experience for young people around the world.
The scheme will run until 2015, when it is due to come under review. For further information, visit http://www.volunteerics.org/
Charley is a third-year International Relations student at Plymouth University, follow him on twitter here
Register for free to continue reading
Registration is a free and easy way to support our truly independent journalism
By registering, you will also enjoy limited access to Premium articles, exclusive newsletters, commenting, and virtual events with our leading journalists
Already have an account? sign in
Join our new commenting forum
Join thought-provoking conversations, follow other Independent readers and see their replies