Want to actually stick to those resolutions this year?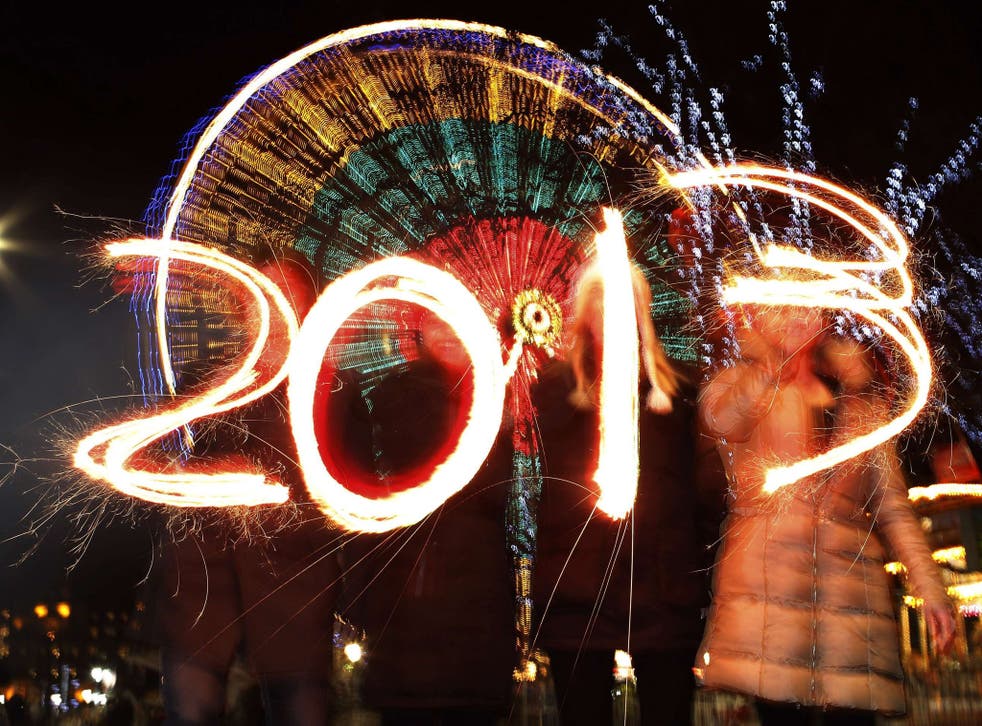 My favourite part of the New Year's holiday is New Year's Day. The glitz, glamour and extortionate prices of the night before are easily forgotten after 24 hours of laziness, good food and laying in bed looking forward to the upcoming year. It's traditionally been the last week of slovenliness before we head back to school, sixth form and now university.
And, despite my Twitter timeline being filled with tweets condemning anyone who dares utter 'new year, new me', I'm a sucker for the 'turning over a new leaf' part of the festive period. While I'm not quite naïve enough to think the chime of a new year will transform me into a new person, or that 2013 will be filled with all good things, I like that I get a chance to think about what I want to achieve in the upcoming year and that it feels like a fresh slate to do it – particularly as this year I'm graduating and entering the 'real world'.
The failure of New Year's resolutions is so common that many are made in jest - with little intention of upkeep. As we are now well in to January, a large majority of you probably haven't gone to the gym this week, haven't changed your eating habits and definitely haven't faced the pile of coursework in the corner.
So, instead of getting gloomy and resigning yourself to 2012's habits, get realistic. It's inane to think that somewhere in-between the switch from the 31 December to the 1 January, your motivation will spike and all will fall into place. According to statistics from Statistic Brain, only 8 per cent of the US population manages to successfully achieve their New Year's resolution - if it were easy, you would have already done it.
Author of 'How to Be Sick', the self-help and psychology guru Toni Bernhard, says "the reason that people aren't able to keep New Year's resolutions is that they're really wishes as opposed to true resolves."
"They'd be better called 'New Years Wishes': I wish I could lose weight. I wish I'd stop eating junk food. I wish I'd stop smoking," she adds.
"A wish is something you hope for and is hardly worth the paper it's written on. But a resolve is completely different. It's a decision we make about our lives and, because of that it has life-changing consequences. It's a decision to follow a course of action as opposed to simply a wish that we would do so. We make the decision because we think it's crucial to change our lives in this particular manner. We believe that we'll be better off or our loved ones will be - emotionally, health-wise, etc. Think about legislative bodies. Their members don't propose 'a wish'. But they do propose 'resolutions' and if they pass, they're binding!"
So instead of looking at your promises as things you would love to happen, start thinking about how you can change your lifestyle to fit them in. And if after reflecting, you're not so sure you want the downsides of your new resolution, it's probably better left as a wish for the time being.
The same resolutions are repeated year in, year out. Lose a stone, stop eating rubbish, save money, stop smoking. But make them realistic. If you want to lose weight, try and incorporate a workout regime and a healthy eating plan into your lifestyle, plan when you are going to go, get rid of 'bad' foods and prepare in advance. Preparation is key – you can't transform your eating habits when you have a fridge full of Christmas and New Year party food leftovers. Basically, rather than just wanting something to happen, make it happen – planning, downsides, sacrifices and all.
"The tip to keeping a New Year's Resolution is to not bother making it if it's just a wish," Toni continues. "Ask yourself, 'Is this something I'm hoping for, or is this something I'm making a decision about in my life, a decision that is so firm that I'm willing to deal with the consequences even if they're a challenge and even if they're unpleasant?'"
Psychologist Leslie Becker suggests asking yourself some questions about your resolution to make sure you aren't setting yourself up for failure, including: Is your goal realistic? Are you giving yourself enough time? Are you prepared for the effort?
So, if you're someone who's lecture attendance is bad, resolve to only miss one a week, maximum. If you go out four times a week, resolve to cut that by half. Spend too much time in Topshop? Limit yourself to a budget and treat yourself at the end of the month. Don't wish to stop shopping but wander past anyway, and don't dramatically decide to chop all your trips – it will only result in an embarrassing shopping-binge (yes, it's a real thing).
Toni urges you not to be hard on yourself: "I would only add that if someone makes a resolution and doesn't keep it that they not judge themselves negatively about it. Just say, 'Ah well, I thought it was a resolution but it turned out to be a wish. That's okay. No blame. Maybe some day soon, I'll be able to truly make this a resolution'".
And if you fancy resolving to do something different, take pointers from Mashable.com, which compiled some of the weirdest New Year's resolutions on Twitter:
"Never ask my drug dealer how her life has been recently unless I have an hour to spend hearing about it".
"Clean my sex toys every day."
"Sew sequins on to every piece of clothing I own."
"Leave my dog alone".
Well, each to their own.
Lauren Cope is a final-year law student at UEA. Follow her on Twitter at @laurenjcope
Join our new commenting forum
Join thought-provoking conversations, follow other Independent readers and see their replies