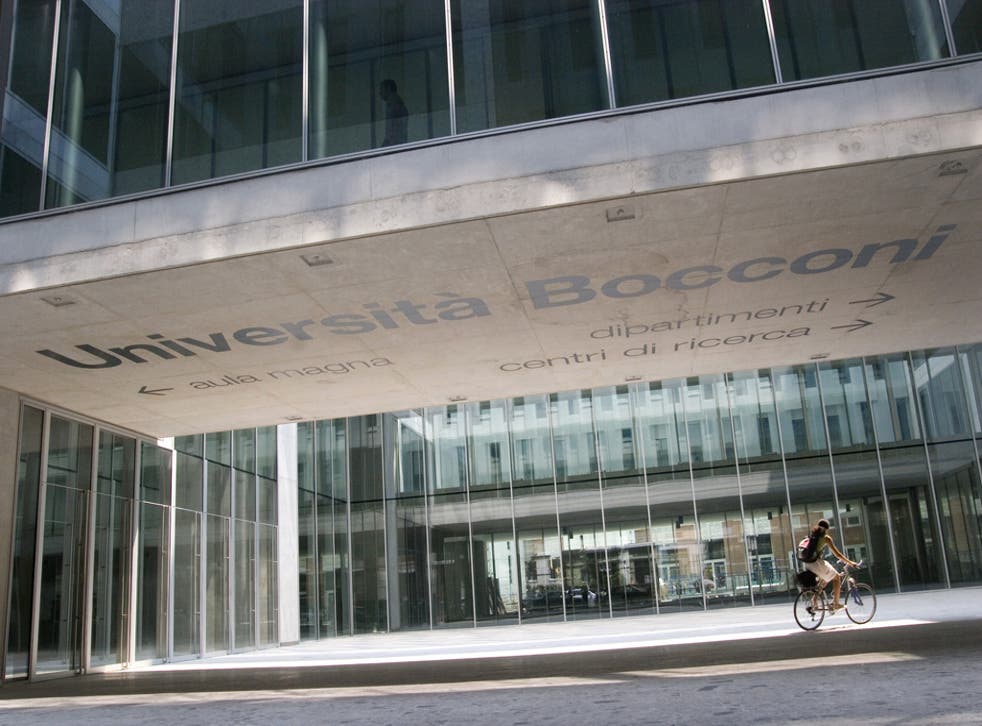 Age: 110
History: Bocconi University is Italy's first economics university. Founded in 1902 by entrepreneur Ferdinando Bocconi, over a century later Università Bocconi still stands as one of Italy's most respected institutions of higher learning in management, economics, finance and law. Bocconi's commitment to international education shows in its range of programs taught in English, from Bachelor's to Master's and PhD.
Address: The University is located in the heart of Milan. The various academic and residential buildings make up an urban campus. The address is Università Bocconi, via Sarfatti 25, 20136 Milan, IT.
Vital Statistics: About 14,000 students attend Bocconi, including around 1,500 international students enrolled in the many programs in English. In addition, over 1,300 students from 200 partner schools worldwide come to Bocconi each year to attend a semester.
Ambience: Milan is Italy's most cosmopolitan city and the pulsating hub of the country's financial, fashion and design industries. The university's modern campus is in the thick of things, with city parks nearby on three sides. In addition, mountains, beaches, lakes plus Italy's art, culture and cuisine are all readily available.

Night Life: Milan is a great place to be young, and one of its many lively areas – the Navigli canal district - is an easy walk from campus. Discos, cinemas and restaurants abound, not to mention La Scala opera house and ballet, plus two other fine orchestras.

Tuition: Bocconi's tuition varies according to family income and assets and merit scholarships are available to outstanding students in addition to other forms of financial assistance.

Accommodation: In addition to the university's residence halls, where most international students live, Bocconi has a housing service and online housing bulletin board to help students find accommodation.
Cheap to live there? Milan is a big city with big city prices, but most students in shared housing arrangements pay around €500-600 per month. The public transport system, including several subway lines and all-night service Friday and Saturday, is very inexpensive, as are meals at on-campus canteens.

Transport Links: Milan is served by three international airports and extensive rail links to Europe. New high-speed trains have greatly reduced travel times between Italy's major cities.

Prospectus: http://www.unibocconi.eu/prospectivestudents


Register for free to continue reading
Registration is a free and easy way to support our truly independent journalism
By registering, you will also enjoy limited access to Premium articles, exclusive newsletters, commenting, and virtual events with our leading journalists
Already have an account? sign in
Register for free to continue reading
Registration is a free and easy way to support our truly independent journalism
By registering, you will also enjoy limited access to Premium articles, exclusive newsletters, commenting, and virtual events with our leading journalists
Already have an account? sign in
Join our new commenting forum
Join thought-provoking conversations, follow other Independent readers and see their replies