The Independent's journalism is supported by our readers. When you purchase through links on our site, we may earn commission.
Wondering where to study? Cast your net overseas
Cynicism about the lower fees and entry requirements at overseas universities have disappeared over the last few years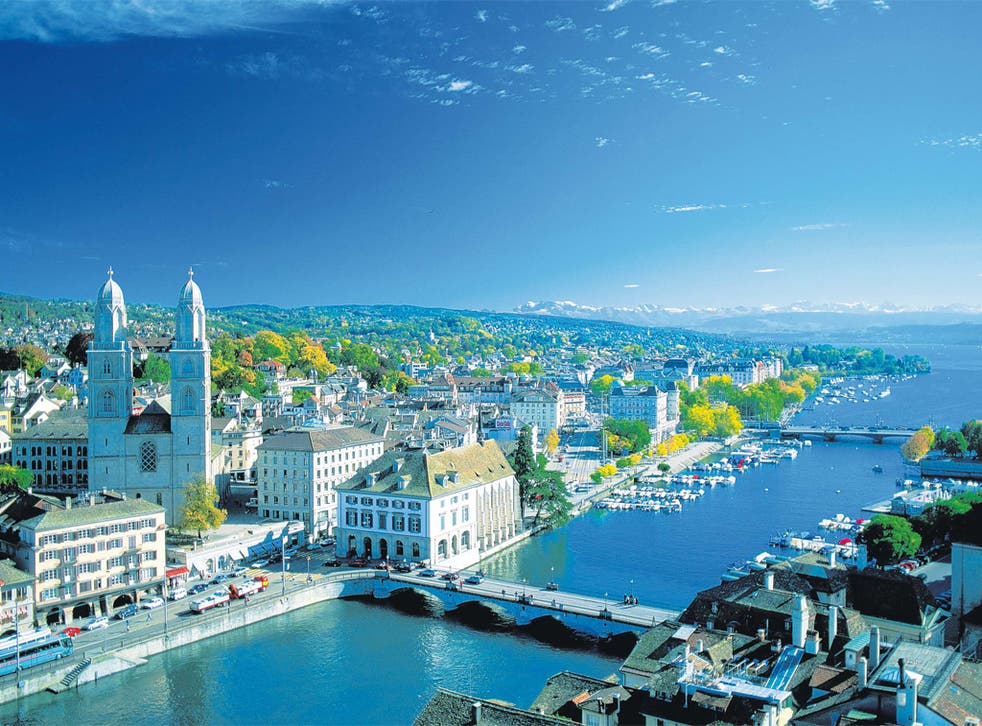 Insiders agree that, in 2013, British students and their parents are increasingly savvy about opportunities to study abroad. "The question I used to be asked all the time is 'are these real degrees?'," says Guy Flouch, study abroad counsellor and director of Eunicas – an independent support service for applications to European universities. These days, Flouch says, people know they can study in English at some of the world's very highest-ranked universities, and in some of the best faculties.
League tables back this up. The QS World University rankings 2012 includes a number of international universities. Among those in its top 50 are institutions in countries such as Switzerland, Canada, Hong Kong, Singapore, Australia, Japan, France, South Korea, America and China – many of which offer English-taught degree programmes.
However, UK students are casting their nets wider than the top-ranking research institutions. "People are reassured by the rankings, but also by the positive experiences of students a year or two above them," says Flouch. The result, he says, is an increase in the number of students applying to international universities overall, including research universities as well as universities of applied sciences – which are largely in the Netherlands, Germany, Austria, Switzerland – and university colleges, particularly in Denmark and Sweden.
There is interest in an increasing diversity of subject areas, too. Medicine – a course that Flouch calls the "vanguard to transnational education" – has long since tempted students to universities in central Europe, including those in the Czech Republic, Hungary and Romania, where fees are low. Flouch adds that Italy offers some excellent medical degrees with fees of €686 to €3,000 a year, depending on parental income, and that the University of Malta runs medical programmes for free. All of these qualifications are all recognised by the General Medical Council. However, this year, he notes that employment-focused programmes are increasingly popular – "areas such as fashion design, sports management, game design, and business. I'm also noticing more UK students applying to liberal arts and sciences programmes offered by Dutch universities." These programmes see students tackling a wide range of subjects and specialising as they progress.
Grade requirements for courses in other parts of the world are commonly lower than they are at UK universities – a fact that can incite skepticism. Flouch explains: "These universities select their students based on interview, a letter of motivation – which is like a personal statement – a letter of recommendation from a school, and grades. They look at the whole student." Parents can take comfort in that. "If they feel your child is right for them, that should reassure you – certainly for the more selective universities and programmes."
So where should itchy-footed UK students go? Jemma Davies from The Student World, an organisation that runs education fairs for international universities, advises young people to focus on the course first: "If you're not on the right programme, you're unlikely to stick it out wherever you are. Do you want to live on site? What does the course cover? If you start by saying 'I want to go over to California and have a surfers' lifestyle', you are going to be disappointed."
Parents seem to be on board with this. According to Davies, they are grilling university representatives about course content. "About 50 per cent of the people coming to our events now are parents, where it used to be mainly groups of friends. Our exhibitors say these parents are interested and serious, asking the right questions of the right people."
Another evolution in the study abroad phenomenon is the decreasing importance of finance. Three years ago, students and their parents were pleasantly surprised to learn that international degrees were available at a fraction of the cost of UK ones. Today, that is just one of many important factors. "People ask about tuition fees, living costs, visas, and if they can work to support themselves through their studies," says Davies.
Beyond that, "They are embracing the adventure, seeking the international networking opportunities, and realising how well-resourced these programmes often are."
Money is worth a mention, though, especially as some countries – including Norway, Sweden, Denmark, Finland, Malta and many states in Germany – don't change UK students tuition fees for undergraduate degrees. In Holland, fees for 2013-14 are €1,835 for most courses. In Italy, costs can be low. And, notes Davies, "There's a Chinese university that has scholarships for UK students that covers all their tuition".
Meanwhile, American universities offer some amazing scholarships, the best of which cover fees, living costs and even flights home. The same applies to Canada, where international students can recoup a significant proportion of their costs through scholarships and other means.
There is a 'but'. While fees at UK universities may be comparatively high, they are covered by student finance and repaid in manageable sums by graduates earning above a threshold. UK students can also receive maintenance loans to help with living costs in the UK. However, neither of these loans can be taken abroad. "Tuition fees might be considerably lower in other parts of the world, but you usually have to pay a sum of money up front," acknowledges Davies.
An alternative may be to undertake a UK degree but spend a period of time studying abroad within that. The British Council's Erasmus programme can help, as can other bodies – including the German Academic Exchange Service (DAAD), which supports international students to attend summer courses and term-time internships at German universities. "We have a lot of interest in those opportunities," says Dr. Andreas Hoeschen, director of the London office of DAAD. The social network site thirdyearabroad.com, meanwhile, offers useful help and advice to UK students before, during and after their time abroad.
Perhaps unsurprisingly, an increasing number of British students are developing serious global study ambitions. Up-to-date figures are quite hard to find – but a survey of 500 school leavers and undergraduates, carried out in March 2012 by Prospects, showed that 24 per cent were planning to study abroad, 73 per cent were strongly interested, and only four per cent completely ruled it out.
It's no longer an 'insurance' option, either. "Where two years ago, people would apply to international universities just in case they didn't get what they wanted through Ucas, I'm increasingly seeing people who apply to Ucas in case they don't get into Groningen, Aarhus, Amsterdam or wherever it might be," Flouch concludes. It seems that, when it comes to study, the tables have turned.
Case study: 'I'm impressed with the quality of education'
Paddy Moore from Nuneaton is in the second year of a business management degree at SAIT Polytechnic in Calgary, Canada.
"I came to Canada two years before I started studying. My girlfriend lives here, but also I saw greater work opportunities. I did look at going back to study in England, but since they raised the fees, it's about the same price to study there as here as an international student, so I decided to stay.
I'm pleased with that decision. The people are nice, and I'm impressed with the quality of education. The maximum class size at my college is 40 students, so you get one-on-one time with a tutor. I'd always been a fairly average student in the past, but in the last three semesters, I've been getting straight As.
There are scholarships for international students to help with costs: look at studentawards.com, which is a Canadian site.
I apply for scholarships on a monthly basis. You can pay off maybe a quarter of your fees with them. I also get a scholarship through my football team at college. Added to that, if you work part-time, some of your fees are tax deductible – so although you do have to pay for your degree up front, there are avenues for international students to get money back.
Adjusting to life here was not an issue – although I do miss the food! There are 'British' stores here, but I'm not going to pay £10 for an imported box of PG Tips. They have pubs too, but when they put shepherd's pie on the menu, it's beef, and if you get fish and chips, it's more like fish and fries. England is still home, because that's where my family is, so I get back every year.
I've lived around the world. My parents always said they'd be disappointed if their kids weren't prepared to take that step. For my friends who were born and raised in England, a lot of them don't know any other way, and they think it's really brave to study abroad. To them, it's a scary thought because they get homesick. I think if students want to go abroad and study, they have to be open-minded. I'd advise people to try new places out and embrace the culture. If you do, it helps you deal with life's challenges."
Useful contacts
www.britishcouncil.org/erasmus.htm
Information on Erasmus schemes, which enable students at UK universities to spend a period of time studying or working abroad.
Research European institutions by course, country or faculty.
Information on application requirements, visas and tuition fees, and a course search facility.
A course search engine that allows you to look for programmes throughout Europe by the language of tuition.
A study abroad advice site. The Student World Fairs and the Student World Tour offer a chance to meet representatives from international universities. Upcoming Fairs are in London (16 March) and Leeds (17 March), and the Tour goes to Nottingham (18 March) and Oxford (19 March).
A site designed for British students, offering tips for those who study or work abroad during their degree.
International university rankings.
Offering advice for UK students on studying abroad.
Register for free to continue reading
Registration is a free and easy way to support our truly independent journalism
By registering, you will also enjoy limited access to Premium articles, exclusive newsletters, commenting, and virtual events with our leading journalists
Already have an account? sign in
Register for free to continue reading
Registration is a free and easy way to support our truly independent journalism
By registering, you will also enjoy limited access to Premium articles, exclusive newsletters, commenting, and virtual events with our leading journalists
Already have an account? sign in
Join our new commenting forum
Join thought-provoking conversations, follow other Independent readers and see their replies