Sussex University to pay damages to anti-privatisation protester wrongly accused of 'criminal' behaviour
Michael Segalov was wrongly accused of 'intimidating behaviour, theft, damage and violence' by the institution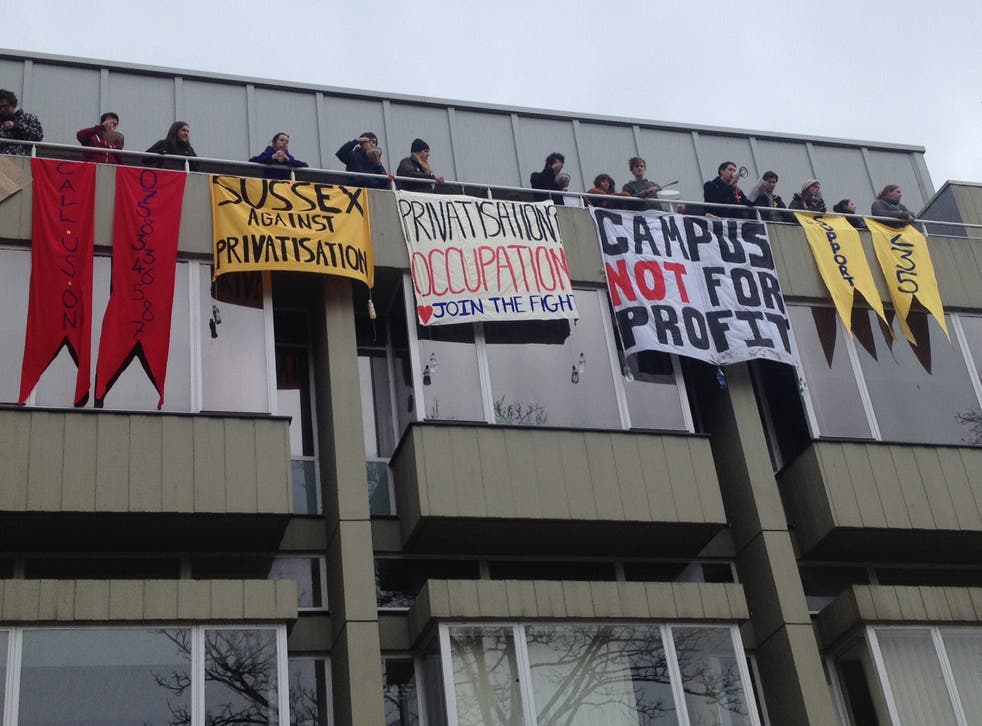 A university has agreed to pay £20,000 damages to a former student who it wrongly accused of criminal behaviour during protests against the privatisation of services.
In 2013 the University of Sussex accused Michael Segalov and four other students of "intimidating behaviour, theft, damage and violence" when they took part demonstrations and sit-ins on campus.
Hundreds of students attended the "peaceful" demonstrations against the transfer of over 200 jobs to private companies – but five were singled out and suspended.
At the time, John Duffy, the university's registrar, said the five suspended students were "actively organising or leading" allegedly "unlawful" occupations and protests.
But the university now admits none of the allegations against Mr Segalov, who now works as a freelance journalist, including for the Independent, were true, according to High Court documents.
"The University is … happy to confirm that Mr Segalov did not engage in any acts of criminal behaviour whatsoever in relation to those events, nor did he condone these alleged criminal activities," the documents say.
"In particular, the University confirms that Mr Segalov is not guilty of having committed any form of intimidation, theft, assault or criminal damage, and deeply regrets that the news bulletins suggested otherwise."
The university will pay the law graduate £20,000 in damages plus legal fees. Mr Segalov was represented by Jeffrey Smele of Simons Muirhead & Burton Solicitors.
"Throughout my time as a student at Sussex, I maintained that the campaigns that I was one small part of were peaceful in nature, leaderless in their organisation, and garnered the support of the majority of students and staff," Mr Segalov said.
"The University of Sussex administration showed a blatant disregard for basic principles of law when attempting to clamp down on protests in the last few years. From suspending students wrongfully, to injunctions banning protests, and publishing defamatory statements about me online."
"The false allegations published about myself that have led to this action were based in nothing, were never put to me, and no evidence regarding them has ever been provided. This was an attempt to delegitimise protest and dissent, with a blatant disregard for due process or the truth."
"I'm relieved that the apology and statement in open court will show once and for all that , and encourage students and activists across the country to continue to campaign for a fairer and free education system, and acts as a warning to administrations considering to act in similar ways as Sussex."
Earlier this year the Office of the Independent Adjudicator for Higher Education found that none of the five students' suspensions were justified and suggested compensation and an apology.
Michael Farthing, the vice chancellor of the university, announced that he was stepping down last month.
The students' union has repeatedly voted "no confidence" in Professor Farthing during his time leading the university, and a petition has been set up calling for him to resign.
In pictures and video: Sussex University occupied by cuts protestors

Show all 8
A spokesperson for the University of Sussex said: "There is categorically no link between this matter and the vice-chancellor leaving the university. Michael Farthing's current contract is due to end soon, and he is expected to leave the university in August 2016, when a successor is found."
The case of the students at the time drew support from now-Labour leader Jeremy Corbyn, who signed a parliamentary motion in support of their reinstatement. That motion was tabled by John McDonnell, who is now shadow chancellor.
The University of Sussex has repeatedly hit headlines for its response to student political activity in campus.
The university was criticised in 2010 after riot police and dog units attended its campus in response to a student protest against education cuts.
In its apology the University of Sussex said: "In December 2013 the University published two news bulletins on this website following the suspension of several students after the protests that took place on campus in November and December 2013.
"Some readers will have understood the news bulletins to refer to Mr Michael Segalov … those readers will have understood the bulletins to have alleged that Mr Segalov had actively organised or led an unlawful occupation of University property and associated criminal behaviour in November/December 2013 and, as such, was guilty of having carried out (and/or having conspired with others to commit) acts of criminal behaviour.
"The University would like to take this opportunity to apologise unreservedly to Mr Segalov for having published these allegations. The University acknowledges that there is no truth in any of these claims, and is happy to confirm this is the case. In particular it confirms that Mr Segalov did not engage in any form of intimidation, theft, assault of a member of staff and/or damage to University property. The University will be paying Mr Segalov's legal fees and a sum of damages to him."
A spokesperson for the University of Sussex said: "The University is making this unreserved apology to Michael Segalov because it is the right thing to do. We must make it absolutely clear that Mr Segalov did not engage in criminal activity. These matters have now been resolved and we hope this correction will help everyone to move on. We are immensely proud of our students and will continue to support them to reach their potential and lead successful lives."
Register for free to continue reading
Registration is a free and easy way to support our truly independent journalism
By registering, you will also enjoy limited access to Premium articles, exclusive newsletters, commenting, and virtual events with our leading journalists
Already have an account? sign in
Register for free to continue reading
Registration is a free and easy way to support our truly independent journalism
By registering, you will also enjoy limited access to Premium articles, exclusive newsletters, commenting, and virtual events with our leading journalists
Already have an account? sign in
Join our new commenting forum
Join thought-provoking conversations, follow other Independent readers and see their replies