Career takes flight with aerospace placement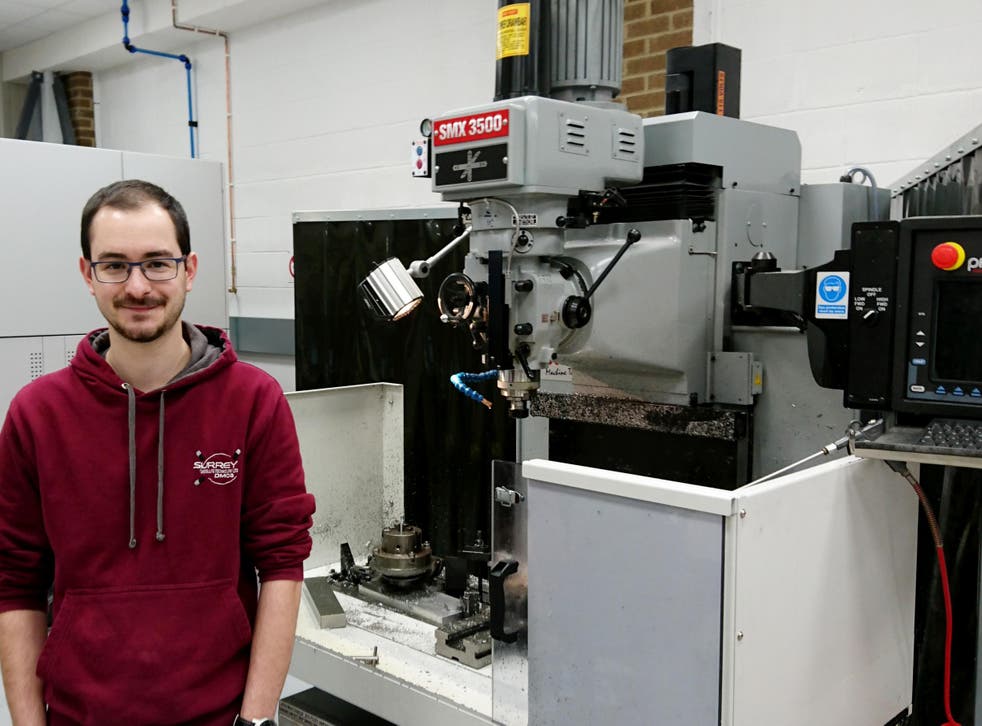 Studying a subject is one thing: applying your knowledge in the "real world" is another. Aerospace student Steve Hartless is discovering that a coveted placement in the space sector is sending his career opportunities rocketing.
Placements are an essential component of many University courses: the chance to not only put your learning into practice but also to discover if you really want to spend the rest of your working career in a particular sector or discipline.
For Steve Hartless, now into his third year of an Aerospace Engineering MEng at the University of the West of England, Bristol (UWE Bristol), his experience to date has simply confirmed the passion he has for all things related to the aerospace sector.
He is currently on a 12-month placement with Guildford-based Surrey Satellite Technology Ltd (SSTL) – the world's leading commercial small satellite company.
Getting paid placements in cutting-edge companies like SSTL is always going to be a challenge, and Steve took the enterprising step of asking to work for them for the summer after his first year – without pay. "With so many students applying for placement years, you have to find a way to stand out from the crowd and demonstrate your passion for your chosen profession.
"Working in the summer gave me an extra three months to show them what I can do, and I've been really delighted by the trust they have put in me this year – giving me highly responsible jobs, including manufacturing flight components.
"They have developed a real specialism in building low-cost satellites, by using off-the-shelf components with innovative design and manufacturing techniques," says Steve. "The low-cost satellite market has seen huge growth in recent years and has opened up space to exciting new applications. SSTL has been at the forefront of this technology for 30 years."
Much of Steve's work is focused on carbon fibre and aluminium honeycomb components – extremely light but exceptionally strong materials which are used extensively in the aerospace sector.
"It's been a huge boost to my confidence," he says. And while his placement is officially only until June, Steve is hopeful that it will be extended to September, giving him additional valuable work experience.
Steve's progress has been marked by a single-mindedness, which – at least in part – is the result of coming to higher education later than some students. "I spent several years in the retail sector before coming to Uni," he says, "deciding what I really wanted to do.
"And while I might have missed out on some of the experiences that students go through coming to University at a young age, I feel I approach my studies in a much more focused way. Not that I totally missed out on formative experiences: I did drive to Mongolia with a mate in a beaten-up Mitsubishi Pajero…"
So what's next? "I've got another two years to go in my degree before I graduate. After that, I'd love to come back to SSTL – or perhaps another company in the space sector. I've thoroughly enjoyed living in Bristol, and the course at UWE Bristol has been excellent, but the placement is proving a really important experience that hopefully will increase my chances of working in the industry I've come to enjoy so much after I graduate."
This content was written and controlled by the University of the West of England
Register for free to continue reading
Registration is a free and easy way to support our truly independent journalism
By registering, you will also enjoy limited access to Premium articles, exclusive newsletters, commenting, and virtual events with our leading journalists
Already have an account? sign in
Register for free to continue reading
Registration is a free and easy way to support our truly independent journalism
By registering, you will also enjoy limited access to Premium articles, exclusive newsletters, commenting, and virtual events with our leading journalists
Already have an account? sign in
Join our new commenting forum
Join thought-provoking conversations, follow other Independent readers and see their replies