A Week With: BlackBerry Z10
The new BlackBerry phone launches with a totally new look and feel, but is it worth the wait?
Emily Jupp
Monday 11 February 2013 13:02 Comments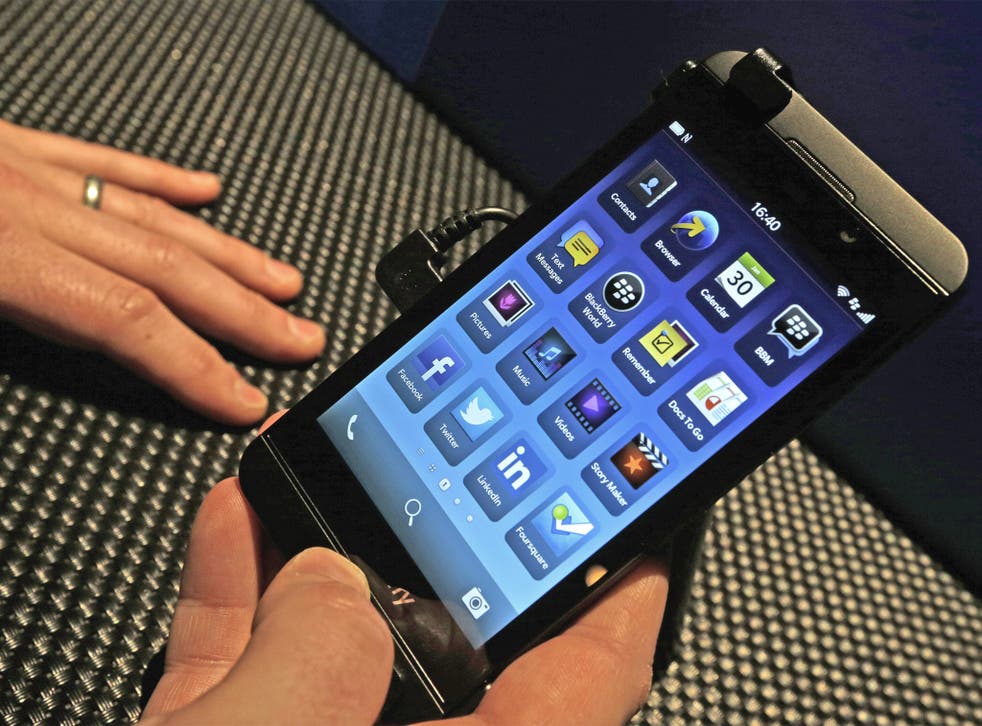 Price: £410
Resolution: 1280 x 768, 365 ppi
Memory: 2GB RAM, 16GB of storage
Processor: 1.5-GHz
Operating system: BlackBerry 10
BlackBerry Z10
Like excited children, thousands of people finally unbox their new BlackBerry Z10s this week. It's been a long wait. The new BlackBerry 10 operating system was initially unveiled towards the end of 2011, but the BlackBerry Z10 phone, which was only released in the UK on January 31st, is the first handset capable of running it. In the intervening year, BlackBerry has fallen behind smartphone competitors like iPhone and Android phones, as they released smarter operating systems, while BlackBerry was stuck with its outdated BB OS7 platform. But the company is now hoping the Z10 will put BlackBerry back on the map.

What is it?
The new phone from BlackBerry and the first to run its new operating system, BlackBerry 10.

Does it work?
Initially, no, it didn't. I had problems connecting with the WiFi network at work, then when I did connect the screen announcing I had succesfully connected wouldn't go away and covered up everything else, including the very essential guide to "Essential gestures", which shows you how to swipe the screen to make everything work. It's easy when you know how, but unfortunately I didn't, and it took me a lot of mad swatting at the screen to figure it out. There are no buttons on the front at all and there's no back button on screen, which is initially disorientating. You need to swipe from the bottom of the screen upwards to unlock the phone and access the home screen and swipe from the top down to access menus in applications. If this is similar to the experience people have testing it out in the shop, it might put new consumers off the product. After a few days, it gets easier to use and gliding between different screens and applications becomes smoother - BlackBerry have dubbed this gliding form of navigation "Flow". On the up side, Flow made sharing very intuitive and quick; I could take a photo, attach it to an email and send it in just three clicks. Fans of the BlackBerry physical keyboard will be disappointed with this model's on-screen keyboard, but the BlackBerry Q10, due out in April 2013 will have the traditional Qwerty keypad.

Other features:
-The speaker option: Unlike other phones where you have to hold the phone close to your face in speaker mode, with the Z10, you can be really far away from the microphone and still be clearly heard on calls
-The BlackBerry Hub: All texts, BBMs, emails and call history are all visible in the same place
-"Peek": This feature splits the screen so you can peek at your latest notifications without leaving the app you're in
- Clever predictive text: The phone quickly learns the words you frequently use and adapts its suggestions accordingly

Who's it for?
Although BlackBerrys have traditionally been for business-users, this new model acknowledges BlackBerry's growing teenage fan-base, offering security features for business people and a host of apps and entertainment for everyone else.

Is it worth the money?
£410 for the handset is pretty steep, but on contract it's around the same price as an iPhone. Vodafone is currently offering unlimited minutes, unlimited texts and 1GB internet data at £37 per month on a 24 month contract and T-Mobile is offering 1000 minutes, unlimited texts and unlimited internet data for £31 per month for 24 months.
You can get The Independent app for BlackBerry free here.
Register for free to continue reading
Registration is a free and easy way to support our truly independent journalism
By registering, you will also enjoy limited access to Premium articles, exclusive newsletters, commenting, and virtual events with our leading journalists
Already have an account? sign in
Join our new commenting forum
Join thought-provoking conversations, follow other Independent readers and see their replies