AeroMobil 3.0 unveiled: the 'most advanced flying car yet' will free us from 'traffic jam prison'
The car flies at 120mph and needs only a 50-metre strip of grass for landings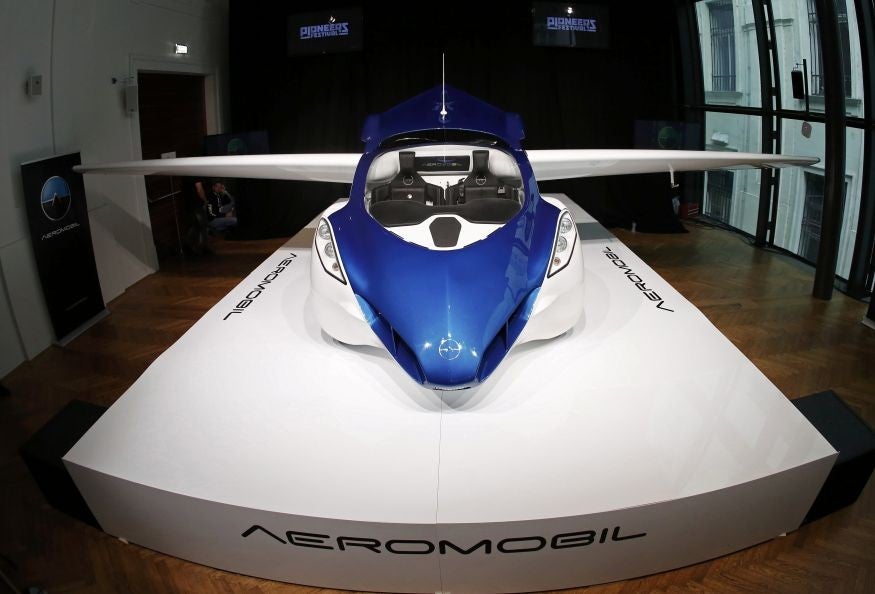 "Where's my flying car?" is something of an informal motto among technology malcontents, annoyed that the science fiction of the 50s never materialized – but that funeral selfies did.
Well, there's a solid answer to this question now: your flying car is in Vienna, but you'll need a few hundred thousand euros, a personal airfield and a pilot's licence to use it.
This is the AeroMobil 3.0, the third major prototype built by Slovakian company AeroMobil as part of an ongoing project that dates back to the mid-90s, but that has its roots in the totalitarian government of communist Czechoslovakia.
AeroMobil's founders Stefan Klein and Juraj Vaculik grew up in the repressive state, and say that their quest to build a vehicle that can actually slip from the road into the sky was inspired by their dreams of Western, capitalist freedoms.
Now, the pair says they want to offer their own sort of freedom, liberating the world from "traffic jam prison" with the AeroMobil 3.0; a vehicle the size of a saloon car, with dangerous looking shark-like cockpit and stubby wings that flick back over the length of the vehicle.
The car itself can hits speeds of over 100 mph and clocks in at around 124 mph in the air. It's capable of landing on just a 50-metre strip of grass (though it needs a longer, 250-metre runway for takeoff) and has flying range of 430 miles. Its creators insist it could "change personal transport on a global scale".
But for all the amazing engineering and design work that's gone into the Aeromobil, many are sceptical that flying cars will ever be anything but a novelty.
Klein and Vaculik point out that only 3 per cent of the world has paved roads and that the vehicle could be a boon to countries without infrastructure – but these countries aren't likely to lots of citizens that can actually afford the AeroMobil, said to be priced 'somewhere between a supercar and a small plane'.
Add to this the increased safety risks of flying a small plane compared to a car, the headaches of co-ordinating air traffic control and the difficulty in keeping the thing flightworthy throughout its lifespan and you have the perfect recipe for a boondoggle.
Sorry folks, the real answer to "Where's my flying car?" is: "it's here - but you shouldn't care."
Join our commenting forum
Join thought-provoking conversations, follow other Independent readers and see their replies