Amazon: Devastating expose accuses internet retailer of oppressive and callous attitude to staff
One woman with breast cancer was put on 'performance-improvement plans'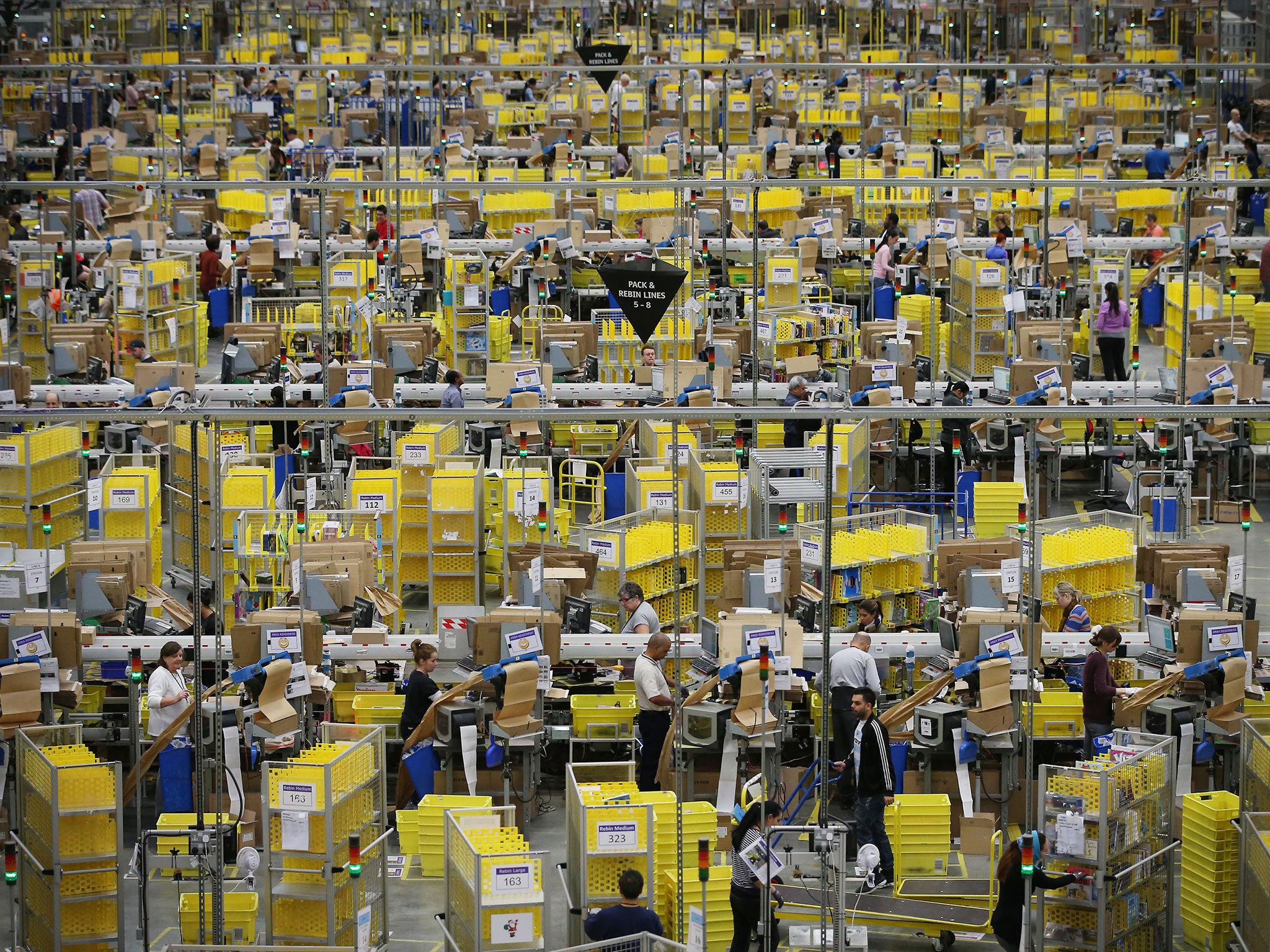 Working four days in a row without sleep; a woman with breast cancer being put on "performance-improvement plans" together with another who had just had a stillborn child; staff routinely bursting into tears; continual monitoring; workers encouraged to turn on each other to keep their jobs.
Life at Amazon sounds bleak, according to a devastating, 5,900-word expose by The New York Times.
The global internet retailer founded by billionaire Jeff Bezos, which paid just £11.9m in tax in Britain last year despite UK sales of £5.3bn, has previously been accused of treating warehouse staff in the UK "like cattle" as they are driven to work harder.
However, it's claimed that their counterparts in the US have faced even tougher conditions. Staff in a Pennsylvania warehouse allegedly worked in temperatures in the high 30s Celsius – as ambulances waited outside to take them away when they collapsed – and air conditioning was only fitted after newspaper reports.
Former office staff at the company's headquarters in Seattle also spoke of working 80-hour weeks, getting emails from the office while on holiday or late at night, oppressive scrutiny of performance, and callous disregard for personal crises.
An ex-Amazon employee who had a stillborn child recalled how she had "just experienced the most devastating event in my life" but was then told by the company that she was being put on a performance-improvement plan. This, she told The New York Times, was "to make sure my focus stayed on my job".
The US newspaper described the plan as effectively a warning that the employee was in danger of being fired.
Even the former human resources executive who was required to put the woman on the plan said she had questioned whether it was the right thing to do.
"What kind of company do we want to be?" she asked her bosses at the time.
This was just one of a litany of similar accounts.
A woman suffering from breast cancer was also put on the plan, as she was told "difficulties" in her "personal life" were interfering with her work.
Molly Jay, who worked in the Kindle team, said she was given high performance ratings for years until she started caring for her father when he was dying of cancer.
Ms Jay said she was told she was a "problem" by her boss, took unpaid leave and did not return.
"When you're not able to give your absolute all, 80 hours a week, they see it as a major weakness," she said.
A worker who miscarried twins went on a business trip the day after having surgery when her boss allegedly told her: "I'm sorry, the work is still going to need to get done. From where you are in life, trying to start a family, I don't know if this is the right place for you."
Former Amazon engineer Jason Merkoski, 42, said: "The sheer number of innovations means things go wrong, you need to rectify, and then explain, and heaven help if you got an email from Jeff. It's as if you've got the CEO of the company in bed with you at 3am breathing down your neck."
One former worker's fiancé used to drive to her office at 10pm and call her mobile phone repeatedly to make her leave. They went on holiday to Florida but she continued to work – only to develop an ulcer from overwork.
Other former staff, including Bo Olson, who worked at Amazon in a book-marketing role for less than two years, said they regularly witnessed people in tears in the office.
"You walk out of a conference room and you'll see a grown man covering his face," Mr Olson said. "Nearly every person I worked with, I saw cry at their desk."
However, some seem to relish working for Amazon – even if it took a toll on their lives.
Dina Vaccari, who joined Amazon in 2008 to sell gift cards, said: "One time I didn't sleep for four days straight.
"These businesses were my babies, and I did whatever I could to make them successful," she said.
Stephenie Landry, an operations executive, sounded "exhilarated", The New York Times said, as she described how she helped set up a new delivery system.
"A customer was able to get an Elsa doll [from the Frozen film] that they could not find in all of New York City, and they had it delivered to their house in 23 minutes," she said. "We're trying to create those moments for customers where we're solving a really practical need… in this way that feels really futuristic and magical."
People who thrive at Amazon are nicknamed "Amabots", but staff at other companies sometimes refer to ex-Amazon employees who move to their firm as "Amholes" because of their generally aggressive, competitive nature. Such attitudes are forged by practices such as the organisation level review, which was described as a "semi-open tournament" akin to a court case in which managers debate their staff's performance, with the worst losing their jobs in a process known as "rank and yank".
A marketer who worked in the retail division for six years said: "You learn how to diplomatically throw people under the bus… It's a horrible feeling."
Robin Andrulevich, a former Amazon human resources executive, described the turnover of staff at the company as "purposeful Darwinism".
"They never could have done what they've accomplished without that," she said.
Amazon itself says that staff are held to "unreasonably high" standards.
However, a company spokesman said it was "not our policy or practice" to treat employees with cancer or other serious problems in the way described above.
"If we were to become aware of anything like that, we would take swift action to correct it," he said.
And Susan Harker, Amazon's top recruiter, who was given permission to speak to The New York Times, said the support she had received when her husband got cancer "took my breath away".
Nicola Smith, head of economic and social affairs at the TUC, the British union body, said such working conditions were "extremely detrimental to employee health and productivity".
"I think there are some really concerning practices described in The New York Times report, including employment practices that are not legally acceptable in the UK. Yet we know bad employers still exploit workers in this way," she said.
Amazon has also been criticised in the past for working conditions in its UK warehouses, and Ms Smith said the concerns raised in the US highlight the need for continued vigilance against the dilution of union powers and workers' rights in Britain – citing fees for employment tribunal cases and a reduction in protections from unfair dismissal introduced under the Coalition Government.
Amazon: The response
Amazon has in the past faced complaints in the UK for allegedly using zero-hour contracts, tagging staff to monitor their performance and timing their toilet breaks.
However the company said in a statement on Monday that it did not use zero-hour contracts and more than 95 per cent of its 'temporary associates' worked a 40-hour week. They are also paid for a minimum of 20 hours even if they work for less time.
Amazon also said: "Associates are allowed to use the toilet whenever needed. We do not monitor toilet breaks." It later said this also applied to temporary associates.
There have also been claims that staff are given a job for 12 weeks then sacked, only to be re-employed, to avoid getting the same rights as full-time workers.
Amazon's statement said: "Temporary associates earn more than 90 per cent of Amazon permanent employees' starting wages in their first 12 weeks. After this point, they receive the same pay as permanent associates."
Warehouse workers walk up to 27 miles during a shift. In 2013 Channel 4 News found GPS tags were fitted to staff and talking to colleagues could lead to dismissal.
Amazon's statement said: "We do not use GPS to track associates' movements. We use technology to facilitate the efficient flow of customer orders through the fulfilment process." When asked if the tracking technology could also be used to monitor staff, the company reiterated: "We do not track associates' movements."
In 2014 Tim McKinney, an American street pastor who worked for two months at Amazon's warehouse in Dunfermline to assess claims of poor conditions told The Sun that the company used "fear and intimidation" on staff. Amazon said at the time that employees were treated with "dignity and respect", adding: "We are proud of providing a safe and positive workplace."
In October 2014, Amazon announced that it had created more than 2,000 new jobs in the UK in the previous two years.
Join our commenting forum
Join thought-provoking conversations, follow other Independent readers and see their replies