Anonymous Isis 'trolling day': Online activist group asks public to help mock Isis on 11 December
The group has asked supporters to make fun of what it calls 'Daeshbags', both online and off
Andrew Griffin
Monday 07 December 2015 10:31 Comments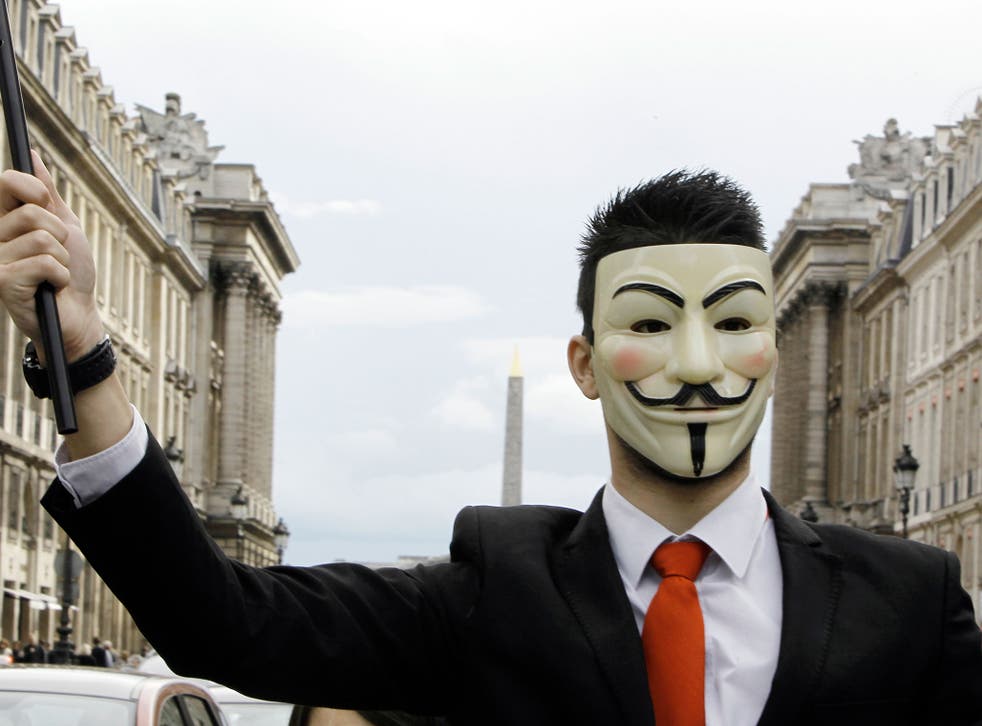 Anonymous is asking its supporters to take part in a "trolling day" against Isis.
The online activist group has asked that people mock the group that it calls Daesh by posting satirical memes as well as pictures of its dead members. The events on 11 December are part of its ongoing "Operation Isis", which was launched after Anonymous "declared war" after the Paris attacks.
Anonymous has called on its supporters to post mocking photos of Isis members, to disrupt the group's online communications and propaganda methods as well as running events in real life that include printing out "photos that mock Isis" and spreading them around cities.
The group hopes that by posting mocking messages it can work against the "fear" that it says the group uses to spread.
"You may be wondering why we are "trolling" Isis and planning all these demonstrations against Isis," the group's post reads. "But to understand that you must first see how Isis works.
"They thrive off of fear they hope that by their actions they can silence all of us and get us to just lay low and hide in fear. But what many forget and even they do is that there are many more people in the world against them than for them.
In pictures: The rise of Isis

Show all 74
"And that is the goal of this mass uprising, on December 11th we will show them that we are not afraid,we will not just hide in our fear, we are the majority and with our strength in numbers we can make a real difference. We will mock them for the idiots they are."
Supporters of the group have posted a list of recommendations for taking part online. They include everything from "openly call[ing] them Daesh" to "spread[ing] photos of dead/captured Isis members".
Anonymous hackers declare"war"
The suggestions largely focus on social networks — and include recommendations for how to mock Isis on Twitter, Instagram, Facebook and YouTube. They mostly consist of creating mocking images, printing out pictures of Isis's dead members and belittling known supporters, as well as the group's ongoing strategy of finding Isis-supporting accounts and getting them shut down.
But the group will also hold meetings in real life, in locations such as New York, London and Paris. At those meetings, it suggests that people "Make stickers of mocking photos and put around your town" and "Print out pages showing how Isis does not represent Islam".
Anonymous's previous tactics have included reporting Isis-supporting social media accounts and leaking their information, as well as hacking into an Isis-supporting website and replacing it with a Viagra ad and a message to "calm down". But the group has drawn criticism from other online activists, who say that some of the information being leaked is wrong.
Register for free to continue reading
Registration is a free and easy way to support our truly independent journalism
By registering, you will also enjoy limited access to Premium articles, exclusive newsletters, commenting, and virtual events with our leading journalists
Already have an account? sign in
Register for free to continue reading
Registration is a free and easy way to support our truly independent journalism
By registering, you will also enjoy limited access to Premium articles, exclusive newsletters, commenting, and virtual events with our leading journalists
Already have an account? sign in
Join our new commenting forum
Join thought-provoking conversations, follow other Independent readers and see their replies