Apple will charge £65 to replace one of its easily loseable AirPods
The tiny earbuds went on sale this week for £159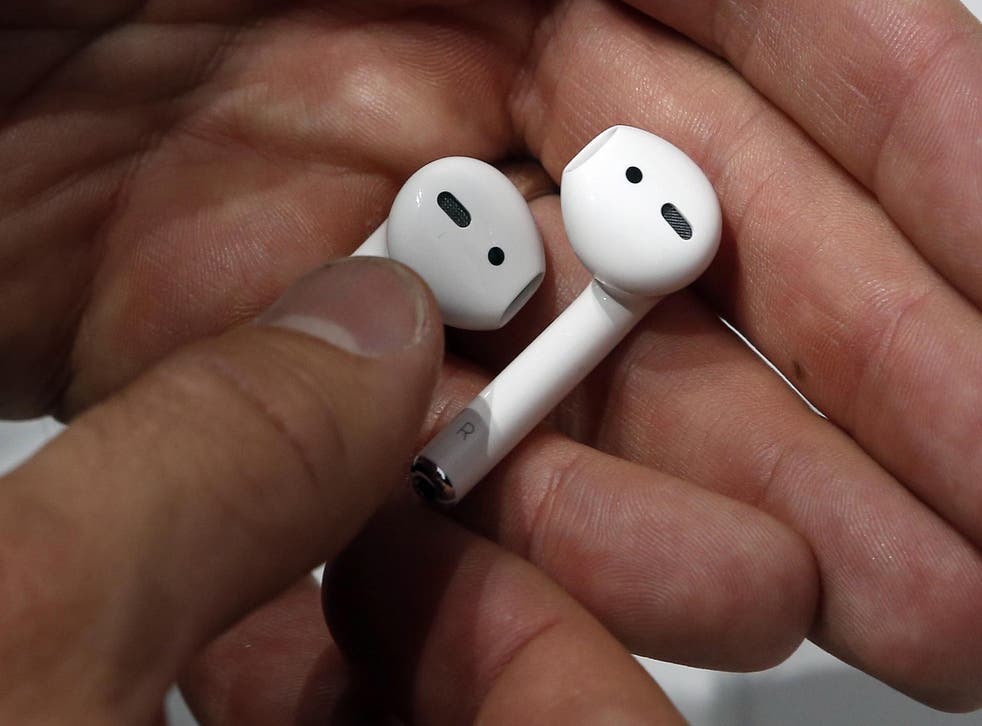 Apple will charge £69 to replace one of its new earphones.
The company's tiny, wireless new headphones were released this week and are being hailed as a leap forward for the technology. But those same features mean that they are easily lost – they are small and light, and there's no simple way of finding out where they are if they go missing.
Apple has now confirmed what it will do if that does happen. It will sell people a new AirPod for £65, it said, and it will replace the charging case that they come in for the same price.
Gadget and tech news: In pictures

Show all 25
Though the AirPods all work independent of one another, they need to go in their case to work. They can only be charged through that case and it's through that they are connected to the phone in the first place.
The company will service the battery in one of the AirPods or its case for £45. But they will have a normal, one-year warranty, so any issues in that period will be fixed for free.
Apple doesn't have any easy way of finding the small white earbuds if they do go missing. There is no "Find My iPhone" tool like those offered for other products like the Apple Watch, for instance, and so it means looking for the white EarPods themselves.
But some have suggested there's less chance that they'll actually go missing in the first place, since they are smaller and lighter and because they lack any wires at all they could be less likely to get snagged onto a piece of clothing and go flying.
The AirPods went on sale this week after a long delay that Apple said it needed to get them ready. They feature a tiny chip embedded in each of their separate earbuds, which means that they know when they are being put into a person's ear, and can sense when they are being tapped on the side and use that to bring up Siri.
Register for free to continue reading
Registration is a free and easy way to support our truly independent journalism
By registering, you will also enjoy limited access to Premium articles, exclusive newsletters, commenting, and virtual events with our leading journalists
Already have an account? sign in
Register for free to continue reading
Registration is a free and easy way to support our truly independent journalism
By registering, you will also enjoy limited access to Premium articles, exclusive newsletters, commenting, and virtual events with our leading journalists
Already have an account? sign in
Join our new commenting forum
Join thought-provoking conversations, follow other Independent readers and see their replies