Apple's European HQ in Ireland: What we found out about the company's Cork operations
Relatively little is known about what Apple does in this small city on the southeast coast of Ireland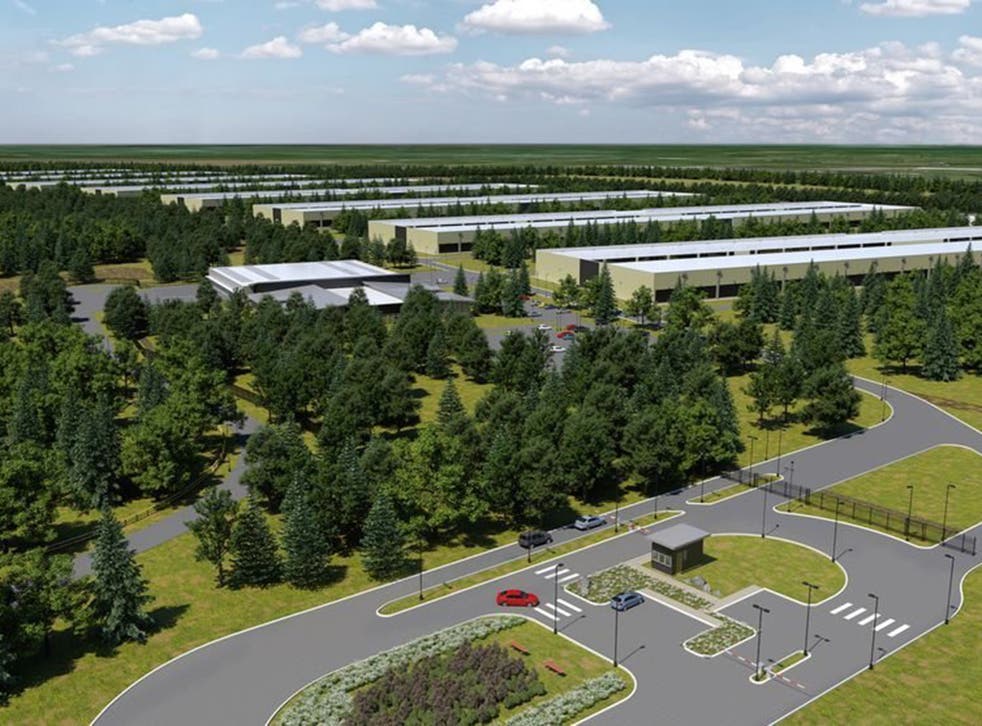 Apple has publicly stated that it wants to significantly expand its operations in Ireland.
The Cupertino, California-based company employs 5,500 people in Cork, where its European headquarters is based — and Apple CEO Tim Cook has plans to hire an additional 1,000 people in the region by mid-2017.
But relatively little is known about what Apple does in this small city on the southeast coast of Ireland, which has a population of 120,000.
In pictures: Apple products launch 9/9 2015

Show all 21
The company's main campus is in a suburban area of Cork called Hollyhill, while it also has another discrete, yet large, offices in the heart of the city.
Business Insider visited these sites — as well as a site for a proposed €850 million (£669 million) Apple data centre on Ireland's west coast — to see what we could find out. Apple did not allow us to enter any of its buildings.
This map shows where Apple's European headquarters is in relation to its proposed data centre and the Irish outposts of other Silicon Valley giants.
Having visited Apple's global headquarters in California less than two years ago, I was eagerly anticipating a visit to its second biggest hub in the world. This is the first Apple logo I encountered in Ireland, at the company's main Hollyhill site.
The logo was attached to a sign. When I pulled up, there were several lorries coming in and out of the entrance, possibly containing some of the customised iMacs that made in Cork.
I was turned away by a security guard at the shipping and deliveries entrance. I wasn't able to park my hire car in the Apple car park, either, as I didn't have a pass. So, I parked in a housing estate over the road.
A local dog walker told me the housing estate is home to an Irish travelling community that Apple and the Cork city council relocated. The council reportedly spent €5 million (£3.9 million) building the estate for the travellers, who used to live in caravans on a plot of land that Apple wanted to expand onto.
Retrieving the rental car from the housing estate proved difficult. When I returned, a pack of aggressive dogs were reluctant to let me in. I managed to retrieve it in the end, albeit with the help of the Garda, the Irish police.
After accidentally leaving the car somewhere I shouldn't have, I walked straight past a security checkpoint and onto Apple's Hollyhill campus. This is the first of Apple's newer buildings at Hollyhill that I came across.
In order to gain access to Apple's offices, visitors must have a prearranged appointment with an Apple employee.
This is what the signs around the Apple campus look like. The main buildings are simply called "Hollyhill" followed by a number.
This glass bridge joins two of Apple's latest buildings. The majority of people in these buildings are thought to work in customer services, where they take calls from Apple customers across Europe.
The majority of the campus was off limits, requiring an employee badge to enter.
An on-site gym provides Apple employees with somewhere to work out when they're not at their desks. There were over a dozen treadmills on show as I walked by.
The buildings in Hollyhill aren't particularly high, but they're incredibly long when measured horizontally.
This lamppost on the Hollyhill campus had a strange glass window with something metal on the inside. It could have just been a switch, but it could also be something more exciting.
This telecoms mast in the Apple car park was also intriguing. It's unclear what Apple uses it for.
The car park had a couple of electric cars in it that were attached to a charging point. Apple is making increasing efforts to become a greener company — much of the Hollyhill site is powered by solar energy.
There were also a number of motorbikes in the car park, including this Harley-Davidson.
Apple employees in Cork aren't allowed to smoke across most of the campus. There are designated smoking areas they must visit if they want a cigarette.
An Apple accounting calendar was lying on the floor of the car park.
This shelter was also in the car park, although it's unclear why it's there or who is meant to use it.
A number of building applications can be found on empty plots of land at the Hollyhill site, highlighting Apple's plans to construct new offices to accommodate a growing workforce. But a lack of suitable housing in Cork is threatening to derail Apple's plans.
This is one of the plots of land that Apple wants to build on at Hollyhill. This may have been where the travelling community was based before it was moved by Apple and Cork city council.
Around the Hollyhill campus, there are also some pleasant walking routes for Apple employees to use at the end of a busy day or maybe even during their lunch breaks.
Down in Cork, Apple's second-biggest base in Ireland can be found at Lavitt's Quay. An Apple employee told Business Insider that somewhere between 500 and 1,000 staff work here in many roles, including customer services, finance, and operations.
This is the view over the River Lee from a point close to Apple's office at Lavitt's Quay.
Roughly 2 1/2 hours' drive from Cork, this site near Athenry on the west coast of Ireland is where Apple is hoping to build an €850 million (£669 million) data centre. The blue dot is me, but Apple wants to build the data centre on the eastern edge of the forest, according to planning documents.
A local said this is the entrance to the proposed data-centre site. Apple is waiting to hear from an Irish planning board as to whether it will be able to go ahead and build the data centre, which it wants to have up and running next year.
Athenry Golf Club backs on to Derrydonnell Forest. One of the bartenders at the club said it would be great to see Apple come to Athenry, as there are lots of people in the town looking for work. The receptionist said she hadn't heard about Apple's plans.
Locals in the town of Athenry were largely in favour of the new data centre. The medieval town is home to 3,950 people, based on 2011 statistics.
Athenry is home to an astonishing number of pubs, including The Skillet Inn.
This was the only sign of technology that I saw on my quick walk around Athenry.
Other routes into the site where Apple plans to build the data centre were inaccessible.
This is a computer-generated image of what Apple's data centre could look like when finished. Apple is planning to build up to eight data halls in the middle of Derrydonnell Forest.
Read more:
• Investors are abandoning Barclays' stock as legal costs spiral
• European manufacturing is in the toilet
• ISIS has killed 8 of its Dutch fighters for 'desertion and mutiny'
Read the original article on Business Insider UK. © 2015. Follow Business Insider UK on Twitter.
Register for free to continue reading
Registration is a free and easy way to support our truly independent journalism
By registering, you will also enjoy limited access to Premium articles, exclusive newsletters, commenting, and virtual events with our leading journalists
Already have an account? sign in
Register for free to continue reading
Registration is a free and easy way to support our truly independent journalism
By registering, you will also enjoy limited access to Premium articles, exclusive newsletters, commenting, and virtual events with our leading journalists
Already have an account? sign in
Join our new commenting forum
Join thought-provoking conversations, follow other Independent readers and see their replies